Last week I introduced you all to Tracey Campbell from Campbell's Flowers who is my new guest blogger. Tracey is an expert in all things florestry and is based here in Sheffield, she is a fountain of flower knowledge here to help with all your flower questions.
Last week Tracey talked to us about the importance of Buying flowers which are in season, and as promised today she will be talking us through Summer Seasonal flowers.
I'll pass the Blog over to Tracey……….
Summertime, and the living is easy…….Well, it may not be easy in terms of the weather, but when it comes to choosing wedding flowers, it's certainly easy as the list of what's in season is a very long one!
As part of my new regular spot as guest blogger for the fabulous Boho Weddings, I bring you some flowery inspiration in the shape of some of the most fashionable and popular flowers available in July.
Regular readers will know that I'm a bit of a stickler for buying according to season. I genuinely believe that choosing your wedding flowers when they look their best, last longest and are least expensive can only contribute to a happy experience. And I love happy, happy Brides!
So here are some ideas of what's available right now and a few which are just coming into season – this should help all you lovely peeps out there who might just be planning for around this time next year. If not, keep reading regularly as I will bring you more of the same in the next few weeks.
Peony's are one of the most fashionable and popular flowers around at the moment they are available in white, pale pink, bright pink and coral colours
Tall and majestic, delphinium is fantastic for adding height and drama to a design and is available in white, pale pink, light blue, dark blue, purple and corals.
Allium are part of the onion family, this is a really versatile flower which comes in all shapes and sizes and an amazing range of colours.
Hydrangea are again, another really popular and fashionable flower which works beautifully in splendid isolation or to add texture to a wedding bouquet
The Cornflower is a quintessentially British flower which can still be found growing in meadows, this gorgeous bright blue colour is a must in a 'just-picked', natural, boho bouquet or use it in mis-matched bottles for vintage-inspired table decorations
Philadelphus (Mock-orange blossom) This commercially grown shrub smells absolutely gorgeous and is available for a short time late June/early July – the blooms are exquisitely beautiful
Another favourite, Nigella (Love-in-the-Mist) evokes all the romance of a Victorian English Country Garden and is generally a lovely light blue, although can be found in white and pink too.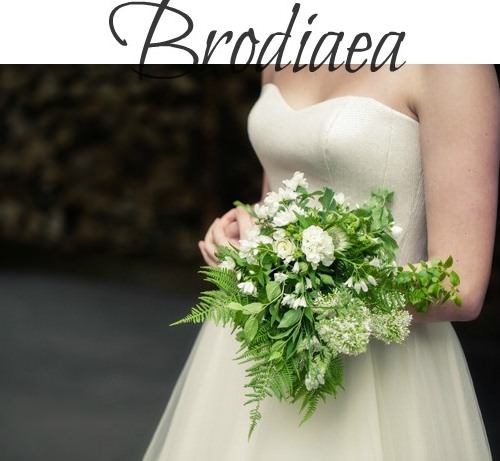 Brodiaea a pretty little flower is quite often forgotten and yet is one of my absolute favourites. I love how delicate and pretty it is – it would look gorgeous just on its own. This sweet little flower is available in blue or white.
I hope you've enjoyed looking through my designs and learnt a little about some of the flowers you can work with at the moment. Talk to your florist about seasonality, they should know what's available and if they don't seem to; I'd recommend you find someone that does!
If you have any flowery questions, or need any help – do get in touch. A lovely Bride contacted Kelly's blog last week and I was able to help her with finding something beautiful for her wedding next year.
Until next time – enjoy!
Tracey x
Thanks so Much Tracey, I hope you all enjoyed her seasonal flower post. Tracey will be back in a few weeks to discuss different coloured flowers with you, PLUS keep an eye out for her feature in a few months time to discuss Winter seasonal flowers.
For more information on Tracey's work go to
www.campbellsflowers.co.uk
FACEBOOK
TWITTER
(Photo credits Tracey and www.nielstewart.co.uk)
♥  You can read more Flower articles HERE  ♥