This afternoon Boho's Flower School is back as I welcome good friend Tracey from Campbell's Flowers back to the Blog.  Tracey is now a regular on the Blog as she has been talking to us about seasonal flowers. So far she has given us a run down fo all things summer flowers and in the next few weeks she will be bringing you the best that Autumn has to offer us. As well as the seasons Tracey will be covering a whole series of coloured flowers, talking you through the best each colour has to offer, so if you have a specific colour scheme in mind I hope you will find it useful when planning your flower arrangements.
Today Tracey is kicking the colour series off with my favourite colour Yellow! As I type this I have bright yellow nail varnish on, my office walls are painted yellow and my wedding flowers were yellow, so you could say I'm a tad obsessed with the colour! yellow is a great colour at the moment as sunflowers are in season and it was indeed a bouquet of gorgeous sunflowers that Tracey presented to our own Jess Ennis a couple of weeks back when she was welcomed to the city fo Sheffield after her triumph after the olympics, The gorgeous bouquet can be seen below with a full write up about Tracy's experience from Flowerona HERE, with more Photos (Bouquet photo credit www.s6photography.co.uk)
I'll pass you over to Tracey………….
It's great to be back on the fabulous Boho blog and today I'm going to look at colour and feature one of Kelly's current favourites – yellow. As regular readers will know, yellow is really growing in popularity and is tipped to make a big splash of colour next year.
A really versatile colour, you can use it with oranges for lovely Autumnal rustic tones, create an explosion of colour by clashing it with pinks, purples and greens for the brightest of brights or calm it all down by adding the softest of buttery creams.
Here are my top five yellow flowers:-
Available late-Summer, Sunflowers are at their best, and least expensive, right now. Team them with daisies to soften their strong architectural structure, or use them in splendid isolation – they're a fantastic flower for making a statement and creating drama. Available in a huge range of sizes from gigantic to mini and in a lovely range of golds, browns and lemons, a happy choice!
These little ball shaped beauties add fabulous texture and interest to any design and are available now and pretty much for the whole of the year round. They are fantastic in buttonholes and look really pretty in arrangements too. They have the added bonus of drying really well, so if you buy too many, just tie them together and hang them upside down to use them again at a later date. Very versatile and very thrifty!
(Or Eustoma) Available in either double or single varieties – I have to say I tend to favour the double variety. These pretty, delicate flowers are commonly known as 'Japanese rose' and are a fantastic alternative to roses. They too make great buttonholes and wrist corsages but really come into their own when used as hair flowers. I love them as they're available all year round and are perfect for Winter Brides who are trying to create that soft, romantic look – often associated with Summer flowers.
This is a really huge category to choose from. Varieties range from inexpensive daisies such as chrysanthemums to specialist tiny little tanacetum or . They're perfect for softening a design and adding that 'just picked' meadowy look. Daisies are available in all shapes, sizes and colours from bright sunny yellow, through to lemons and soft creams – their centres can also vary from bright, acid yellow to lime green. A really versatile and happy flower which lends itself to all kinds of designs.

I know, a bit predicable but so pretty and available in so many forms from tiny, gorgeous, bright and vivacious little spray roses to big, blowsy, cabbagy, scented beauties. I love roses, always have and always will!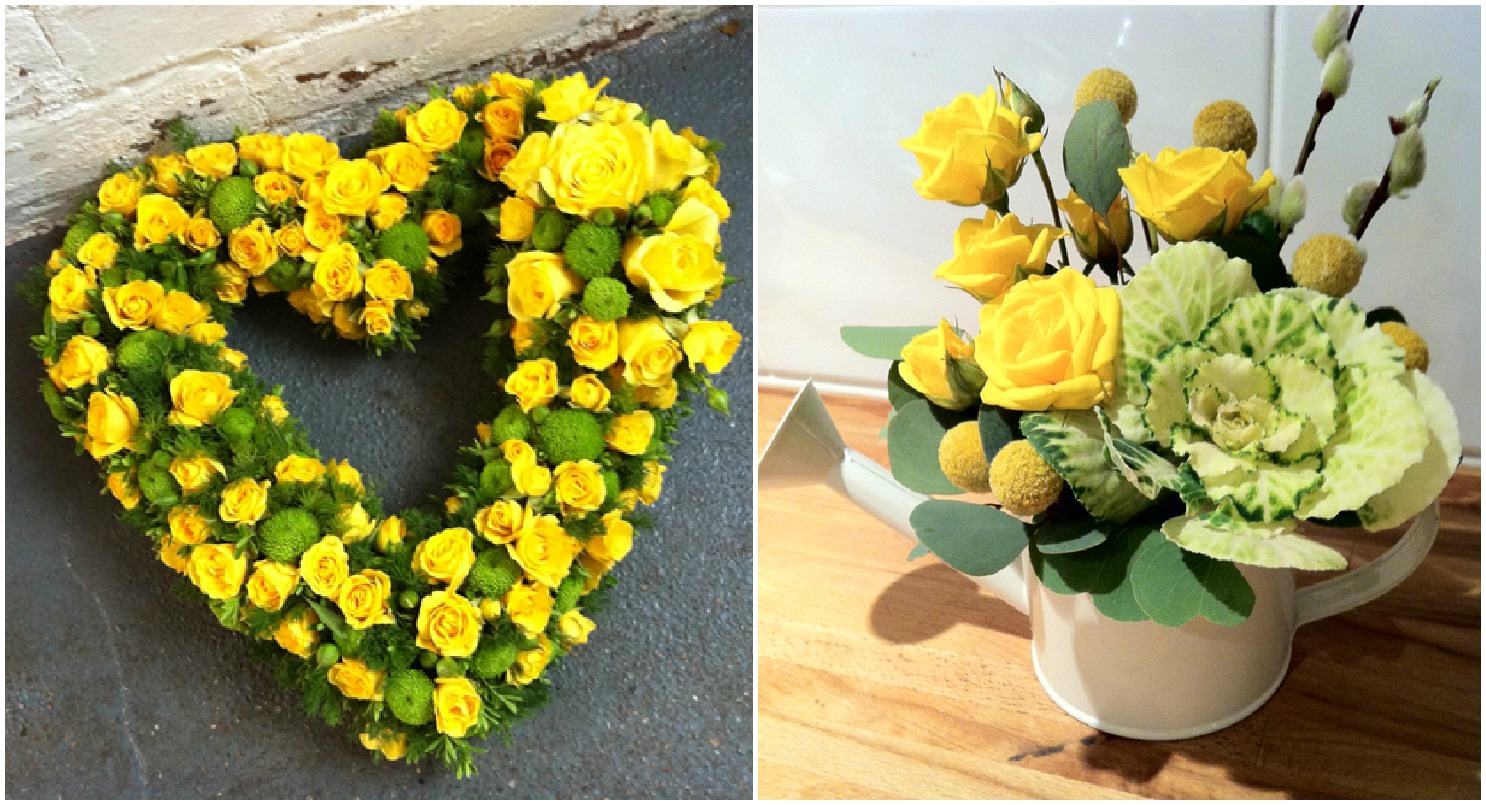 I hope my post has helped provide you with a little inspiration if you were toying with the idea of going bold, bright and beautiful!
If you have any queries, need advice or are struggling with flowers for a particular colour theme, don't hesitate to leave a comment and Kelly and I will do our very best to get back to you straight away and help in any way we can. Have fun with colour and I'll be back soon with another post on what's fab and gorgeous for all you Autumn brides.
Tracey x
For more information on Tracey's work go to
www.campbellsflowers.co.uk
FACEBOOK 
TWITTER
(Photo credits Tracey and  www.S6Photography.co.uk )
♥  You can read more Flower articles HERE  ♥