If you love vintage, then this afternoon's post is just for you! I have mentioned Jennie Beard from Hansley Beard a few times on the Blog. I often use her vintage wedding accessories service for my wedding shows and styled shoots and she was a massive help at the Boho Christmas Party with her AMAZING dessert table. So today I am over the moon to be able to share with you Jennie's new venture her brand new Wedding Design Studio.
Jennie really is the Queen of all things vintage, she was a fan of the whole vintage scene way before anyone else, she lives and breathes it, so if you want vintage done properly then Jennie is the person for you. She has run her own succesful event planning and styling business for quite some years now, but this new Design studio has taken it all to a new level, and I couldn't be more proud of her!
So I have invited Jennie along to the blog to tell us all a bit more about her amazing studio and to tell us more about the services she has to offer.
Here's Jennie……….
After being in business for almost 4 years with Hansley Beard Event Planning and Design, I realised I needed to:
1)      Have all my hire items in one place so clients could come and view them
2)      Have them in the same place as where I live
3)      Have somewhere my clients could come to talk about and offload their stresses about their weddings and events in a creative, relaxed and beautiful environment
4)      Have somewhere to showcase photographs from my previous weddings and events and have displays of styled areas and ideas as an inspiration to my clients
5)      Have somewhere to be able to showcase the work of all the wonderful local creative suppliers I regularly work with
Basically I needed literally a 'shop window' for my services. I knew I wanted it to be in Sheffield but I also wanted somewhere that suited my vintage expertise and interest. As a frequent visitor to the antique and retro shops on Abbeydale Road, Sheffield, one day one of the local retro shop owners pointed out to me an empty shop. I said 'yes but I want a shop studio with some accommodation attached if possible'. 'But it has a house behind and above it' she said, 'with the same landlady!' 'Perfect' I said.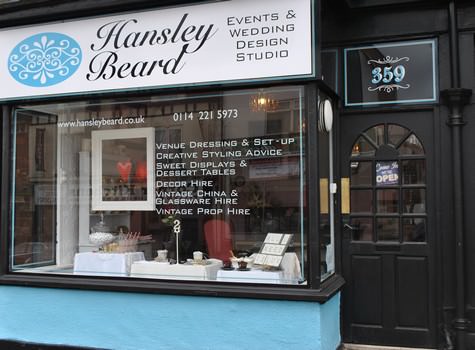 Within days I had agreed the tenancy and started making arrangements to move everything across town from my previous house and my previously separate studio and storage space. Work soon began on painting the shop studio and styling it to provide the exact environment I was aiming for. I decided to go for a French salon/Victorian living room style but also a bit quirky using some of the furniture and props I already had in my hire collection. I decided to rename the business 'Hansley Beard Events & Wedding Design Studio'.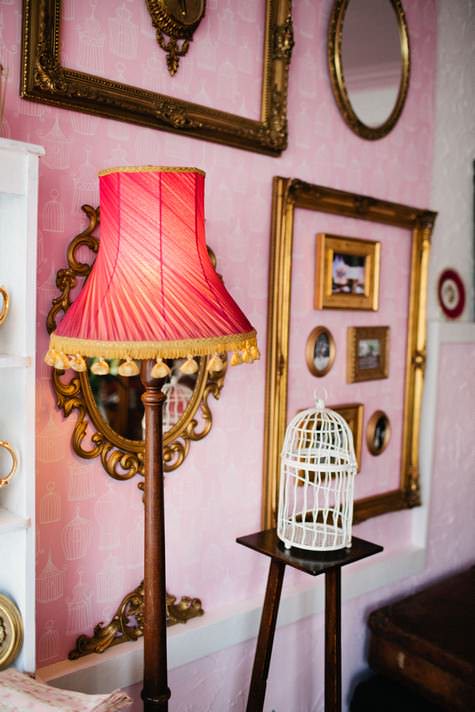 It's been a great response so far and everyone loves coming to the shop studio to talk about and organise their wedding or event, discuss their creative styling or to view and pick up stuff for hire. I am located right in the middle of the antique, retro and vintage shopping area and I've also been getting involved in the group marketing this as the new Sheffield's Antique Quarter, which aims to promote the shops and businesses in the area. It's a lovely community of people with so much expertise and passion for creativity and design. We are also near some of Sheffield's coolest and chicest cafes, Bragazzis, The Rude Shipyard and Okeh Café. Another plus is we are opposite Sheffield's best vintage style florists who work on many of the weddings we work on ~ Swallows and Damsons.
Potential clients can make an appointment to see me, either when we are open or because I live there too, I can meet clients in the evenings or other days if better for them. We want to welcome people to our beautiful space and make the planning and styling experience as much as part of the 'I'm getting married' experience as visiting a wedding dress shop. What's more there are lots of other good reasons to visit the area and make an afternoon of it!
We are currently in the process of organising creative workshops in the shop studio space and a new retail range, so do watch this space!"
For full details of Jennie's services for weddings and events, check out her website
www.hansleybeard.co.uk
Opening times: 
Tues, Wed, Fri and Sat 10.00am-5.30pm. Appointments also available in the evening & Sundays.
359 Abbeydale Road, Sheffield, S7 1FS
Website: www.hansleybeard.co.uk
Email: [email protected]
Tel: 07810162146
The majority of the items in the photographs are available to hire from Hansley Beard.
Candleshades (pretty by day, light them up at night) by Nightingale and Lamp – available to hire or purchase
Crocheted button table runner by Linsey Taylor Auad – available to hire or purchase
Cupcakes by Victoria Made
Love Heart Window Display by Jennie Beard
Go Kitsch! Window Display by Jennie Beard and Jodi Arthur
Blue and White Wilton Ware Wedding Window Display by Beckie King
Photos by S6 Photography and Jennie Beard