Today I'd like to introduce to you to an amazing company who provide bespoke Candy Buffets and Dessert Bars. Hansley Beard is run my Jennie Beard who not only is the Queen of all things sweety related but is also the Queen of all things Vinatge. I have spoken about Jenni before as she is the lady who I hire my vintage props from See HERE and HERE But today I wanted to talk about her sweety tables and dessert bars.
If you are comming to my party next week you will be able to see and taste some of Jennies work as she is working on something rather speical with Victoria from Victoria Made, a few little Christmas treets for you all.
so for now I will hand the blog over to Jennie and she tells you more about her candy Buffets and Dessert Tables.
Ain't it Sweet!
Mention the word 'sweets' to me and I'm already visualising which sweets go with which! Different colours, different shapes, squidgy ones, chewy ones, long ones, short ones, round ones… you name it, there's a sweet out there to fit your chosen style and theme.
Whatever you want to call them – Candy Buffets, Lolly Buffets, Dessert Bars, Candy Stations or Sweetie Tables or Sweet Bars – arranging sweets, chocolates and desserts en masse in beautiful jars and containers has certainly been on trend recently.
I can provide just the glass jars of sweets, but I really like to go into greater detail, telling more of a story through the display, and designing something bespoke for my clients that will be unique to them. As I also hire out vintage props, china and glassware, I particularly specialise in using these in my designs.
Quirky vintage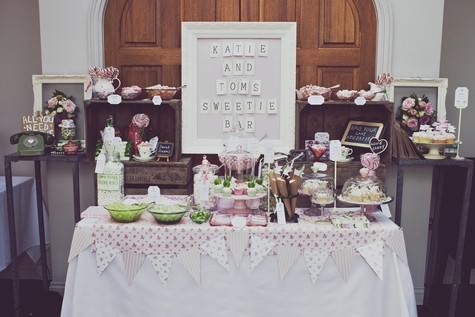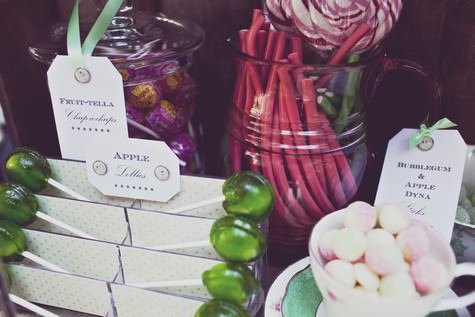 My own obsession with sweets started when I was at primary school. I used to go shopping to the local sweet shop in the lunch hour for my teachers. I would knock on the door of the staff room and ask if anyone wanted any sweets from the local shop and then take down orders. I probably made the cash equivalent of a bag of sweets for myself from each teacher at every trip. If I remember rightly, bonbons were very popular with my teachers in the 1970s! It wasn't until I was older that I learnt that my great-grandmother and her father before her had both run a family business as confectioners and had had a sweet shop in Rotherham.
1930's Oriental Dressing Table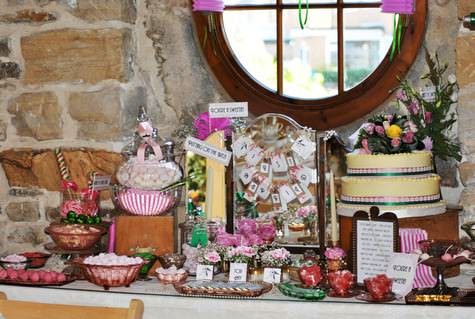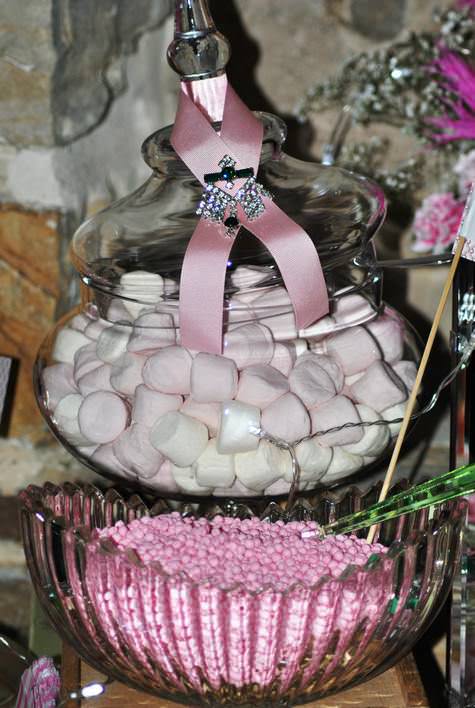 It was no surprise then that in my later years whilst living in Buddhist communities, I always ended up arranging the shrine displays, often colour themed and containing beautiful desserts, sweets and offerings. In Buddhism, everything is positioned in a certain way for a reason. It isn't meant just to look nice to the eye but has deeper symbolic meaning. Nowadays I can't help but apply these principles when I'm designing my dessert bars and candy buffets. I try to treat each section or each type of sweet or dessert with an equal amount of reverence. Equally, giving a lot of thought to which vessel to use, which type of label to use and where to place each vessel on the table or piece of furniture. This way it always pays off when it's all brought together. I try to theme the whole display using fabric and ribbons, beautiful papers and special finishing touches. I also give the table an appropriate decorative backdrop relating to the overall theme.
Vintage Soiree Fairground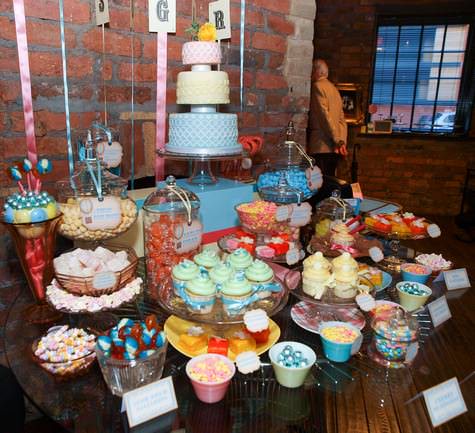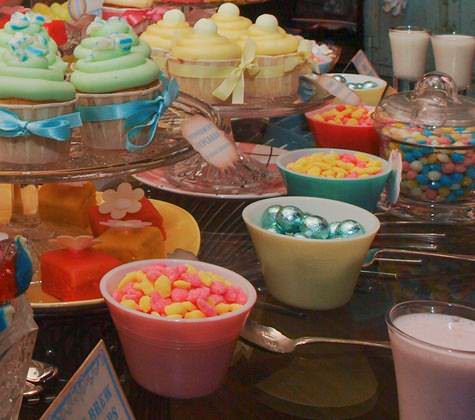 I've loved working on all the themes I've worked on so far as each one brings a new challenge and involves working with different colour schemes, styles, props and sweets. The concept of candy buffets and dessert bars gives you great versatility in matching it to your wedding theme, colours and tastes or going for something totally different.
The design process is a really creative time when I work with clients to find out what they are visualising and most importantly what kind of sweets they do and don't like! What we create together is a sensory experience for their guests.
I find practically that offering people a mixture of treats works well too, so I work with other local suppliers and add cupcakes, biscuits or individual desserts like cake pops or biscuits and mousses or jellies in shot glasses. It's also a great way of featuring your wedding cake, incorporating it into the overall table design.
Boudoir Dressing Table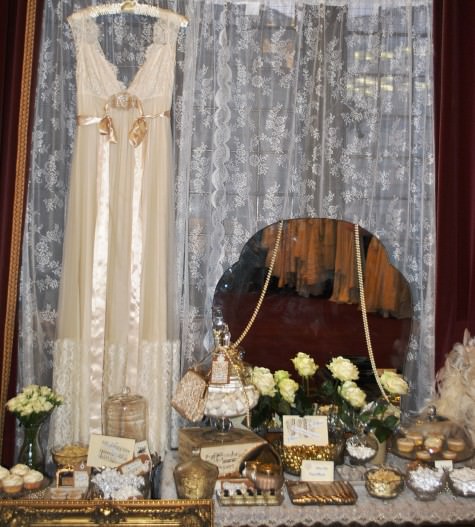 All of my designs are bespoke, so prices depend on the number of guests, the types of sweets the client wants and whether they want to add cup-cakes or other desserts. We usually decide together on a budget for the sweets and chocolates and I try to get those wholesale and pass on any discount to my client. I then organise the desserts with other suppliers and the client pays for them at the supplier's price. Clients sometimes want to include other items, such as flowers, so these are also charged at the florist's prices. I then just charge for the use of jars and props and for my design time and set-up.
Retro Sweet Bar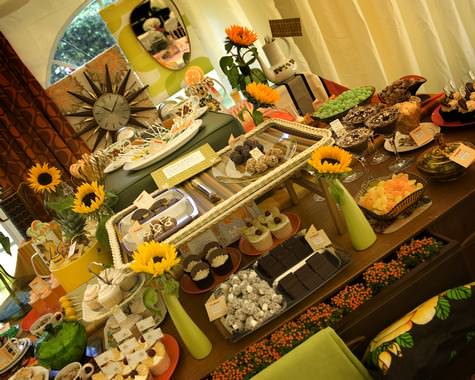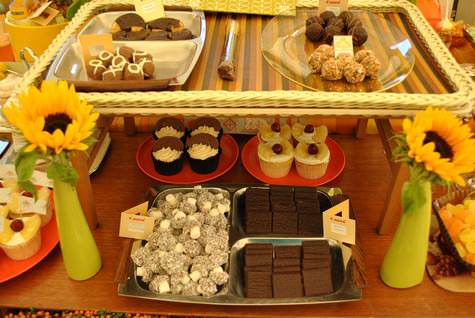 Although I am a trained wedding planner, I specialise in the creative designing of weddings and events and the practical setting up on the day. I am currently busy relocating all my services to a new studio in Sheffield and planning a business re-launch with more emphasis on the wedding and event styling and my bespokely-designed candy buffets and dessert bars. You can see more recent images of my work on our FACEBOOK PAGE 
1930s Art Deco
Hansley Beard – Event Planning & Design
I will be updating my website  www.hansleybeard.co.uk with details of all my services very soon so watch out for more info! In the meantime if you would like me to design a candy buffet or dessert bar for your wedding or event, please don't hesitate to get in touch via email [email protected] or call me on 07810 162146.
Like us on Facebook – Hansley Beard Event Planning and Design
Follow us on Twitter – www.twitter.com/hansleybeard
Credits:
All Candy Buffets and Dessert Bars designed and created by Hansley Beard www.hansleybeard.co.uk
Props, Jars, Glassware and China available for hire from Hansley Beard www.hansleybeard.co.uk
Photography by:
S6 Photography www.s6photography.co.uk
PH Weddings www.phweddings.co.uk
Serendipity Photography www.serendipityphotography.co.uk
Anna Hardy www.annahardy.com
Jennie Beard www.hansleybeard.co.uk
Christopher Sedgewick Photography FACEBOOK
Wedding Cakes by:
Michael Witten
Love Candy Cakes www.lovecandycakes.co.uk 
Cupcakes and Macarons by:
Victoria Made www.victoriamade.com
Blush Cupcakes
Mousses, Jellies, Tarts, Fondant Fancies and Milkshakes by:
Coco Catering www.cococatering.org.uk
Flowers by:
Swallows & Damsons www.swallowsanddamsons.com
Wedding Dresses from:
The White Room www.whiteroombridal.co.uk
Danielle Lara Couture www.daniellelaracouture.com
Labels by:
Jennie Beard www.hansleybeard.co.uk
Lucy Ledger Designs www.lucyledger.com
Thanks also to The Wedding Daze for organising one of the above commissions with their clients
(This is not a sponsored post)