Today I am pleased to welcome back the lovely Laura to the Blog with another of the DIY features that we worked on together. If you are a regular reader to the blog you will know that Laura is one of my lovely Brides whosi getting marrieed nextyear. her wedding si very DIY heavy, so she ahs been sharing with me a few of her DIY wedding projects.
I have aleady featured Lauras amazing  1000 paper cranes backdrop DIY tutorial, and her Tea Bag Wedding Favour tutorial.
Today I am featureding her Personalised Groomsmen Tie, which have been shot beautifully by the lovely Jess Petrie
Personalised Groomsmen Ties
You Will Need
 Ties
Felt
Embroidery thread and needle
Pen/pencil
Tracing or tissue paper
Pins
Paper template
Instructions
• Using your tie as a size-guide, create a template using a piece of paper. I used a heart but you can use whatever shape you like.
• Pin your template to the felt, and cut around it.
• Pin a piece of tracing paper to your felt shape and draw your design onto it. It could be a name, date, or any other word or message.

• Stitch over the top of your paper, using the pen lines as a guide. You can stitch straight through the paper with no problem. I find that stem stitch works best, especially with curved letters and numbers, but use any stitch you are comfortable with.
• When you finish, secure the tail end of thread, and then gently pull off all of the tracing paper to reveal your handiwork.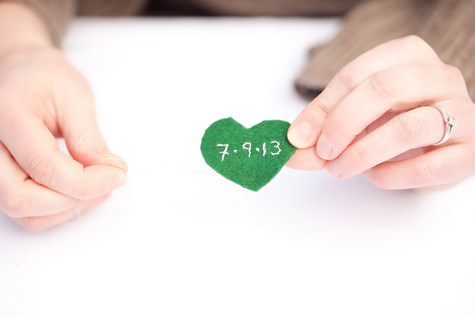 • Secure your felt embroidered shape to the back (or front if you want!) of the tie, using ay stitch you are comfortable with. I used a running stitch to show up the contracting thread, and it also makes the felt east to remove at a later date if the wearer decides to take it off for another occasion/work meeting!

• A lovely, personal gift. Again, I think you could do this more many gifts, it doesn't have to be ties. Hankies for weepy mums? A small addition to the inside of his suit? Even for the inside of your/ your maids dress perhaps?
If you want to read more about Laura's wedding journey and more about her DIY adventures then she ahs just started her own blog http://themrsmakes.blogspot.co.uk
For information on Jess's Photography work go to:
www.jesspetrie.com
[email protected]
TWITTER
LINKEDIN
FLICKR
07581209794