Carrying on the sunshine theme from yesterdays California wedding, I have another wedding full of amazing sunshine and beautiful light but this time from Liverpool! The wedding took place in April but it looks like it could be August it is such a glorious day! It has been sent into me by regular to the Blog Sassy from Assassynation and I just love it! the venue is outstanding, the attention to detail is amazing and the couple look happy and relaxed throughout the day! Just beautiful!
The lovely couple are Rachael & Paul who were married on 12th April, the ceremony was held at Our Lady of the Assumption Catholic Church, Liverpool with the reception at The Palm House, Sefton Park, Liverpool. They had 100 guest in the day with 150 in the evening. The wedding took 2 years to plan.
They describe their wedding as 'Our wedding day was everything we had dreamed of- a beautiful, vintage inspired day filled with fun and laughter. The day was relaxed, with an abundance of love, food, music, …tea and of course… cake!'
How they met
We met on the Internet when we were 17 and have been together for a little over 11 years. I was in Australia when we met, in a chat room (they were still a novelty and a relatively new thing back then) and was waiting to speak to my current boyfriend. Being a soppy teenager I was homesick & missing my boyfriend. Paul told me that it was snowing at home and I was saying how I missed home (crazy I know when I was in the beautiful sunshine in December!). Paul and I chatted for a bit then I added him to my MSN Messenger friends list. A couple of months after I got home I saw a person on my friends list was online & I had forgotten who they were. I wondered why they were on my list if I didn't know them so I sent them a message asking who they were. We started chatting again and continued to spend a long time talking on MSN. We both had a bf/gf who we weren't happy with and talked to each other about it. We talked regularly on the phone for hours at a time & continued to talk on MSN chat too. We both dumped our bf/gf and Paul said he'd come over to Liverpool for the day (he lived in Huddersfield) as a friend. We had our first kiss that day at the bus stop outside Blockbusters!
The proposal
It was coming up to our 9th anniversary & we'd arranged to spend a few days in Brighton. Paul had been very secretive leading up to it, making it blatant he was planning something, although Paul would argue otherwise. I suspected something and when you have been going out for as long as we have there is really only one possible surprise. I felt a mixture of excitement and nervousness wondering if he was going to propose. I have a big mouth and wanted to ask but knew I couldn't say anything. We went out for dinner on our actual anniversary (we were going away a few days after). My mouth got the better of me and I asked Paul if he was planning 'something' while we were away. Paul replied coyly did I want him to be planning something? He continued to say that if it's the thing I think it might be then I will be disappointed as it's not that. So we chatted for a few minutes basically skating around if he was he going to propose. When Paul basically told me he wasn't I felt like I wanted to cry and just said Ok. I then felt really guilty for opening my mouth. It was Valentine's day, the day before our Brighton trip, & I had gone to the hairdressers. The weather was miserable & Paul had kindly offered to pick me up. I got in the car and preceded to tell him off as he was going the wrong way home- I couldn't understand why he was going this way! He then pulled into a promenade close to our house & gave me a Valentine's card with 'will you marry me' in. It was really cute as I was so surprised, I wasn't expecting it that day at all. Paul explained that he wanted to take me for a walk in the park and propose outside the Palm House (where we eventually celebrated our Big Day) but he knew that I would refuse to go as I'd just had my hair done and it was raining (he knows me well.) He explained he had planned to do it in Brighton but when I guessed, he wanted to pre-empt me & so decided to pop the question on Valentine's day.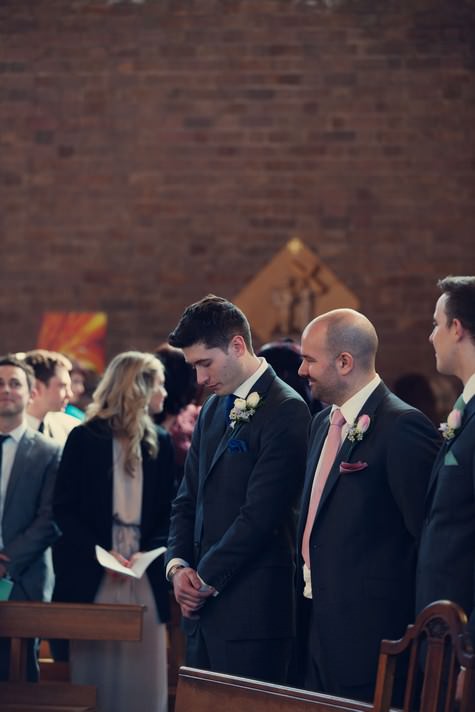 The venue
We live close to a beautiful Victorian park where the Palm House is situated and we often go there and love to show it off to family and friends. The Palm House hosts free concerts & events & we just love spending time there. We especially liked the fact that 40% of the fee is used to provide free events for the public. This was important to us, to know they were not just trying to make a big profit. We also love the fact that we can visit any time and cannot wait to take our children there in the future.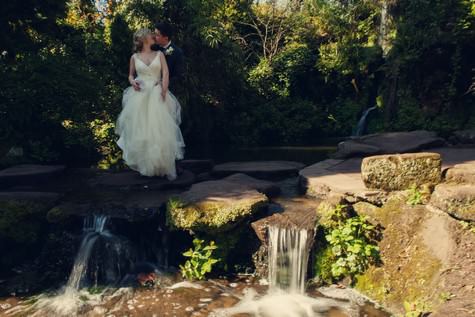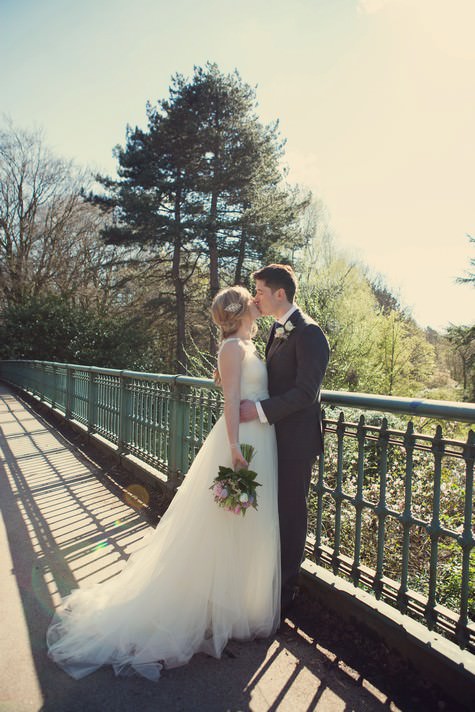 The Dress
My dress was by Lusan Mandongus. I never intended to have a designer dress and in the beginning would never have dreamed of spending the money I eventually did. I looked in charity shops, second hand shops and travelled from Liverpool to London a few times in search of my dress. All the cliché's were true- it wasn't a dress I would've picked out (I was adamant I wanted lace) but as soon as I put it on I loved it. I felt there was no way I could spend that much, so carried on looking. 3 months later I was still thinking about the dress, so went to see it again. I knew I just had to get it. I felt I'd rather cut back on other things as no dresses had come close to this one. My shoes were from Kurt Gieger, my hair clip was from Ebay and I'd bought matching earrings, but Paul bought me some beautiful diamond earrings to wear as a surprise. My best friends bought me a beautiful pearl bracelet & my mum gave me a cut glass bracelet from Venice that she bought during a trip in her early 20s. I also had a shawl that was crocheted by my sister-in-law.
The suit and bridesmaids
Paul had a bespoke suit made by a small tailors in Liverpool called Ken Ellis. It was lovely as the fabric was Huddersfield wool (his home town) and the lining from Bradford (his Dad's hometown).
The bridesmaids dresses were Alfred Angelo and the flower girl's dress was from Monsoon. The groomsmen wore their own suits (except my nephew & dad who hired theirs from Slaters, Liverpool.
Theme
It all stemmed from afternoon tea. We really wanted the day to be relaxed and not have the traditional formalities, so we knew we didn't want a sit down 3 course dinner. We love clotted cream, jam & scones & when I saw afternoon tea on a sample menu of the caterers I thought this was a brilliant idea. Paul teases me about being a little old lady at heart (it's true) and I love anything old and twee, so a vintage tea party theme seemed perfect. It also meant I could have lots of fun scavenging charity shops for all the crockery. We didn't have a set colour, we just wanted lots of spring colours. The colours ended up mostly following the bridesmaids dress colours of pink, blue & green.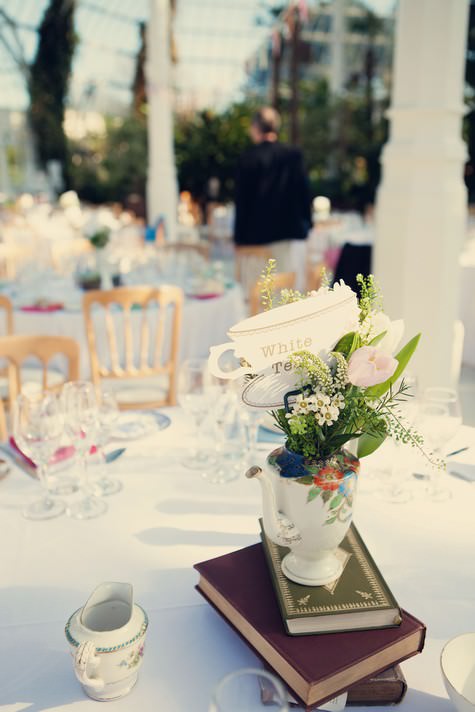 Food
We had high tea with a twist – the savoury course had sandwiches on coloured bread, soup in mini teacups, seafood in scallop shells, pate in the shape of mushrooms etc.The sweet course was a selection of mini desserts including scones with clotted cream & jam and vanilla slices (Pauls favourite.)
Entertainment
We had a harpist for the reception drink; music play from a Spotify playlist during the wedding breakfast and then a brilliant ceilidh band in the evening.
Flowers
I had selection of spring flowers such as tulips & hyacinths in pinks, blues, lilacs (I'm not very good with flower names). I just wanted fairly natural, wild looking flowers, nothing too formal or fancy. The flowers were hand tied posies with garden twine wrapped around the stems.
Decoration
We wanted a sort of vintage/ country garden feel. We didn't need many decorations, as the Palm House is a Victorian glasshouse filled with huge green plants, trees & flowers. My friend's mum made loads of bunting. We'd collected fairy lights to hang around the venue. We'd also collected about 200 teacups, 25 teapots with sugar bowls, milk jugs and side plates (with lots of help from friends and family). The teacups were used as the place settings, with a parcel tag & people's names on (written using a 1960's typewriter.) The table centres consisted of a pile of old booked (mainly my dad old Physics and Maths books) with a teapot on top with flowers in. We had giant garden games on the grass outside too.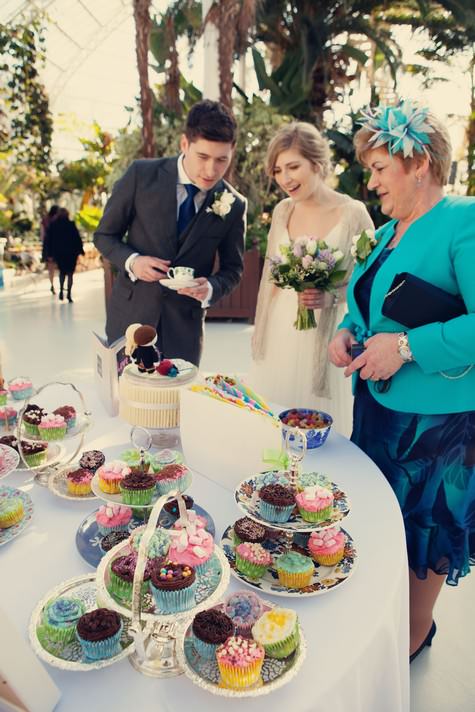 Personal touches
There were quite a few personal touches as we luckily have several creative friends so we used and abused them for our big day.
• I like attention to detail so wanted the tea party theme to be carried through from the beginning. I made our 'save the date' cards, which were simply a tea bag tied to a brown parcel tag with the date of our wedding on.
• My friend Rowanne is a very talented artist and she designed and created our invitations – a lino print design based on a teapot.
• One of my previous pupils made me a lace garland thing (I can't think what to call it) to put on the car & it looked great!
• During the ceremony my oldest friend, Maddy, sang 'Make You Feel My Love' while we signed the register (she's a professional singer/dancer).
• My friend and I made the table plan- it was a giant teapot
• The tables were named after different types of tea
• About half the guests had helped us collect the crockery.
• My friends and I all made the cupcakes for the cake table on collected/ borrowed vintage cake stands & plates. My friend Naomi made a single tier cake for us to cut which was a Victorian sandwich cake, she actually followed a Victorian recipe too!
• My sister-in-law, Sian, & mother-in – law made gorgeous chocolates truffles as the favours.
• Sian also made my shawl & an amazing cake topper
• We had a typewriter to use instead of a guest book- this was very popular, especially with the children.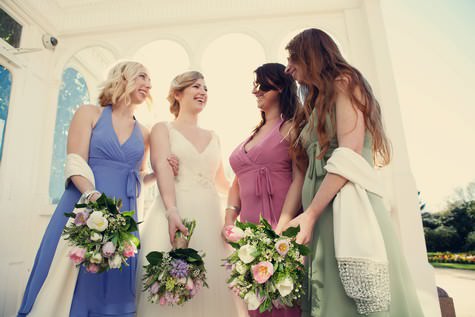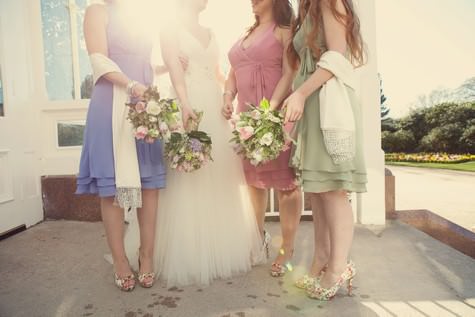 Special moments
So many…when my mum gave me her bracelet that I had coveted since I was a little girl. My sisters having decorated my room and my friends coming round in the morning with champagne & a present. Walking down the aisle seeing all the people we love (cheesy but true). When, during the ceremony, as we were saying our vows the guests & priest started to giggle. The priest then showed us the order of service (which we had prepared ourselves). Paul had said his bit, and on my bit there was a big typo- it said 'I take Paul to be my wife' instead of 'husband'. It was brilliant as everyone, including the priest, had a huge laugh. This joke is still carried on, mainly by my Dad, to this day.
Paul's speech (he was so nervous about it)- when I was looking at him I had an overwhelming feeling of pride that he was my husband. The best man's speech was hilarious. Dancing in the ceilidh- it was so much fun being flung around and the band were absolutely brilliant!
Lastly, Paul and I walking through the park at the end of the night and looking back at the Palm House when it was just the 2 of us. Then, as we walked back to the hotel (it was only 10 mins walk away) we could hear lots of Scouse & Irish shrieks- they were our friends and family lost on the other side of the park! Very amusing!
Planning advice
Take your time. When we planned it to be in 2 years time it felt like a lifetime away and I wished we had booked it for the following year instead. I'm so glad we took 2 years! Don't underestimate how much there is to do. We did do a lot ourselves but even so, having the time meant it was all enjoyable, with the minimum of stress. I loved every single minute of planning the wedding as we had the time to think about each decision- nothing was rushed and everything was carefully researched.
Also, pick a few things that are really important to you that you just can't cut back on. For us, music was very important so we knew we would want to spend money on a live band. Also, we cut back on flowers and hiring suits as we knew the groomsmen had suits that were fine (it's easy to get carried away with things that don't matter). This meant Paul could get his suit made and I could get the dress I'd fallen in love with.
Don't cater for all your guests for evening food- our reception advised to cater to ¾ of the number of guests. We did this and it worked really well- otherwise you just have a lot of waste.
Photographs are also worth spending on as at the end of the day that's all you have left as well as your memories. Someone advised me to ask someone to film it too as there is so much you forget/ don't see on the day. I just asked my uncle to do ours, but obviously it depends on what you want & your budget.
Most of all- enjoy! Lots of people told me to make sure we stepped back and took the day in. I was determined we were going to enjoy the day & not going to get stressed. We made sure we were our focus- everything else could wait. It sounds obvious but you can get wrapped up in if things are in the right place etc. At the end of the day, it doesn't matter. The most important things will happen and everything else just falls in to place. What will be, will be.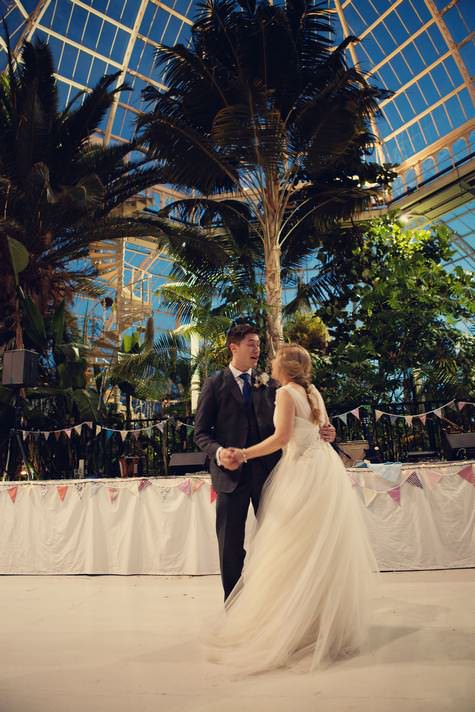 Biggest surprise
Opening the diamond earrings on the morning of the wedding that my husband-to-be bought for me as a surprise. Also, seeing Paul in his suit. I hadn't seen his suit before- we thought why should the bride have all the secrecy, so decided I wasn't going to see Paul's outfit 'til the day either.
Supplier Shout Outs
Invitations – personalised service, invitations are designed around your theme/ what you like. Brilliant artist- www.rowantreeweddings.com
The band – Blackbeard's Teaparty, were amazing! They were very accommodating & travelled from York! www.blackbeardsteaparty.com
Photography – Beautiful, amazing photographs by Sassy- you wouldn't even know she was there. What a legend! http://assassynation.co.uk/
Wedding dress shop– Warrington. They were so helpful & friendly & they bent over backwards to help me www.eternitybridalwear.co.uk
Grooms suit – Ken Ellis bespoke suits- tiny, family business in Liverpool centre. Brilliant price & beautiful finish.No website, phone 0151 709 4998Address: 24 Newington, Liverpool, L1 4ED
Harpist – wonderful! Branka Crowder-  www.brankacrowder.com
The Venue – Magical! Sefton Park Palm House – www.palmhouse.org.uk
Catering – Pickled Walnut catering- imaginative & quirky. www.pickledwalnutcatering.co.uk
Florist – Fleur florist- small local place, very friendly. No website- 0151 280 6307 Address: Garston Old Road, Liverpool, L19
For more information on Sassy's work go to:
www.assassynation.co.uk
[email protected]
Sassy on FACEBOOK
Sassy on TWITTER
07968948114