There are many talented people in the wedding industry, and many people I respect for what they have achieved and how they push the boundaries within their chosen field. One such person is Shelly Mantovani from Toast of Leeds. Shelly told me about a shoot she was planning a few months ago and asked me if I wanted to be part fo it, at the time I was just to busy with the Blog and the wedding planning to commit to anything, which I was gutted about as the whole project sounded AMAZING! She was telling me about her vision to turn the new Tim Burton film 'Dark shadows' into a bridal shoot! think black dresses, dark buildings and lots fo atmosphere!
Fast Forward and the shoot is done and ready to show you all. I was so excited to see the finished results of the shoot, having heard so much about it in its development stages. I knew that what ever Shelly had created was going to be fantastic…….and I wasn't disappointed! Shelly put together an amazing team to pull her ideas of vampires and ghosts together, but she managed to do it in a non cheesy, elegant way.
I'm sure you will agree that the results are stunning! personally it's so refreshing to see a shoot that offers something totally different, and it shows that the wedding world isn't just full of pretty pink vintage, it really can kick ass! So well done to everyone involved, I know how much hard work goes into these things, not just on the day but with the weeks of planning before hand!
Here's Shelly to tell you a bit more about the shoot………..
Despite all the loveliness that I shoot on a day to day basis, sometimes it's nice to have the time to be a little more creative, work with fabulous wedding suppliers and really get my teeth into something. Which is why I decided earlier this year to organise a styled shoot with a bunch of wonderful vendors who really pulled out the stops.
And so off we went armed with soft boxes, lights and many a camera to Rudding Park in Harrogate, to shoot in their drop dead gorgeous chapel. It's beautiful in there. Fabulous architecture, lovely lighting and of course, surrounded by landscaped grounds. Helped by a fantastic team of hair, make-up, floristry, event styling and even a paper cut artist, we had a belter of a day shooting some very unusual wedding images.
The shoot is inspired by the old 70s TV series and  new Tim Burton movie, Dark Shadows – lots of vampire, ghosts and things that go bump in the night. Not an easy subject to shoot, because let's face it, we could easily have gone over the edge and started draping cobwebs over everything and dripping blood from the altar. Instead we went for a sophisticated gothic approach with amazing Ian Stuart dresses and headwear by Hat Therapy – this is not your average wedding that's for sure.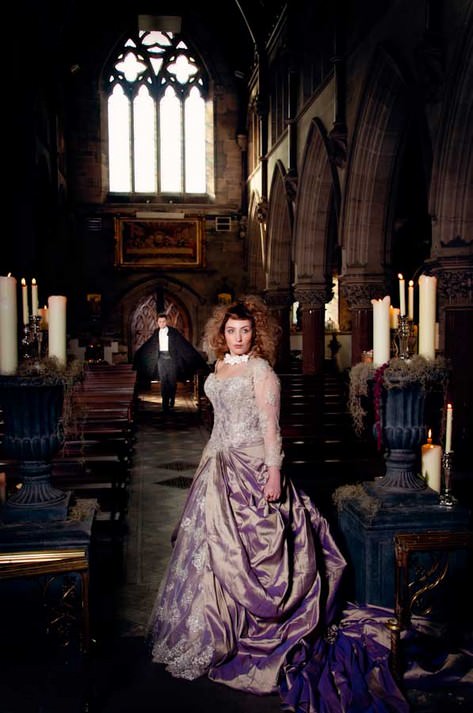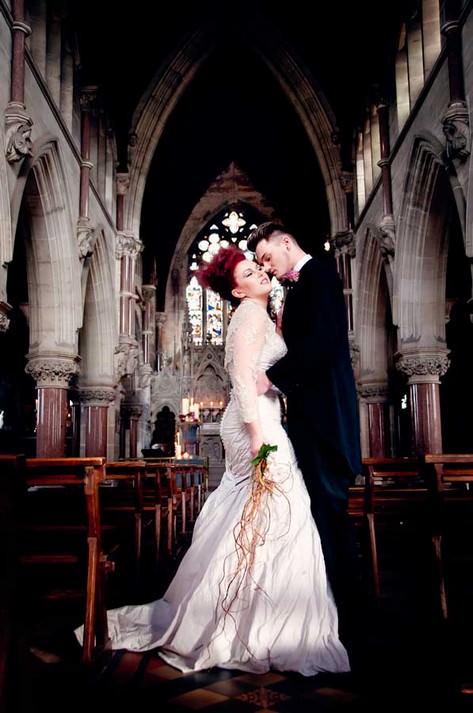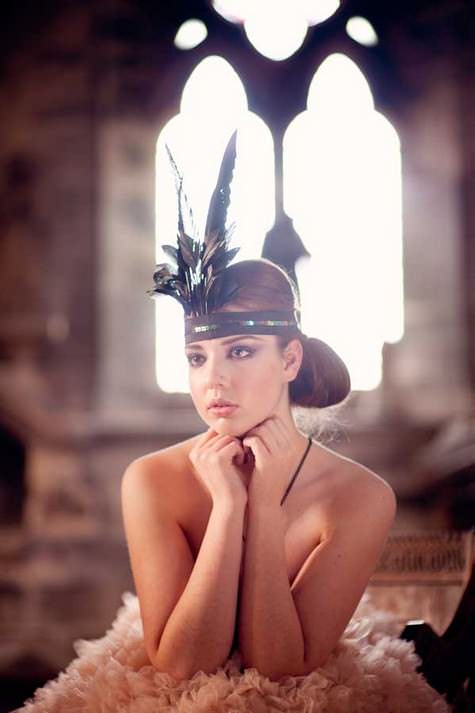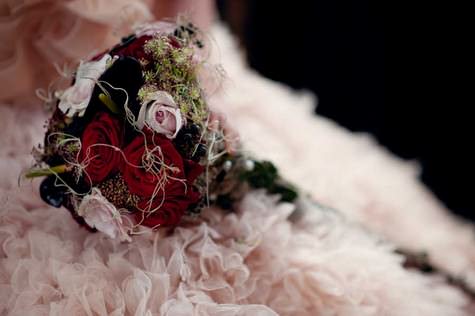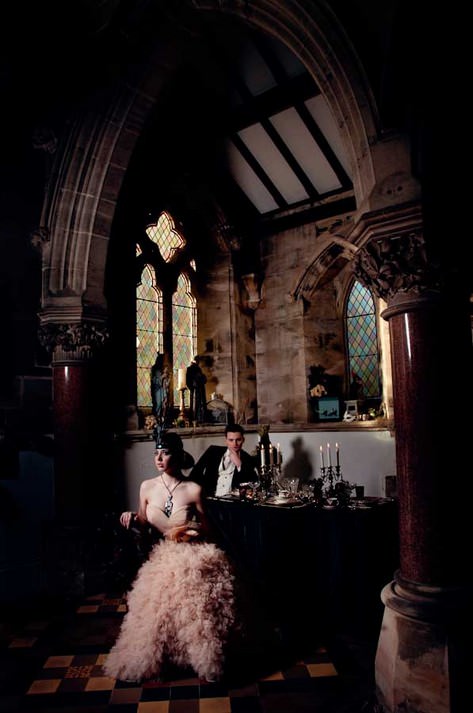 To get a real feel for the day, check out this AMAZING video shot by Shutterbox!

The team that made it all possible
Shelly says – I owe a  big thank you to everyone involved for all their patience and understanding (and cups of tea). To my wingman Paul at Paul Joseph Photography for holding lights, hugging me when I was on the verge of collapse and for the odd slap when I was being ridiculous! to his lovely wife Kelly, who was the most amazing tea lady (she's also a pretty good lighting gal) and shot lots of behind the scenes footage, to Hayley at the Bridal Collection in Harrogate, who begged Ian to loan us his frocks and then helped out getting the girls into them, to Sarah and Sarah at Vision for producing amazing hair, to Charlotte Cromer for smokey make-up, not to mention holding a mean reflector, to Lynne at Stems Design who produced all our fabulous floristry including all the bouquets and lovely candles, to Rachel at Simply Vintage Events for doing me proud and taking my vision of a table scape and producing something that knocked my socks off without the use of skulls! To the amazing Victoria Made for creating gobsmackingly beautiful cake – everyone was in awe! To Tatty Devine, who loaned us some of their latest collection (and let me tell you, we all wanted the parrot necklace!), to I Am Nat for beautiful paperie invitations, to Chrissie at Hat Therapy who always thinks outside the box and gives me moral support along the way, and to the wonderful Two for Joy who's delicate paper cape was for me the highlight of the shoot. Hugs all round to our models who were all amazing, to Jay for making me smile (and also being a wicked chauffeur and photographer) and to Lee at Shutterbox who brought his box of tricks to film it all. I THANK YOU!!!! Really, I don't have enough great words to say about you all. Thanks for bringing my vision to life.

Photography and vision: www.toastofleeds.co.uk
Dresses: www.thebridalcollectionharrogate.co.uk
Cake: http://victoriamade.com
Flowers: www.stemsdesign.co.uk
Venue: www.ruddingpark.co.uk/weddings
Jewellery: www.tattydevine.com
Makeup: www.charlottecromer.co.uk
Hair: Clare Lakin
Table:  www.simplyvintageevents.co.uk
Paper Cut Cape: www.twoforjoyart.com
Headwear: www.hattherapy.co.uk
Stationery:  www.iamnat.co.uk
Video: www.shutterboxfilms.co.uk

For more info on Shelly's work go to:
www.toastofleeds.co.uk
http://toastofleeds.com
TWITTER
FACEBOOK
[email protected]
0113 3560157

[jprel]