With only a few hours left of 2020, I think it's fair to say that most of us will be pretty happy to see the back of this year! With the vaccine just around the corner lets hope that 2021 will bring us brighter days and at last get back to people getting married again! To see the year out in style I am delighted to share this stunning New Years Eve Wedding inspiration with you. The shoot took place in October this year at New Craven Hall in Leeds and was photographed by Toast of Leeds. Jane from New Craven Hall had a blast putting the shoot together. Her experience in the business means she has built up great relationships with many wedding suppliers, so pulled them all together to create this modern, gothic shoot, which is super romantic and looks amazing! It's perfect for a New Years Eve Celebration, even if none of us here in the UK can actually go anywhere and celebrate!
Working with an amazing selection of local wedding suppliers to create a romantic, dark and atmospheric shoot. Combining modern and current wedding trends with timeless, classic themes.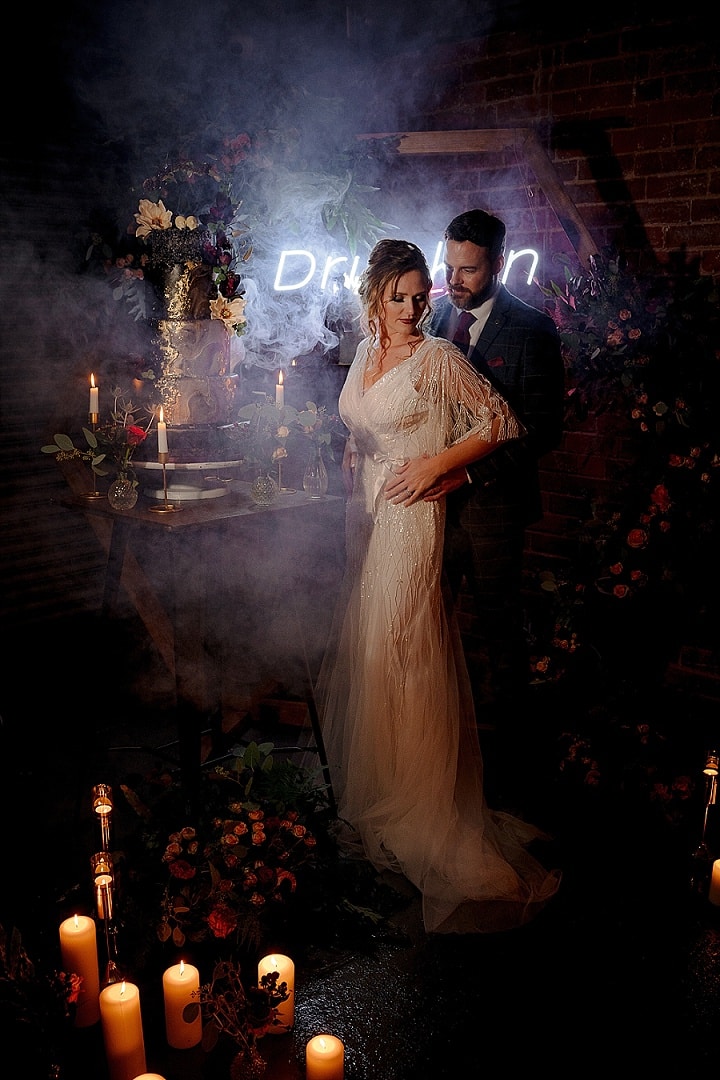 Jane from New Craven Hall tells us more about the Shoot.
Having had various styled shoots at the venue before, we had never organised one ourselves from start to finish, and with 2020 being such a quiet year for weddings and events it was the perfect time to do all the things we never usually get chance to work on, the styled shoot being one of them!
Over the years we have built relationships with so many amazing Leeds based suppliers and this was the perfect excuse to work with them on something really fun and exciting. Not only to create content and promote the venue and suppliers but also to give everyone a boost, it was so much fun to be able to get creative again and really get stuck into the shoot which we had missed for so long.
I would say the inspiration and theme for the shoot adapted as the planning process went along. Initially we wanted to do something a little more 'out there', gothic and alternative while keeping it very seasonal, taking inspiration from current wedding trends, particularly lighting and neon signs. As we started to plan the scenes and bring suppliers together it naturally evolved into something a little more relatable for couples to take inspiration from whilst still being very atmospheric and romantic.
From the initial planning process we knew we wanted to go all out, everything had to be over the top in terms of candles, decor and lighting. We sourced a range of furniture and props from various suppliers which we feel came together perfectly.
We were especially happy with the table scape and how this all came together, we feel the table is really relevant to couples getting married right now and how they can create a beautiful set up for a smaller wedding breakfast to allow their day to feel extra special and capture some amazing photography. You can never had too many candles!
The lighting was a huge thing for us as we wanted the scenes to be very dark with the neons and candles prominent in the shots. Shelly from Toast of Leeds really understood what we wanted to create and worked really hard when lighting the shoot to capture everything as we had planned.
The suppliers who made the shoot possible