Today I am delighted to have Laura Coleman from Laura Coleman flowers as my Guest Blogger.
Laura has written a very interesting artical about wedding flower budgets, hope you find it useful.
Making the most out of your wedding flower budget
Choosing your wedding flowers should be one of the most enjoyable elements of your wedding planning as it provides the finishing touches for your big day bringing together themes, ideas, colours and seasonality, all of which make everything personal to you.
Every couple getting married will have a budget that they will be working towards, and however much you are spending on flowers, you will want to make sure that you are able to maximise the money you are allocating towards this area of your day.
Here are a few tips in helping you get beautiful flowers that work within your budget.
Think seasonally
Choosing flowers that are naturally in season, or are grown in the country that you are marrying is not only a cost effective option, but serves as a lasting memory of your day. Whether it be amaryllis and ilex berries in the festive season or peonies in early summer, seeing your flowers growing naturally year on year at the time that you got married will always bring a smile to you face.
Set priorities and remain realistic
Think about what is really, really important. Start with the bride and groom. You will have hundreds of pictures taken on the day, but the stunning photo that will go on the wall will be of you, the happy couple. Getting your flowers right should be a priority, and if there are areas you need to compromise on, try to avoid this being on your bouquets and buttonholes. If you want to have a hand wired tear drop orchid bouquet, go for it, however, if this pushes your budget, think about having complementary seasonal flowers that tie in with your colour scheme for your bridesmaids, table centrepieces and venue decoration.
Reposition things
If you are having a ceremony where a long and low table decoration is used, ask an usher or a good friend to ensure that this is moved to your reception venue where it can be placed on the top table. Alternatively, make good use of your bridal and bridesmaids bouquets by placing them in a vase in front of you on the top table, or if your table is already being decorated, place them on the cake table to give it some extra wow factor.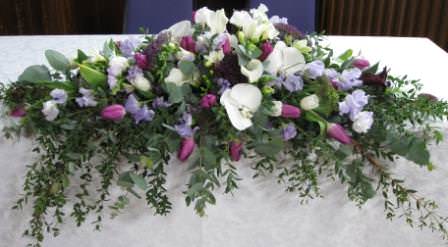 Make it personal
I was recently asked by a bride if I would mind incorporating candle holders, butterflies, tea light holders and a birdcage that she had already bought into the floral designs and venue decoration. I really enjoyed working with the items she gave me, and was more than happy to set up the flowers with her on the day.
At my own brothers wedding, my sister in law and I collected lots of vintage tea cups which we used to hold single rose heads at their reception. My mum and grandmother saved jam jars into which we placed small groups of roses, limonium and foliage and the hydrangea that I used in their floral arch was hand picked from my mums garden the day before the wedding.
Your decorations as gifts
There are many people who will become part of your wedding planning and who will help you out on your day. They do this because they care, and because they want to help. A small personal gift is a kind way to thank them, and giving them something that has been part of your day is a thoughtful and cost effective way to do this. Your floral decoration can be designed so that they can be given to people. At a recent Christmas wedding, we used beautiful poinsettias to decorate the ceremony room. The bride gave these to friends after the wedding as a little gift to say 'thank you'.
Small details that mean a lot
Your day is just that, yours. Detail needn't be incredibly expensive, but it can mean a great deal to you. Using a family brooch to finish off your bouquet, incorporating your mums favourite flower, or featuring foliage that sparks that memory of your first walk in the park together can be just as special and create a talking point in the same way as having the latest in floral trends.
About Laura Coleman Flowers
Laura Coleman Flowers is an independent floristry business based in Manchester.
The Company was founded by Laura, who has a lifelong love of colour and flowers, inspired by her Grandmother. Bringing together practical event briefs with this inspiration and delivering with passion is the foundation of Laura's business. Laura applies her experience and creativity to deliver 'wow factor' floral displays at events and wedding bouquets with 'a bit of the bride in them'.
Originally from the South, Laura moved North and fell in love with Manchester. From a background in events and marketing, Laura set up Laura Coleman Flowers after she won a contract to design and provide all of the medallist bouquets and VIP flowers for the FINA World Swimming Championships 2008.
This encouraged Laura to expand her business within the events market. She has successfully completed contracts for the World Squash, English National Badminton, European Badminton and the UCI World Track Championships, many of which were part of the Manchester World Sport campaign.
For more information got to:
www.lauracolemanflowers.co.uk
www.twitter.com/WeLoveFlowers.
T: 07941 888654.
[email protected]