One thing that you may or may not know about me is that I am a big supporter of Oxfam, I used to be a campaign member for the Nottingham group, I volunteered in one of their shops and I put on my first big scale event for the charity, I also donated my wedding dress to Oxfam a few months ago.  So when I heard that Annabel from Love My Dress was heading up a Oxfam wedding related campagne I was very interested in hearing more and doing what I could to support it!
Annabel and her team has been working with Oxfam for since last August pulling together all the details of this MASSIVE Auction and has now successfully secured £70,000 of wedding goodies ready for the auction which starts on Sunday.
Here's the official word from Oxfam
To celebrate the anniversary of the Royal Wedding, Oxfam is inviting you to a unique online auction, offering you the chance to bid on exclusive items for your big day.
All the proceeds will go to Oxfam Unwrapped's emergency work in poor countries around the world. So winning an item doesn't just mean getting an extra special something for you perfect day, you'll also be giving people the support they need to re-build their lives.
The Oxfam Wedding auction will run from Sunday 29th April to Wednesday 9th May.
Kate Kellaway-Moore, from  Oxfam says
'We hit 100 donations this week, with a collective retail value of over  £70,000, which is such a staggering amount that I literally jumped up  and down!  The value was made even more special by the fact it is Oxfam's  70th Birthday this year and so it is a really humbling moment that  shows people are more dedicated to fighting poverty than ever…"
The online auction will run from Sunday 29th April to Wednesday 9th May on EBay. The auction will feature up to 100 one-off gifts with a total  value of £70,000, including a John Nassari wedding photography and celebrity hair-styling package worth £15,000, wedding gowns by designers such as Claire Pettibone, Charlotte Balbier, Suzannah, , Joanne Fleming, Sassi Holford and House of Tammam, a fabulous eco-chic Sawday's honeymoon to the Lake District, a decadent hen party afternoon tea at Fetcham Park, with Idyllic Days crockery and Cakes by Krishanthi cakesand much much more
The exclusive auction also includes a private consultation with Ian Stuart and a pick of any of his Killer Queen collection, flowers from florists such as By Appointment only Design, Hayford and Rhodes and Philippa Craddock, free venue hire at Senate House and a luxury marquee worth £5000.
♥  You can also get a better idea of what exactly has been donated HERE 
♥  Annabel and her team have also put together a photo shoot to help promote the cause, a few shots can be seen here. For the full shoot, go and check out the Love my Dress site HERE .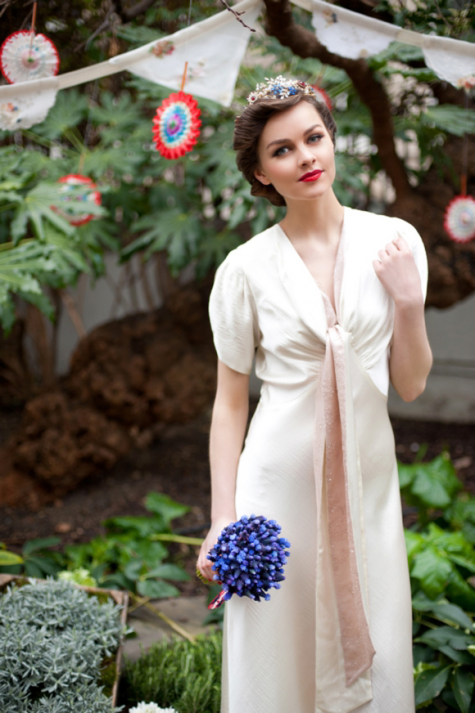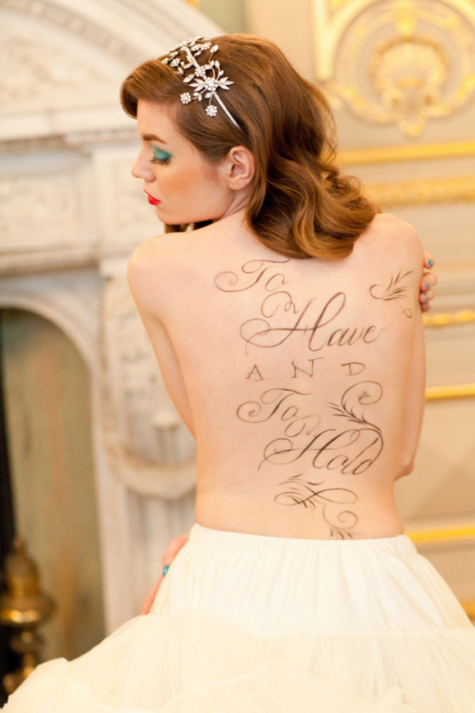 You can find out more about this amazing project from the Oxfam Ebay Site http://stores.ebay.co.uk/Oxfam-Shop/ so don't forget to log on Sunday 29th and to start bidding, remember not only will you be picking up an amazing offer for your wedding but saving lives while you do it!

The people who made the shoot happen: 

Photography –  Eliza Claire + Annamarie Stepney
Beauty & Fashion Retouching – Chanelle Segerius-Bruce  at Retouch Me
Film Production – Mintyslippers
Stylist – Tiffany Grant Riley
Photoshoot Curator – Annabel, Love My Dress, supported by my Intern, Franky
Venue – Drapers Hall, London
Models – First Model Management
Male Model – Jack Rooney
Hair Stylist – Severin Hubert, Hepburn Collection
Makeup Artist – Lucy Baker
Make-up (for 70's look) Frontcover Cosmetics, via PR agency Gloss Communications
Nails – Gemma Timms

[jprel]