Back in November I wrote a discussion post about what to do with your wedding dress once you are married. I had spent a lot of time deliberating about what to do with my own wedding dress as it had been hanging up in the spare room unwashed for at least 2 years gathering dust after my wedding. The post proved to be very popular and you were all very helpful with your suggestions.
The main ideas that seem to come up were 1) get it altered and died and wear it again, 2) sell it  3)  get it framed and mounted on the wall.
Well there is no way I will ever be able to get in the dress again, considering I have put on at least a stone since the wedding………….so I went off and got it washed to at least consider selling it!
When it came back from the cleaners I can not describe how unattached I felt to it, all the sentimentality had gone, it seems that the dirty marks that were on the dress all told a story, a story of the wedding day, the wedding night dancing by the swimming pool, wringing the train under the tap that night to get the black marks out of it, the marks gained from the trash the dress shoot, (Full shoot HERE) mud stains from the farm all gone………..and now it was just a dress, and a dress that didn't fit at that! so I thought I may as well sell it.
Then one day I found myself reading Love my dress and a post about oxfam and a project that Annabel had put together and I got to thinking about Oxfam and all the amazing work they do. Lots of Charity shops take wedding dresses but Oxfam have a whole host fo specialist shops across the country that specialise just in wedding dresses…………and here my thoughts went to donating my dress to Oxfam instead of actually selling it.
A few years ago Oxfam played a big part in my life, I used to volunteer in a shop every saturday when I lived in Nottingham, as well as that I was part of the Oxfam campagne group and went on marches for them, arranged charity stalls at local fairs and then put on large-scale charity events for Oxfam and it was here that my interest in event management started!…….so it seemed the obvious choice to donate my dress to such a worthy cause.
My charity work has taken a massive back seat since I moved to Sheffield and especially since I started working for my self, so I feel that donating my dress and letting the proceeds from it go to such a worthy cause has kind of made up for my charity slackness!
So a couple of weeks ago, I took my dress out of it's cover swished it about a bit and said good-bye to it. The next day Nik took it up to the York Store under my strict instructions and left it there, ready for another lucky bride to hopefully fall in love with it as much as I did.
So the moral of this story is…………
1) If you are thinking of keeping your wedding dress for posterity DON'T WASH IT! the memories are in the dirt!
2) If you can bear to part with it why not donate it to a worthy cause? just think not only will another bride get the joy you did out of wearing your dress, but Oxfam will benefit hugely from the money that will be made from it!
Since donating my dress I have been in contact with Oxfam to get a bit more information about their wedding department, they not only offer wedding dresses but a gift list service and wedding favours.
Oxfam bridal-wear fact-file
Oxfam entered the bridal-wear market in 1985 when volunteer Barbara Walmsley began hiring out dresses from home. The business continued in this form until 1996.
 The first bridal department opened in Coventry in 1988 and Oxfam now has ten shops with bridal departments as well as selling gowns and accessories on-line.
In 2008 the Oxfam Bridal department in Leatherhead was the latest addition to the group and has just celebrated its first year of trading with great sales of  £30,000.
In June 2009 Oxfam on-line launched its bridal range with a great selection of bridal gowns and accessories to choose from.
All Oxfam bridal wear departments are on the first floor where privacy is assured. We take care to create the right environment and atmosphere and our volunteers ensure every customer has a special happy experience.
When you visit, a trained assistant will be on hand to help you (with no hard sell!), and you will be able to view and try on the dresses in comfort. Some departments can also advise on alterations.
Over 95% of our stock is new and comes from designers and bridal shops when they change their stock over at the end of the season. Many are ex-catwalk and are in mint condition.
As well as wedding dresses, we can help with accessories, shoes, bridesmaids' dresses and outfits for the mother of the bride.
Many thoughtful brides donate their dresses after their weddings, including Oxfam customers who donate their purchase back to Oxfam after the wedding.
The average cost of an Oxfam wedding dress is around £250 and we aim to pitch our prices at about 30 per cent of what you would pay on the high street. Some dresses originally cost £1000 or more, so you can buy the dress of your dreams for much less than you would expect.
Last year Oxfam made around £200,000 through sales of bridal-wear. This is enough for example to train 334 women in Sri Lanka in leadership and management skills for running small businesses or to provide rain water harvesting tanks in 50 schools in Tanzania for pupils to have drinking water.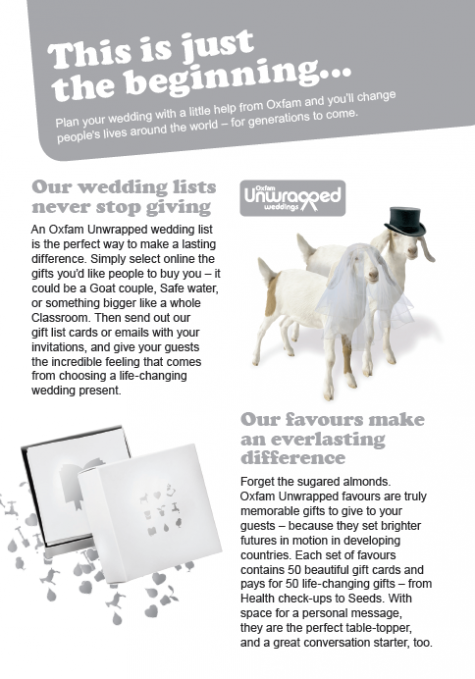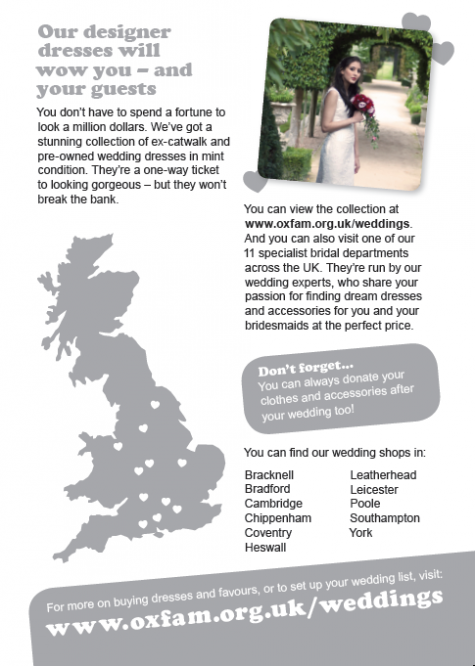 So I hope I have inspired at least one of you to take your dress that has been hanging up for years and do something good with it. Is there really any point in it sitting in a box in your attack? are you really ever going to get it out and look at it again? do you really think your going to make a christening gown out of it?? if the answer is no than PLEASE consider doing something good with it………..donate it to Oxfam and feel that warm glow that I did knowing that you have done a good thing and that someone else will not only benefit from wearing your dress but also someone will benefit from the proceeds that dress has made……everyones a winner!
Fore more information go to: www.oxfam.org/weddings
Photo credits :  www.anniepeelphotography.com  and www.s6photography