It's Thursday already!! Wow this week is going fast! Today's wedding comes from Howard Lucas and is FULL of big yellow and orange balloons, an outdoor ring ceremony, bunting, billy balls (my favourite flower) loads of handmade touches, lots of lovely green details, a fab 2CV, a dress from Oxfam, homegrown flowers and fairtrade products throughout. Full marks to Sophie and Tom for really making this wedding their own!
'Colourful, relaxed, Fairtrade, bunting, balloons, sunflowers, sunny, outside, green, happy.'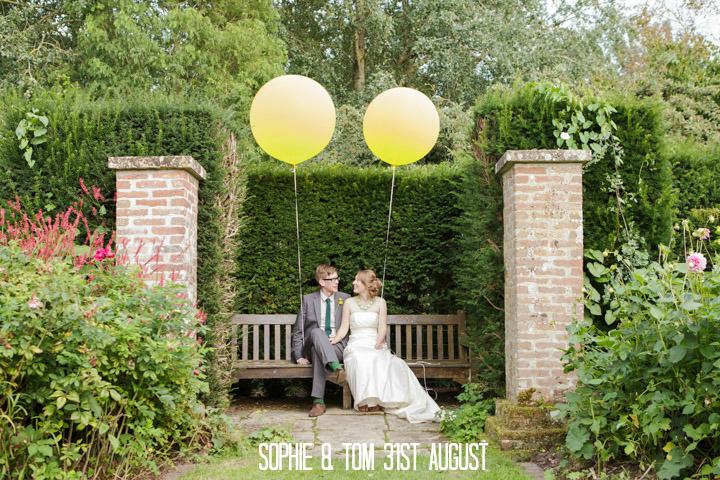 Sophie and Tom were married on 31st August at Upton House in Poole with the reception at Uppton House Walled Garden. 'My mum and dad went to Upton House on the day that I was born (just before I was born!) They then went back a week later with me in the pram. We used to go on family cycles there as it is a lovely cycle from my home in Wimborne, Dorset. We had 120 guests and it took about 8 months to plan.'
How they met
We met in Exeter at University. I was studying English and Fine Art and Tom was studying Illustration so we met at the Art campus. We were introduced to each other by Tom's best friend Tom, who coincidentally I was also friend's with before I met Tom. A small world! We will celebrating 10 years together in a month!
The proposal
After a lovely visit to the Tate Modern to see the Gerhard Richter exhibition, Tom proposed on the tiny beach just by the Tate, next to the Millennium Bridge. We have lived in London for about 8 years now and love the Tate.
How did allocate your budget?
We didn't want to have a crazy expensive wedding, so lots of the details were made by hand – the invites, the sunflower seed favours, my dad grew flowers for my bouquet on his allotment. As well as this, me, my mum, my sisters and Tom's mum made all of the bunting, such a satisfying thing to do! The flowers for the tables were £30 all in from a local Dorset farm and my friend kindly drove us to the ceremony in her green 2CV. We were lucky to be the first couple to use the newly landscaped walled garden at Upton House and got a very reasonable rate, We purchased our Fairtrade wine in Fairtrade fortnight (25% off!), along with our Fairtrade wedding rings (from CRED). The capri marquee and food were the main expenses but the food was amazing and the marquee looked great in the walled garden so it was all worth it.
The dress
Unfortunately I have no idea who my dress is by!! I purchased it from the Oxfam Bridal shop – they sell brand new, ex-catwalk and showroom wedding dresses, but take out all the labels so you don't know what make you are buying. But when we had it dry cleaned after buying it, I was happy to find out it was a 100% silk dress, and the fact the profits went to Oxfam was particularly important to me. It was the first dress that I tried on and my dad, mum and sister loved it!
I wore Rachel Simpson shoes for a while – I liked the vintagey twist – before the sandals took over!
The suit and bridesmaids
Tom already had a suit from Reiss so wore that. After a lot of procrastination, he purchased a green knitted tie and a new pair of glasses! I asked the bridesmaids to wear green! That was the only rule as I wanted it to be a relaxed look, with different green tones and styles.
Theme or colour scheme
Green was the main colour, with yellow and orange featuring a lot as well! We wanted it to be a bright and fun wedding! We were keen that the photos captured this colour and vibrancy.
Decoration
Lots of bunting and lots of massive balloons!
Flowers
We had a vast selection of home grown flowers including a variety of sunflowers, one of which is called "teddie bear" sunflowers which come out in yellow spheres – this became a bit of a theme when planning the wedding. The flowers in my bouquet were Gladiolus Callianthus grown on my dad's allotment! The buttonholes consisted of Craspedia flowers – commonly known as Billy Balls. We loved the bright yellow spherical shape of them. On the tables we had a range of flowers including Antirrhinum's. We put them in jam jars that we had collected throughout the year, with raffia. Thank you Becca for helping us with the buttonholes and bouquet beautifying, and mum and Lucy for the flower arranging.
Food
As I am vegetarian and we were eating in the marquee outdoors, we chose to have a tapas-style starter with olives, homemade bread and humous, followed by very tasty veggie quiches, pies and salads. The pudding was an incredible chocolate torte and pavlova.
Entertainment
My friend's band played in the evening – we actually saw them perform at his own wedding the year before, so we knew they would put on a good show – they were amazing! They played lots of classics so we had a great dance! Our first dance was Twist and Shout, such fun! Thank you Dave for being so brilliant.
Personal / handmade touches
We had a separate ring ceremony in the walled garden which we planned and was led by my Dad. The ring ceremony revolved around "new horizons", with all our friends and family formed in a circle around the fountain, and each of our family members saying a few words about their hopes and dreams for our "New Horizon".
We had lots of handmade, creative touches in both the wedding preparation and the wedding day itself – from the hand drawn typography on the wedding invites, to the sunflower seed favour packets (hand printed), to home grown flowers and hand sewn bunting. We also created a series of laser cut 'Horizon' prints for our friends and family for helping us out and saying a big thank you.

Special moments
We loved the ring ceremony, we also loved leaving the reception in my friend's 2CV. It had been decorated with mini bunting and massive balloons – thank you Faith for everything!
Biggest surprise
Walking into the walled garden after the marriage ceremony to discover that Tom had moved all of the big yellow and orange balloons to the fountain for the ring ceremony – it looked amazing.
Supplier Shout Outs
For more information on Howard's work go to
http://howardlucas.com
http://howardlucas.com/photography-journal-blog/
[email protected]
FACEBOOK
@howardlucas
Phone: 01929 448209
My style is relaxed fun documentary wedding photography! I believe that professional wedding photography is very important, it is the only physical record of the day. I thrive on capturing unexpected, magical moments that can be missed in the blink of an eye. I am based in Swanage on the Jurassic coast in Dorset and I'll travel almost anywhere in the world for a good wedding.