So it's Wednesday already I feel this week is going to be over before it's even begun! A real treat for you today from a local Photographer and regular to the blog Andy Garfitt. Andy is a fantastic photographer, I am a big fan of his work, his fresh, crisp images that are natural, true to life with minimum effects and editing….just pure honest photography! and this wedding suits his style perfectly!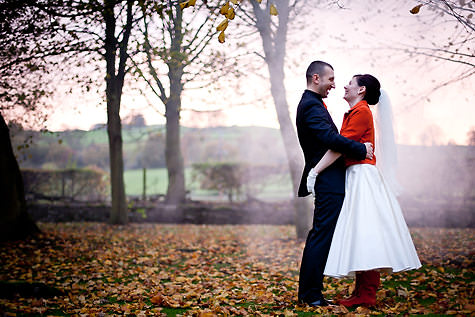 It's the wedding of Clare and Neil who were married on 5th November, the anniversary of their first proper date! (how romantic!) the wedding which took a year and a half to plan took place at the Devonshire Arms, Bolton Abbey.
It's a gorgeous day full of a lot of smiles. Now that may sound like a stupid thing to say, surely every wedding is full of smiles, right? well sometime I see pictures of brides and grooms, looking like they should be in some sort of fashion magazine and you do wonder if they are even happy to be married……not the case with Clare and Neil, they are grinning on every photo and look like they are having a time of their lives! such a joy to see!
They describe the day as 'A wonderful day, great fun with our favourite people and fantastic fireworks! It just went way too fast!'
How they met
We met in 2005 when we were both working for NZQA in New Zealand, Neil asked if I fancied going for a coffee with him as he it would be nice to catch up as we're both English, what I didn't realise at the time was that he lived with someone from England!
We then had 3 months together in New Zealand before my visa ran out and I had to go home. Neil stayed out there for a year and 4 months – couldn't get much more of a long distance relationship! We spoke every day and over that time we only saw each other for a total of 6 weeks! Neil braved it and came back to the UK in June 2007
The proposal
It was totally out of the blue! Neil took me to Venice for my 30th birthday and we went on a trip to Verona, a place I've always wanted to go to since studying Romeo & Juliet at school. On the way over, Neil was a bit jumpy and quiet (not like him at all!!) but I put this down to a bit of a hangover from the night before. When we got there we headed over to Juliet's house. We wandered around the exhibition for a bit, waiting until the balcony was clear. When we finally got out on to the balcony, Neil got down on one knee and proposed!
The venue
We wanted a venue where we could have a smaller number and a lot of the venues we liked had a requirement for a larger minimum number of people for a summer wedding. So when we went to the Devonshire Arms we found that the winter package really suited us and the first weekend was free as another couple who were interested in it were put off by the road closures due to the fireworks. We just heard fireworks and were sold!! Plus, it was also the same date as our first proper date watching the firework display over Wellington Harbour.
Dress
My dress was 'Beautiful' by Blue Bridalwear. I searched high and low for burnt orange shoes and eventually found some from LK Bennet but they were out of stock. Luckily Sarenza had one pair left on their website which were the right size. My veil was made by the same company that did the dress alterations…. and I had a bracelet and earrings from Fenwick in York plus some gorgeous pearl embroidered gloves
Suit and bridesmaids
Neil had a Ted Baker suit with shoes from Office. I had two bridesmaids who both wore black and picked their own outfits to suit their style. Sarah had a classic black dress from Coast and Debs had a gorgeous '50's style skirt with a black bodice with some amazing Karen Millen shoes.
Theme
It was an autumnal theme using black and burnt orange.
Food
We had butternut squash and parmesan soup to start. Main course was beautifully cooked lamb with fondant potatoes and for dessert, it just had to be sticky toffee pudding. The food was just gorgeous!
Entertainment
We decided not to go for the wedding DJ as we find them a bit too cheesy! So we opted to create a playlist and hire a PA system and microphone.
Decoration
In addition to the flowers we had chair covers from Ambience Venue Styling with orange taffeta sashes. At first we weren't sure about spending money on chair covers but it really did make the room and I'm so glad we did it. Donna at Ambient was great in getting this organised at relatively short notice.
Flowers
The flowers were fantastic and Libby at Berries Florists in Skipton created the most beautiful displays. She spent time with us listening to what we wanted and making suggestions to get it to work, as we wanted to incorporate pumpkins to keep with the autumnal theme. Libby used seasonal foliages, berries and 'fruit', with orange callas, roses, gerbera, and the additional detail of contorted hazel woven through.
The bridesmaids had bouquets of burnt orange Calla Lilies and my bouquet was a gorgeous shower bouquet in ivory and white using mini callas, freesia, stephanotis, jasmine foliage trails with some grasses and ivy trails. Freesias were incorporated as they are my favourite fragrant flower and we included stephanotis as my mum had those in her wedding bouquet as well.
Personal touches
• I created the invites myself and Neil did the inserts which I matched with the table plan (I used a large canvas and shaped wooden frames to stick to it, painted it and added inserts with the details of each table) and menus.
• I hand wrote the place settings on luggage labels which were then attached to over-sized orange and black lolly pops as favours.
• I also made up favour bags which were given out after the ceremony with some treats, bubbles and the sparkers for later.
• We made a little candy bar with more lollies, sweets and treats, mainly sticking to an orange and black theme and including bonfire toffee lollies.
• I also bought wooden games for people to play in between the ceremony
• Neil created the entire playlist for the music and we asked our guests to send in song requests.
• We also asked a friend to make a cake topper to match the orange fondant fancies we used for the cake.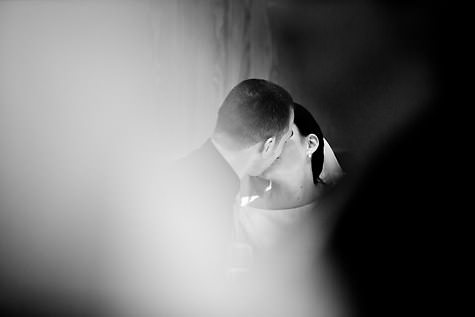 Special moments
There were so many it's hard to know where to start! My best friend Sarah came over from Australia to be my bridesmaid which meant so much to me. In fact I think Sarah, Debs and I were enjoying ourselves so much just relaxing in the room and drinking champagne that it took Andy, our photographer, to remind us to get ready!!
Advice
If you're creating your own play list, don't forget to edit the songs so that there's no fade out or silence between tracks!!! But ultimately, just enjoy it!!
Biggest surprise
That I wasn't stressing out!!!
Supplier Shout Outs:
The Devonshire Arms – a big thank you to Donna for making the whole process so simple and easy and for ensuring that everything ran smoothly. Can you also do a shout out to Tom who was the most fantastic Master of Ceremonies.
The Devonshire Spa – nails
www.zazzle.co.uk  – invites and thank you cards
Andy Garfitt Photography – Andy and Mike were just fantastic and we had such a laugh with them. They got on so well with everyone that it seemed perfectly natural for them to be there.
Ambience Venue Styling
Saks in Skipton – hair
House of Fraser Skipton – makeup trail and purchase
John – PA system and mic
Past Times – wooden games
www.amazon.co.uk – bubbles and candy stripe paper bags
For more information on Andys work got to
Andy Garfitt – Greyeye Photography
http://andrewgarfitt.com
http://andrewgarfitt.com/blog
www.greyeyephoto.com
[email protected]
FACEBOOK
TWITTER