'Our wedding was everything we had hoped for and dreamed of. It was sunny, amazing fun and full of friends and family.'
last week I was delighted to share with you  Lyndsey and Jon's wedding that I worked on over the summer, today I am over the mood as I have another one to share with you. It's the most gorgeous wedding  of Claire and Tom who were married on 8th September, bot the ceremony and reception were held at Utopia, Broughton Hall, Skipton, North Yorkshire.
I have to say I really LOVED this weeding, the whole process from beginning to end was a delight. Claire and Tom are THE easiest people to work with and both are super lovely! Tom has the most infectious smile, as you can tell from the photos and Claire is calm and incredibly organised and so easy to work with.
You may recognise them both as Claire has been writing for my Diary of a Boho Bride feature.
They booked me a year before the wedding and I worked on a Partial Planning basis, which I find is perfect for any organised bride as it give you the chance to still retain some sense of control over your day, while I guide and advice you as much or as little as you need.
I LOVE this venue, Utopia is perfect especially on such a  sunny day as this, with the glass walls and wooden beams it sits so well in the stunning grounds. Claire and Tom's theme was perfect as it fitted in with the natural environment of the gardens but they still managed to add in a few modern twists to mirror the architecture of the building. The wooden signs, the Hessian runners and all of those paper lanterns, it really did look amazing!
It was a pleasure working with Mark Tattersall, he kept me smiling all day, as did GFS the catering company it always makes a difference having a good team to work with. One life ceremony conducted a beautiful service and Emma's Home and Garden did a fabulous job with the flowers.
All in all, it was a magical day, and I really didn't want it to end. I couldn't wish for a nicer couple to work with. May I wish you many many years of happiness together. xxx
How they met
We met in halls at University in Manchester and have been together for about 6 years
The proposal
We got engaged on holiday in Turkey. Tom proposed one evening whilst we were watching the sunset with a bottle of wine. We didn't tell our friends and family until we arrived back in England so we had a lovely few days with each other enjoying being engaged.
The venue
We knew we wanted to get married somewhere close to our home towns of Ilkley and Knaresborough and we knew that we wanted somewhere in a nice setting with nice surroundings. We wanted our friends that weren't local to see the best of Yorkshire!
We visited lots of lovely hotels but felt that we were restricted with them in what we could do ie they all had certain furniture/carpets etc that would have to be there on the day and fit with the theme.
Utopia was truly unique – a modern building set in beautiful natural gardens. We were able to have it to ourselves exclusively from the Friday afternoon until the Sunday and so it felt totally private. The venue itself wasn't big enough to sit our guests for the wedding breakfast so we used a marquee in the grounds for this before returning back to Utopia for the evening reception. Kelly from Utopia was totally flexible with our ideas and could not have been more helpful.
We had 112 guests in the day and an extra 40 joined us in the evening. It took us about a year and a half to plan the wedding. There were quiet and busy periods but it seemed to be about the right amount of time.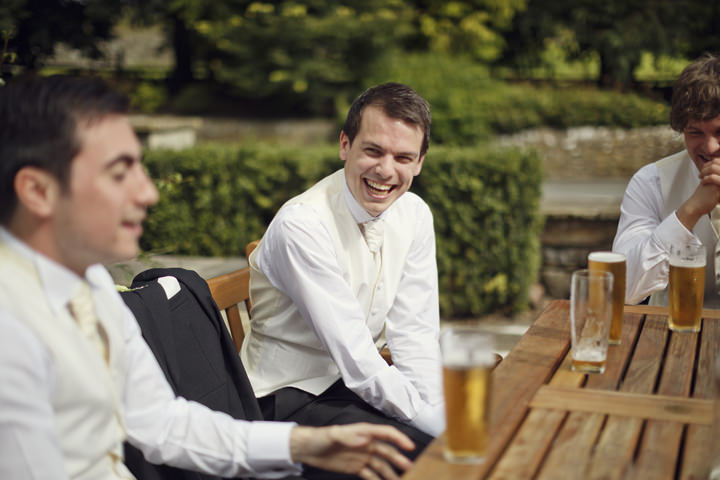 Why did you choose your photographer?
We found Mark online when looking for local photographers. We really liked his website and the style of his photographs. When we met with him we instantly liked him and new that we could trust him to get the coverage we wanted from the day.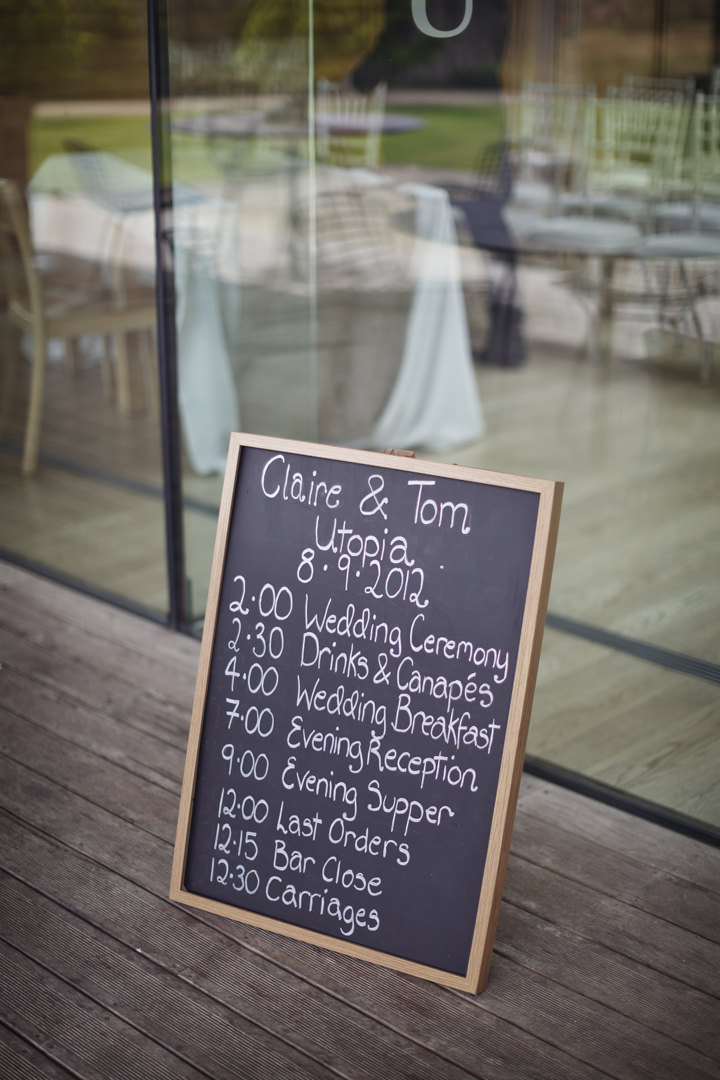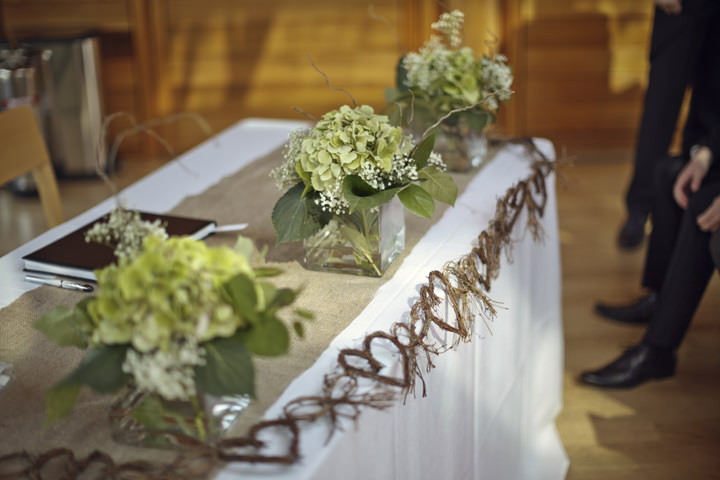 The Dress
The dress was from Bridal Apparel in Rawden and was by a combination of Italian designers. I actually changed it completely from the original design and have to give a special thank you to Susan and her team at Bridal Apparel who were incredibly patient and generous with all the alterations I wanted! The shoes were Jimmy Choo.
The suit and bridesmaids
The suits were also from Bridal Apparel and the bridesmaids' dresses were from Monsoon.
Theme
We didn't want too much of a colour scheme as we wanted to keep things quite natural to fit with Utopia. We were told by Kelly at Utopia that the garden in September would have lots of purples and greens and so we included some purple with the lanterns and kept the centrepieces and bouquets mainly green.
Flowers
Being pretty rubbish with flowers I actually have no idea what the flowers were called! I met with Emma from Emmas Home and Garden in Baildon and she spent a long time with me going through the wedding plans and my ideas around the style of the day. I knew that I could trust her so just gave her the budget and let her work her magic. The end result was perfect and just what we wanted!
Food
GFS did an amazing job with the food and our guests were certainly well fed. We had lots of canapés with the champagne reception and then we had a Gourmet BBQ with steak, sausages, salmon, shish kebabs, halloumi kebabs, and chicken. Alongside the bbq, there were various salads. For dessert, we had a trio of chocolate torte, Eton mess and lemon tart.
In the evening we had a big cake and cheese table. Some of the guests made cakes for us and GFS provided the cheese. We also had some bacon sandwiches for those who needed an extra bit of energy!
Entertainment
Before and after the ceremony and during the drinks reception we had a string trio – the Bridgewater String Trio, playing classical versions of modern songs. Whilst we were signing the register, our friend Ben played and sung his own version of Al Greens Lets Stay Together.
In the evening we had Toms Dad's band 'Nil Banter' followed by a classic iPod playlist!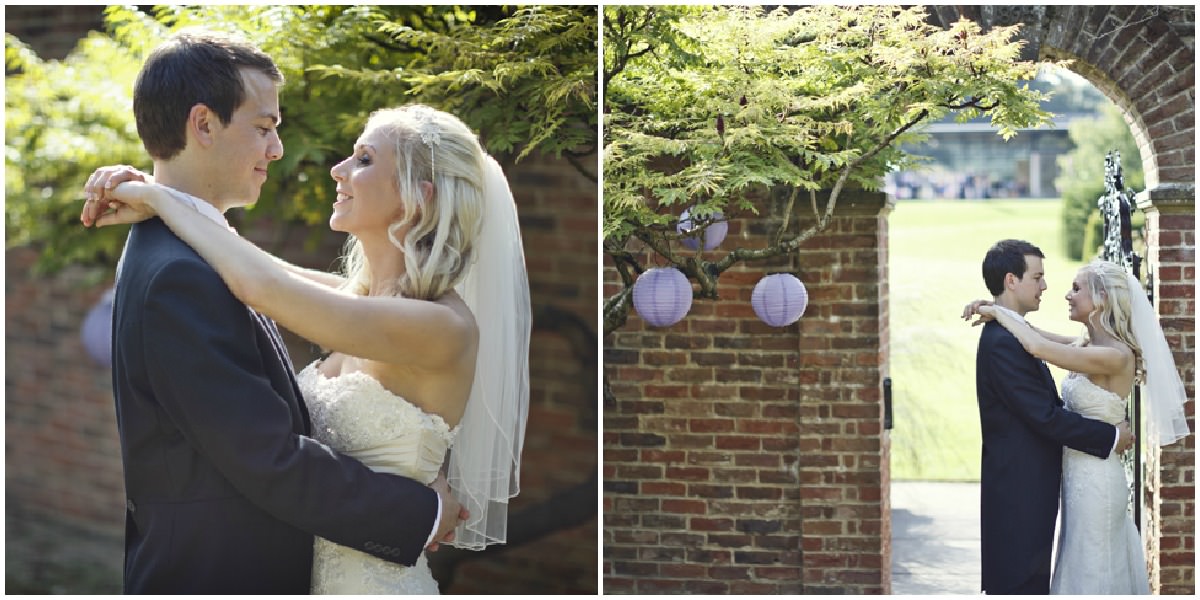 Decoration
As soon as I started planning the wedding I became obsessed with paper lanterns so these became quite a theme of the decoration and also featured on our save the dates and invitations! We had different sized lanterns hanging from different heights in the marquee and around various trees in the garden. We had lit up lanterns in the biggest tree in the garden, which was also covered in fairy lights. It looked amazing at night.
Inside Utopia itself, we kept it quite simple and just had fairy lights dispersed around the beams. In the marquee, we wanted to keep the table decorations quite simple and in keeping with the modern venue and surrounding gardens. We had hessian table runners, wooden table names and big green leafy centrepieces.
Personal touches
• We wanted to do something slightly different for the guestbook as we have been to so many weddings where we never get round to signing the guestbook! We decided to combine the table plan and guest book and had envelope escort cards for guests to take and find their table. Inside the envelope, each guest had a postcard featuring an image of somewhere we had travelled together. We then asked guests to 'write us a postcard' as an alternative to a guest book. We then hung the postcards in a big frame that my Dad made!
My Dad, Brother and Sister in Law also helped us and spent a lot of time with a few other DIY personal touches. We had a fun few weekends! We made;
• Table names (from a chopped-down cherry tree in my Mum and Dads garden)
• Big slices of a varnished tree trunk for the cake and cheese (from the same cherry tree)
• We put the menu on big frames by the BBQ and little frames on the table. We bought plain wooden frames and painted the glass with blackboard paint.
• Hessian table runners
• Signs for around the grounds
Special moments
When I woke up in the morning the bridesmaids brought in a gorgeous diamond necklace which Tom had bought to surprise me with. It was such a lovely start to the day.
There weren't really any particular highlights- I just loved the whole day!
Biggest surprise
Without a doubt, the biggest surprise was the sunshine and how hot it was! We were unbelievably lucky and it really did put a smile on people's faces!
Advice
Make sure you are organised! I am a bit of an organisation freak but I do think it helped me and allowed me to know what was going on through the whole process. On the day itself, I would just say to people to relax and enjoy it- it goes by so fast!
Boho Wedding Planning 
What planning service did you book from me?
We booked the Partial Planning service.
What made you decide that you wanted to book a planner?
Unlike weddings in hotels, Utopia didn't have a co-ordinator that would be there on the day. Originally we thought we would just book an on the day co-ordinator but when we met with you we knew we wanted you more involved and so booked the partial planning service!
What do you feel were the biggest benefits of having me involved with your wedding?
There were so many benefits to having you involved! All the resources you supplied us with lists/budget planning etc were so helpful and the monthly catch-ups on the telephone helped me to know what I needed to be focussing on. The experience you have had in the industry enabled us to totally trust all your recommendations of suppliers/ideas. By the time the day came round we knew that you knew exactly what kind of wedding we wanted and we were both able to completely relax and know that you would make everything happen! We absolutely would recommend that everybody has you as their wedding planner!
Supplier Shout Outs
Venue: Utopia- http://broughtonhallutopia.co.uk
Ceremony: One Life Ceremonies- www.onelifeceremonies.co.uk
Catering: GFS- www.gfscatering.co.uk/yorkshire
Marquee: Amplitude- www.amplitudeav.com/marquees
Dress and Suit: Bridal Apparel- www.bridalapparelleeds.co.uk
Flowers: Emmas Home and Garden www.emmashomeandgarden.co.uk
Transport: Steels Coaches- www.steelscoaches.co.uk
Band: Nil Banter – www.nilbanter.com/home.html
Photography: Mark Tatterall- www.mark-tattersall.co.uk
Hair & Makeup: Kimberley Brook- www.kimberleybrook.co.uk
Bridgewater String Trio- www.bridgewaterstringquartet.com
Planning: www.bohoweddingsandevents.com
For more information on Marks work go to:
www.mark-tattersall.co.uk
http://mark-tattersall.co.uk/blog
TWITTER
[email protected]
Tel: 01282 816799
Mob: 07834240602