A few weeks ago I introduced you to one of my lovely Brides Laura who was new to the Diary of a Boho Bride feature. You can read all about Laura's wedding plans HERE . In Laura's' introduction I explained that she is a BIG fan of the old DIY and after a few emails and a few sneaky pictures of stuff she had already created, it was clear that she was an even bigger fan of DIY than I first thought. With this in mind I asked is she fancied putting a few posts together for the Blog and she quite happily agreed.
So a few weeks ago Laura came armed with a whole host of goodies to my house and we were joined by Jess from Jess Petrie photography who documented the whole thing. (she also took some rather cute pictures fo Dee) We had a great time and I then got to see a few more secret projects that Laura has planned.
So here is the first fo Laura's DIY tutorials, and for me the best one……….and yes she made all of those paper cranes herself, and threaded them altogether! I have no idea how she had the patience but it looks amazing!
I'll pass the Blog over to Laura
1000 paper cranes backdrop
What you will need
• 1000 pieces of square paper. They can be any size and any colour you like. Most origami paper is coloured differently on each side to help you keep track of your folding. My pieces were 2cmx2cm.
• Thread and needles
• Spacer beads
Instructions
• Begin with your square of paper. Fold it in half diagonally to make a triangle, again to make a smaller triangle, and again to an even smaller one.
• Unfold your last triangle and lift the back and front flaps up to flatten the triangle out into a square.
• Fold the bottom sides on the font into the middle line, and repeat on the back.

• Fold the top over to each side to make a crease line.
• Open the bottom folds from the centre, and lift the bottom point. Flatten along the creases.
• Repeat at the back.
• Fold the bottom sides into the centre line on the front and back.
• Fold both sides in half, so that you are left with a flattened diamond with no creases or open edges.
• Lift the bottom points up to meet the top points and crease.
• Open the sides back up, trapping the folded points inside.
• Gently pull the wings to expand the body.

• Congratulations! You now have one crane!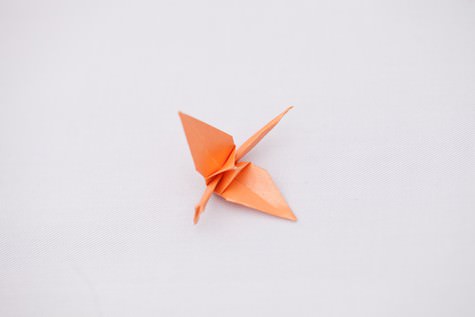 • Now repeat x 1000………..
• When you have completed the folding (or you can string them as you go along), thread them onto cotton using a needle and thread through the body, and using spacer beads to keep them from stacking on top of one another.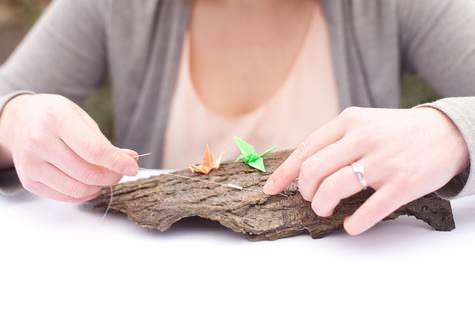 • You can hang them all together, or on individual strings wherever you please.

I'm sure you will agree these are just amazing! I really do admore Luara for working so hard on these. the backdrop is going to be used during their outdoor ceremony! which is going to looks sooooo pretty! I can not wait!
More from Laura tomorrow as she talks about finding her dream venue!
For information on Jess's Photography work go to:
www.jesspetrie.com
[email protected]
TWITTER
LINKEDIN
FLICKR
07581209794