Happy Monday everyone, I hope you all had a wonderful weekend and that the sunshine shone for you? What a lovely surprise this glorious weather has been! I hope you got a chance to enjoy it? Dexter, Nik and I have been in London for the weekend visiting his older sister. We have had a lovely time, catching up with the family and enjoying some time outside, I wish summer could last all year! I am starting off the week with this total dream of a wedding. Cortney and Kevan were married on 14th September 2019 at Lake Almanor in California. They filled their forest wedding with 1000 paper cranes, hanging above the ceremony area, which looks totally amazing. Cortney was the perfect DIY bride creating so much of the decoration herself, including the paper cranes. Full marks to her and her creativity the whole looks stunning. Big thanks to Matthew Lim Photography for the lovely images.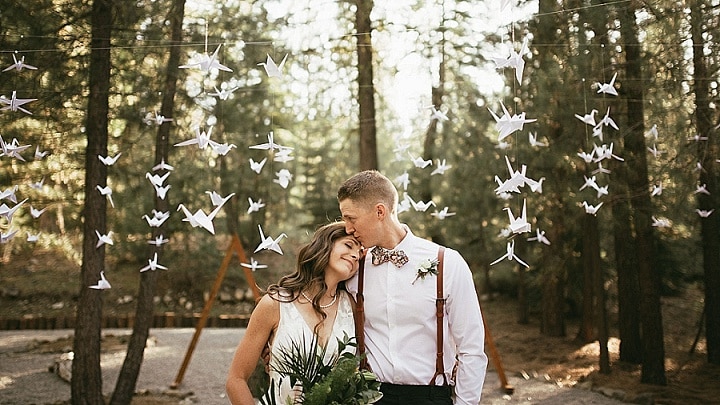 Matthew the Photographer tells us more about the day
Married in the forest of California, Kevan and Cortney's wedding had everything you love about a DIY wedding – Amazingly crafted details, the sweetest of moments, and a bride who did it all. Cortney was the ultimate DIY bride. She built the triangular wedding arches reflecting the mountains in which they were married in. She and her mother folded the thousand paper cranes which hung beautifully above the ceremony site. The extras she used for the seating chart, directing guests to their table by writing their name on the cranes. Each detail was beautifully thought through and personalized, making this an exceptional experience of a wedding.