So yet another self indulgent post from me…….normal blogging will resume next week I promise!!
I now have the official photos back from Saturdays event from the amazing In the Pink Photography The Rainbow wedding tent took a whole lot of organising and planning but the results were well worth it!
The day was amazing with loads of lovely and very helpful people involved, some great exhibitors, entertainers, a wonderful fashion show, photo booth area and of course 'that' wedding!!.
I've already thanked everyone involved but I'd like to say a special thank you once again to everyone involved in the day, you were all totally fantastic!
The aim of the day was to provide information about Civil Partnerships in the form of a wedding fair, but I wanted to make it more than a wedding fair, I wanted it to be fun, entertaining…..an event within pride, that made people want to visit and come back to throughout the day.
I was a bit worried that people at pride wouldn't take the tent seriously as maybe they were just coming for a day out, but it turned out that a lot of people had come specifically for tent and the information that was available to them!
The tent itself was full of some amazing people and some great decoration, a big thank you to Bunting Queen for the amazing bunting that she specially made for the tent, it looked totally fabulous and really made the tent special. Also thanks to Party Town for the balloons and to Orchis Florist for the paper pom poms.
And a BIG thank you to everyone who exhibited.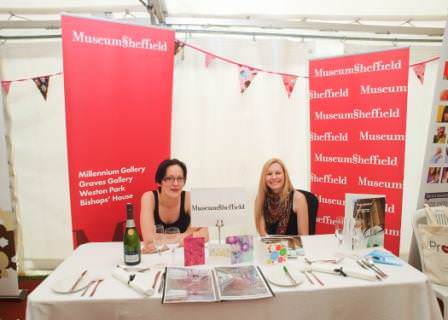 As well as the exhibitors we had some great entertainment thanks to Chris Heathcote for his great Swing set, the Salwa Belly Dancers for the fantastic show, Rich Williams for his DJ set and Catherine Elizabeth for her make up and hair demonstrations.
We also had a Bridal Fashion Show with suites and dresses and models from Mirage Couture and hair and make-up by Catherine Elizabeth.
In the Pink Photography also manned the Photo Booth which proved to be very popular!!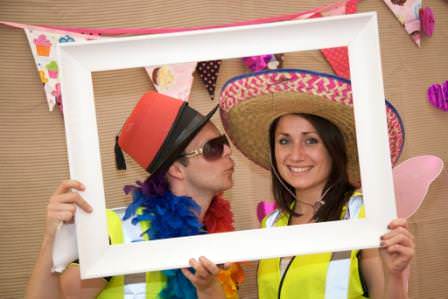 But the highlight of the day had to be the wedding of Bella and Lorna, it drew in quite a crowd in fact the tent was full with people queing out side to get a look at the gorgeous brides. The ceremony was conducted my Maria from One Life Ceremonies
The wedding was very personal to me as Bella is a good friend, she came to my wedding in Ibiza last year so it was a realy honour to have helped her and her girlfriend plan their day………Full post of this on the blog tomorrow.
All in all it was a great day, the whole of Sheffield pride got a huge turn out, 8,000 was estimated on the day. It was a real pleasure to be involved, I met some great people and even though I had my moments of stress i was so pleased that i did it!!
Full details of everyone involved:
Exhibitors:
Boho Weddings & Events www.bohoweddingsandevents.com – wedding planning for the unconventional couple
Orchis www.orchisfloraldesign.com – Floral Design
Museums Sheffield www.museums-sheffield.org.uk – a modern alternative for your wedding venue.
Irwin Mitchellwww.irwinmitchell.com – Solicitors
Kimbos Cakeswww.kimboscakes.co.uk – wedding and occasion cakes
Catherine Elizabethwww.catherine-elizabeth.co.uk – Proffesional Hair and make-up artist
In the Pink Photography www.inthepinkphotography.com – Civil Partnership Photography
One Life ceremonieswww.onelifeceremonies – alternative wedding ceremonies
It's Your Choc www.it'syourchoc.co.uk – personalised chocolate favours
DC Bouquetswww.dcbouquets.co.uk – handmade vintage bouquets
Mirage Couturewww.miragecouture.co.uk – designer bridal gowns and suites.
Entertainers:
Chris Heathcote – 07734 324479
Salwa Belly Dancers – 07960 136691
Rich Williams – 07590 288074
Fashion Show:
Mirage Couture Bridal Gowns and Suites
Catherine Elizabeth Hair and Make-up
Orchis Flowers
Decoration:
Bunting Queenwww.buntingqueen.co.uk – bunting for sale or hire.
Party Town www.party-town.co.uk – Balloons
Wedding Ceremony:
One Life ceremonies
Due to an email issue if you have emailed me between the 2nd & 9th of December, please resend it.
X