I have a real treat for you today courtesy of the lovely ladies at Ava Event Styling, the shoot took place at the stunning Hampton Manor during a wedding exhibition that they were holding, earlier on this year. It covers the four seasons and it really is a feast for your eyes!
I had the pleasure of meeting the 3 lovely ladies behind Ava Styling last autumn when I exhibited at the Designer Vintage Bridal Show, they asked me to do a quick bit of modeling for them and the results of their gorgeous yellow shoot can be see HERE
Ava consist of three of the most creative ladies I know in the business
I really mean this when I say that they are 3 of the most talented ladies I know in the business, individually they are amazing but together they make up a super group of wedding experts that can put together any look, and any theme for any event.
Sometimes like wedding planning, wedding styling can be perceived as only assessable for those with Huge budgets, but I can tell you this isn't always true. Yes these ladies create pure quality in their work but they are reasonably priced and don't charge a big consultation fee. Buy booking all three to create the perfect day for you, you pay the same as you would do for an individual florist or cake maker, But with Ava you get all your suppliers working together to create the perfect looking wedding for you!
A Big Thanks to the lovely Anna Clarke for the photographs
I asked the ladies at Ava to tell me a bit more about how the shoot came together, I'll pass the blog over to them to explain and also talk you through the fabulous four looks.
Hampton Manor is a 19th century manor house combining traditional charm and an über chic interior. It is one of the most sought after wedding venues in our area; so when we were given the opportunity to exhibit at their most recent wedding fayre, we jumped at the chance!
As a team we prefer to work with seasonal plants and flowers, to achieve the best results for our clients and their budgets. With that in mind, we decided to showcase our range of styles by creating the four seasons within the four walls of the Mawson Suite, one of the many stunning rooms at Hampton Manor.
Our theme of 'The Four Seasons' allowed us to demonstrate how well a seasonal look can be achieved by using well chosen plants and flowers, colour palettes, textures and materials.
Here's how we put the looks together:
Spring
As visitors entered the room they were greeted with the overwhelming smell of Spring flowers: narcissi; muscari;  hellebores; primula; parrot tulips and blossom twigs. 'Little a' had planted up all of the flowers in a wide range of containers from leather trunks to teapots; all displayed on rustic crates, wheelbarrows and shelving from the 'Ava' hire collection.  The fireplace and mantelpiece were heaving with Spring colours, co-ordinated vintage crockery, birdcages, zinc planters and wicker baskets.
We even created a small 'tea for two' display with some of blue and yellow china, vintage linen and the prettiest cupcakes, which looked far too gorgeous to eat!
Summer
Our Summer tables provided inspiration for couples wanting a very elegant, classic theme, incorporating lots of cut glass, reflective surfaces and an understated colour palette. We designed three different centrepieces with floral arrangements, to illustrate how interesting your tables can look whilst still creating a coherent look.
On this occasion, we used paper flowers in ivory, pink and peachy tones, creating a series of globes with tea rose and rambling rose varieties. The clear glass centrepieces were a mixture of highs and lows that guests could see over or through!
All three tables had different edible favours – cakepops, cookies and cupcakes that were presented under small glass domes. The sweet treats were all finished with handmade sugar flowers to co-ordinate perfectly with the centrepieces.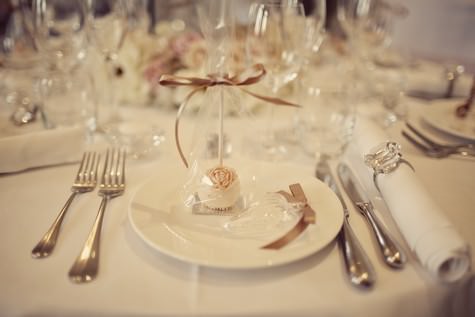 Autumn
Mrs Bou worked her magic and created a sweet treats table evocative of walks in the woods and cosy nights in beside a roaring fire. Butterscotch Popcorn, Cappuccino Kisses, Sticky Toffee Apples and Rich Chocolate Cakepops were displayed in beautiful apothecary jars and on ceramic cake stands.  With Maple Syrup Cupcakes, Spiced Ginger Cookies and Cheesecake Shots in jars, all tempting the visiting brides and grooms.
The focal point of the display, was a much admired, three tier wedding cake finished in gold glitter and co-ordinating ribbons, brilliantly displayed aloft a lattice metal urn.
Winter
Hampton Manor provided us with a wonderful 12-seater oval table in front of the fireplace for our Winter display. We made the most of it by using a series of mirrored plates down the centre of the table and layering them with numerous mercury glass candlesticks, tealight holders, vases and a silver 5-arm candelabra.
The floral arrangements comprised of gypsophila, dried poppy heads, pine cones and black bulrushes.  All of which also featured on the fireplace mantelpiece, along with several pairs of antlers!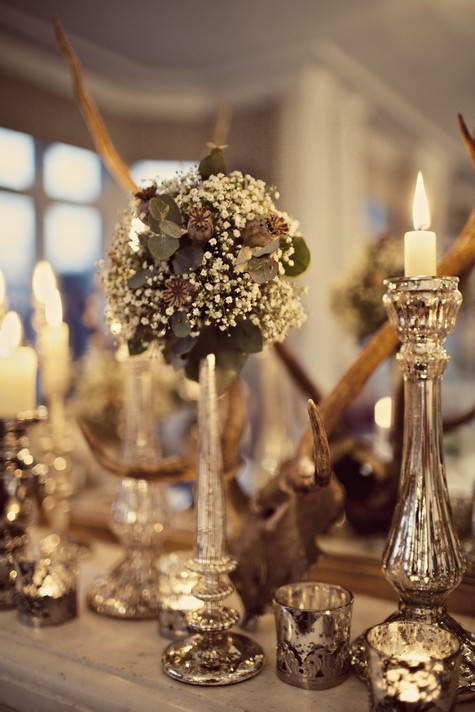 Thanks to Fjona Hill, Hampton Manor's Creative Director, for getting us involved and Anna Clarke for the gorgeous photographs.
Fore more information on Ava's services go to:
www.avaeventstyling.co.uk
[email protected]
FACEBOOK
TWITTER
Venue  – www.hamptonmanor.eu
Photography – www.annaclarkephotography.com
Chair covers – www.jessicaclairedesigns.com
*This is not a sponsored Post*