Today I would like to share with you a rather gorgeous styled shoot while at the same time introducing you to a new supplier of wedding yurts! that comes in both cream and bright pink!!
I had an email from Lizzie Jones a few months back to tell me about a new business she had set up which combined amazing raw chocolate and yurts……a strange combination you may think, but they are two separate businesses that can be hired out separately or together. Lizzie has set up the The Wedding Yurts as well as it's sister compnay Raw Chocolate Parlour and she has been working hard with a few other companies to come up with a stunning styled shoot to promote the two business.
Today I am going to be focusing on the Wedding Yurts, but will be talking about the Raw Chocolate Parlour in a month or two. They will be exhibiting at the Designer Vintage Bridal Show and their pink yurt will hold host to the exhibitors party complete with champagne love potion bar! It will also be at the show for the full two days, so a great chance for you to get to Birmingham and meet the yurts for yourself!
The shoot was put together by Lizzie and photographed by Antonia Wozencraft who Lizzie has told me did an amazing job and highly recommends after working with her on this shoot. They were also helped a huge amount by Ava Event Styling (with a further list of contributors at the end of this post) with the dresses and accessories supplied by The Weding Club, an amazing of team of people who all made the whole shoot possible!
The shoot consists of 4 different looks, one of which I will show you in part two of this post when I go into more details about the raw Chocolate Parlour! but for now, we have 3 gorgeous looks for you! and the though process behind them from Antonia the photographer
Hippie Chic 
The relaxed mood for the cream yurt was set by the 60s styling, model's clothes and laid-back manner. I echoed the warmth of the textiles in the images, typical of photographs from this time.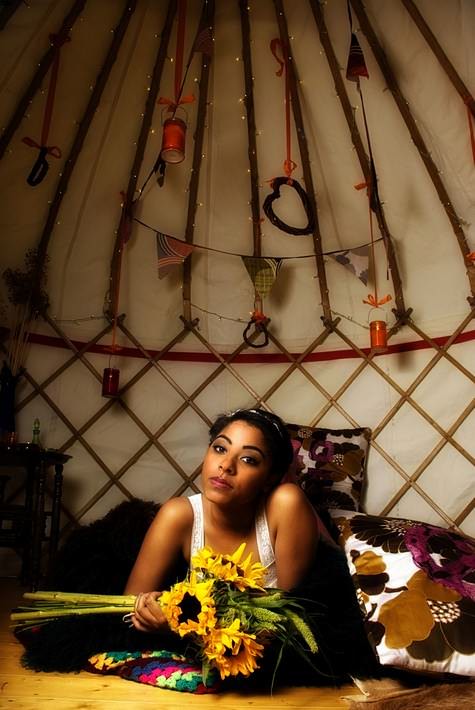 AliceIn Wonderland
We wanted to highlight the ability of the Yurts to put you in amongst natural surroundings; whatever the weather! These images were taken when it started to rain and we moved from the lakeside to under the trees. The model commented that she felt a little like Alice in Wonderland which I loved! I researched vintage Alice illustrations and was inspired by some bronzed drawings which I felt really reflected the mood, weather and lighting of the day.
Elegance
A wonderful feature of the big yurt is the airy wheel in the roof, letting light flood in whilst keeping the driving rain out. I used it as the backdrop for these images, keeping the lighting very simple to allow the wheel's silhouette prominence.
Lizzie told me a bit more about the Yurts themselves and how they work for a wedding.
The Wedding Yurts can be podded together to create a unique space with the capacity to sit fifty guests for a wedding reception or seventy guests dancing and lounging at the wedding party.
The 20ft yurt can be used for a party with a 12ft yurt attached for the bar and another 12ft yurt for the kitchen, or a 20ft yurt for hosting a banquet with a kitchen yurt or crèche attached.
Our boutique yurt accommodation is luxurious and we have a honeymoon yurt beautifully decorated for a magical wedding night under the stars.
We have a mobile kitchen which can be set up inside the 12ft yurt, wooden dance floors, furniture, sound system, lighting, soft furnishings and decorations, we also know lots of very talented and creative people to help create your special day.
The yurts are wonderfully versatile and can be erected inside or outdoors, in a field, a garden or your chosen wedding venue, a unique venue ideal for celebrations and intimate gatherings.
We deliver all around the country and depending on what you hire determines what mode of transport we use. In the yurts Mongolian homeland, the Mongols would load the yurts onto the backs of two camels! fortunately we are lucky to have four wheels.
Personally I love yurts because they are beautiful and perfectly designed to create a circular structure with extraordinary stability and a feeling of spaciousness. A tent which is almost a house, I love the fact they can be erected almost anywhere, in secret locations in the woods, near a beach, in a park or simply in your back garden offering a private, warm, beautiful space to share with friends and family. I love the big wooden doors and most of all the window located right at the top in the centre of the roof letting the sunlight flood in during the day and at night time is perfect for viewing the stars. Traditionally the central wheel was called the eye to heaven and the brides dowry would almost always include a yurt.
The yurts can also be erected indoors transforming a space, making a square room round and dome like, we have strings of golden l.e.d lights to decorate the ceiling which looks and feels magical.
Our sista business is the Raw Chocolate Parlour. It is a unique venue serving mouth watering Raw Chocolate Treats. Raw Chocolate is, believe it or not 'chocolate which is good for you'!
Our Yurts are transformed using a fuchsia pink canvas lining and decorated with sumptuous furnishings to create the Raw Chocolate Parlour, we will be attending the DVB Show in October where you can experience our delicious Raw Chocolates.
Thanks to Lizzie for inroducing me to the wedding yurts, I really do LOVE them! and can't wait for October when I get to hang out in them!
Please find a list fo all the people invlved in the shoot, all great suppliers!
Wedding Yurts: www.weddingyurts.co.uk
Raw Chocolate Parlour : www.chocolateharlotparlour.co.uk/
Photography:  www.antoniawozencraft.com
Styling: www.avaeventstyling.co.uk
Dress and accessories www.thewedding-club.co.uk
Cakes and desserts: www.boutiquebaking.co.uk
Flowers: www.littlea.co.uk
Props: www.bonnefete-hire.co.uk
Location: www.maunselhouse.co.uk
PLEASE NOTE THIS IS NOT A SPONSORED POST……………….I JUST REALLY LIKE THESE GUY'S!!