It's Friday again, not to sure how it came round so quickly but here we are!! To finish of the week for you I have this cute wedding courtesy of Julie Davis from Little Jewel Weddings. It's the wedding of Emma and Jonny Wood who were married on 18th June at St Giles Church, Ashtead and then a marquee in Emma's parent's garden – also in Ashtead, with 150 guests.
The wedding has been carefully put together by Emma and her family to create a mismatched non matchy theme, and I'm sure you  will agree that they have added in some gorgeous touches!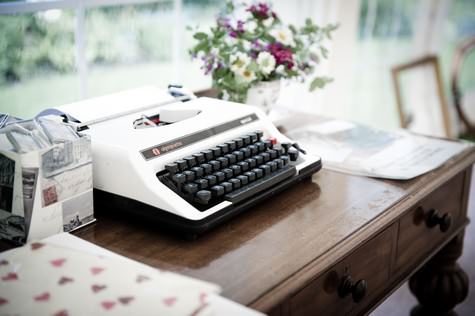 How did they met
We met on mysinglefriend.com and had our first date at 5 Cavendish Square and never looked back! We have been together just over 3 ½ years.
The proposal
It was a rainy Wednesday evening. Jonny picked me up from work and took me to a cosy basement champagne bar in Covent Garden, where he popped the question whilst sitting on tall stools at the bar. I didn't believe him initially and he had to show me the diamond before I realised he was serious! Never of us remember much about the meal that night as we were taken with the moment, adrenaline and bubbles!
The Venue
Having a personal connection with the venue was really important to us. We also wanted a sense of occasion without the venue feeling stuffy and for our guests to feel they could relax and enjoy themselves!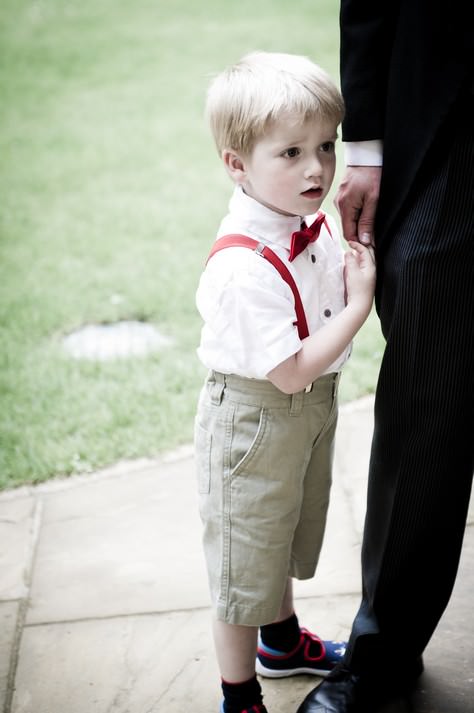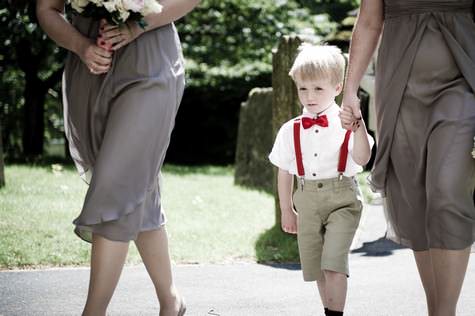 The Dress
My dress was by Lucy Martin Bridal, a lovely lady who has created her own made-to-measure wedding dress company (www.lucymartinbridal.co.uk ). The quality of the fabric was really important to me and all Lucy's dresses are 100% Italian silk and made-to-measure. I wasn't fussed about buying expensive shoes when i was in a marquee as I had seen the state of my sisters shoes after her wedding! They were just pretty Roland Cartier courts. I borrowed my mum's antique diamond earrings, had two vintage style brooches on the sleeves of my dress and wore fresh roses in my hair.
The suit and bridesmaids
Jonny wore traditional morning dress but wanting to make it his own, he wore a bright red tie and braces. My dad also gave him  his gold cufflinks that he had engraved his and my initials onto. The cufflinks were from my Dads confirmation so had sentimental value too. My bridesmaids were my two lovely sisters Jessie and Alice and they wore vintage style chiffon grey/mauve dresses with embellished necklines from Monsoon. I saw them and snapped them up straight away knowing the style would suit both my sisters.
Theme
I purposely wanted quite a mismatched theme. I prefer things not to feel too "matchy matchy".
Food
We had trestle tables in our marquee which was very social and leant itself well to our starter which was a charcuterie sharing platter, we had lamb for main course and eton mess for dessert which seemed fitting for an English June wedding. We also provided guests with homemade limoncello to accompany the desert. A great kick prior to the dancing!
Flowers
Roses, peonie and sweet peas. All random and placed in vintage vases that my mum had picked up from a variety of charity shops across Surrey.
Decoration
All vintage – a typewriter for guests to write us a message on an antique desk, gilt frames for people to stage photos, blackboards for menus, love films for table names, hearts for place names and vases of flowers everywhere! My mum is wonderful at detail and she had even dressed our Scarecrow in a morning coat and red tie!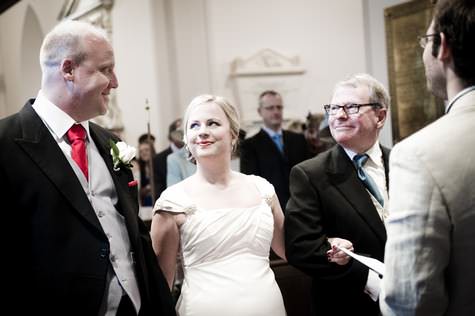 Personal touches
All decorations were homemade
–          Table plan – blackboard mounted in a gilt frame
–          Table names – film postcards with a love quote on the back
–          Place settings – black hearts with red & white gingham ribbon
–          Table centrepieces – vintage vases from charity shops with flowers as described above
–          Centrepiece of marquee – hanging basket made by my mum
–          An arch for jonny and I to walk through when we arrived back from church with shrubbery from the garden decorating it
–          Tealights/lanterns everywhere
–          Personalised signage to loos, coats
–          Little boxes in the loos offering things people might need such as mints, toothpicks, etc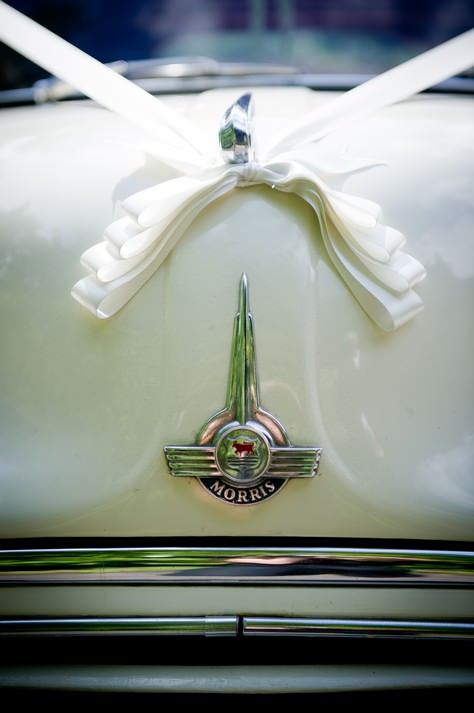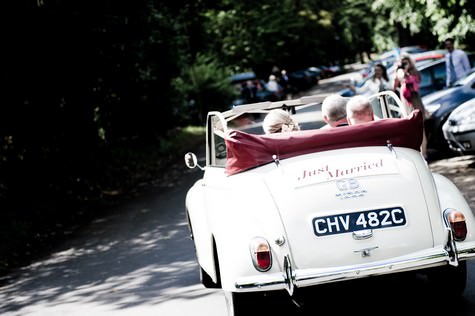 Special moments
Far too many to count! We were just delighted to share our wedding day with our wonderful family and friends! But particular highlights were: Arriving at the front of the aisle and seeing Jonny for the first time that day, Signing the register, Leaving the church as a married couple & driving to the marquee, our first dance (which was to Johnny be Good and required a leg guitar moment!) the fantastic food, listening to the speechs, getting in the car to drive to the church with my Dad, enjoying all the little touches and special decorations my mum had made and so many more.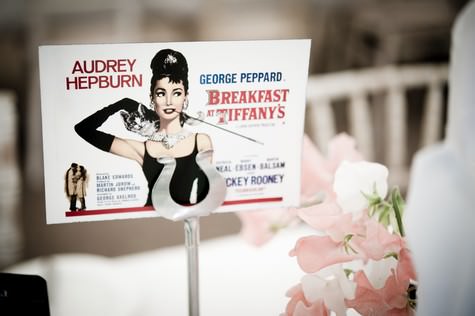 Advice
Be organised. The more you book in advance the less stressful it is nearer the time. Work out what is most important to you and what you aren't so fussed about. Embrace help from people. Keep hold of what wedding you thought you wanted when you got engaged – its probably truest to the day you actually want. If you are home-making a lot of times, make sure you plan that in advance.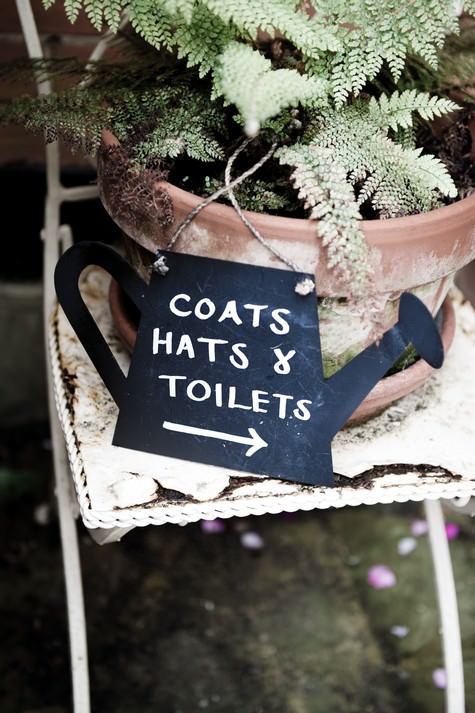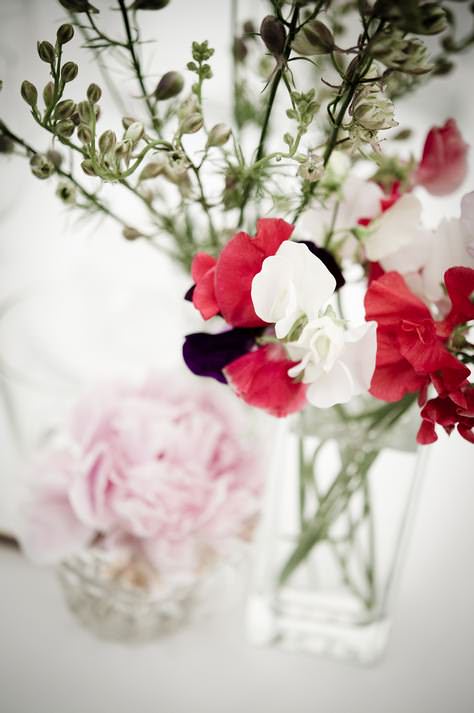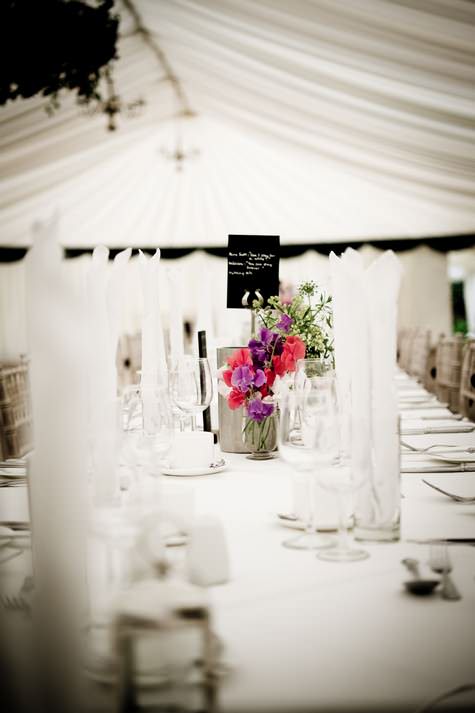 Biggest surprise
The weather! It poured with rain all morning – in fact, so much so that it broke the generator for the marquee. Not only was it beautiful sunshine by the afternoon but my brother-in-law managed to fix the generator by googling the problem!
Supplier Shout Outs:
For more information on Julie's work go to:
www.littlejewel.co.uk
www.littlejewel.co.uk/blog
FACEBOOK
TWITTER