Happy Friday everyone, and how are you this fine Friday morning? I am so looking forward to the weekend, tomorrow I am taking Dexter to a birthday party and then on Sunday Nik and I are off for a little break spa break to Forest Pines. We will be telling you all about our stay in the next few weeks and I'll be sharing my experience over on instagram stories on Sunday and Monday, so keep an eye out. We are finishing off the week with this lovely same-sex wedding, courtesy of Sophie Howard Photography. Nicole and Josie chose a mismatched theme with rainbow accents, and filled their day with lots of DIY details and decorations. A fun-filled day from start to finish.
Everyone commented that the day was filled with pure love. It was relaxed and personal with a festival vibe.
Nicole and Josie were married on the 14th May 2016 in a ceremony at The Maltings, Ely followed by a reception at Chittering Farm, Stretham in Cambridgeshire. 'We wanted a venue big enough for all our loved ones to witness our vows. It also had a historical charm that registry offices couldn't offer us. The reception was in an empty barn, which meant it was a blank canvas that we could personalise completely. Plus the grounds were beautiful! We had around 100 guests and the wedding took 1.5 years to plan'.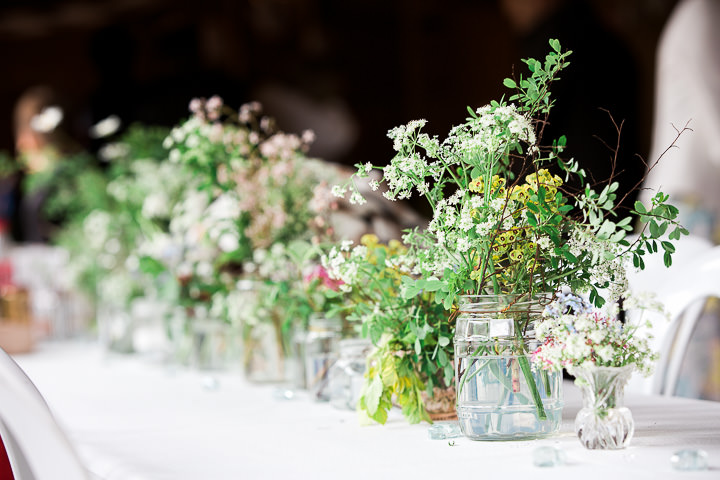 How they met
We met at a drum n bass night in Cambridge three years ago! Haven't left each other's side since (apart from for our hen dos).
The Proposal
Josie proposed after only 5 months! I asked if she was joking/ crazy. But when I realised she was serious, I thought, yes- when you know, you know!
How did you allocate your budget?
Mostly on Venue, music and food.
Where did you splurge and where did you save?
Our biggest spending went on music as it was such an important element to us. The band (Swagger) who we see regularly in local bars, were a must and they cost more than any other single aspect of the wedding but were so worth it. We also wanted make sure our DJ was not a cheesey 'wedding DJ' that would end our night with a drum n bass set.
The venue itself was not expensive- we rented the 6 bedroom country house for 3 nights and were kindly given the use of the barn for free! We also saved by having a hog roast rather than formal meal, and ice cream van for desert and we did our own buffet in the evening, as well as asking some close family and friends to bring homemade dishes. Everyone could bring their own drinks and we provided wine and prosecco etc, that we ordered from a supermarket. We did not have any waiting staff etc. everyone just helped them selves!
Why did you choose your photographer?
Our photographer is actually an old school friend. She had also been the photographer for a friend's wedding from university.
The Dress
My dress was from Monsoon, shoes and accessories from Debenhams. Josie's suit was Ted Baker and her shoes were brogues.
And bridesmaids?
John Lewis for my bridesmaid's dresses
Mango for shirts and trousers, Amazon for braces and bow ties for Josie's best people
Theme or Colour Scheme
The theme was rustic/boho and a bit mismatched e.g. the vintage china. We also had a Moroccan themed chill out area and a slight fairground theme outside (due to my family roots). Our best people were different colours of the rainbow.
Flowers
Our flowers were a combination of hand-picked wild flowers and seasonal flowers from our local market, all beautifully arranged by the best friend of Josie's late mother.
Decoration
Josie's step mum Carole made most of our decorations which included lots of bunting! We also picked up different bottles, jars and vintage china for flowers and candles. Lots of fairy lights and wicker too.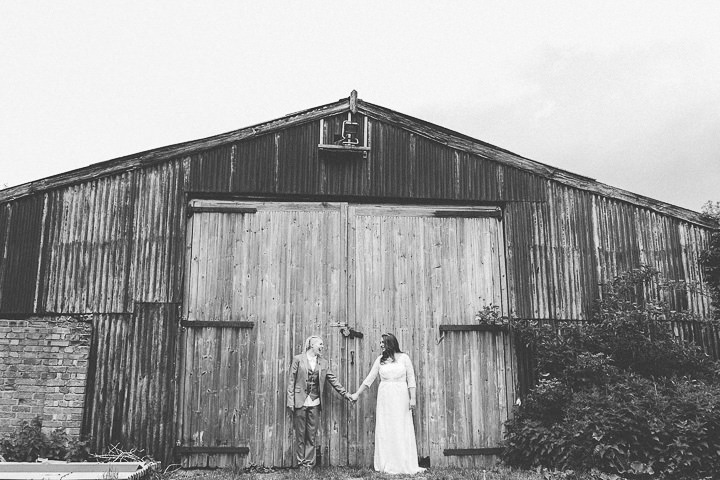 Food
Hog roast (with a veggie option of Moroccan curry), homemade ice cream from Sweet Ally Scoops vintage ice cream van, buffet in the evening.
Wedding Cake
Home made by a best friend from university. 3 tiers- lemon drizzle, hummingbird (banana, pineapple, walnut) and a rainbow layered tier! All with a cream cheese icing, on a swan stand, decorated with dried petals and some butterflies.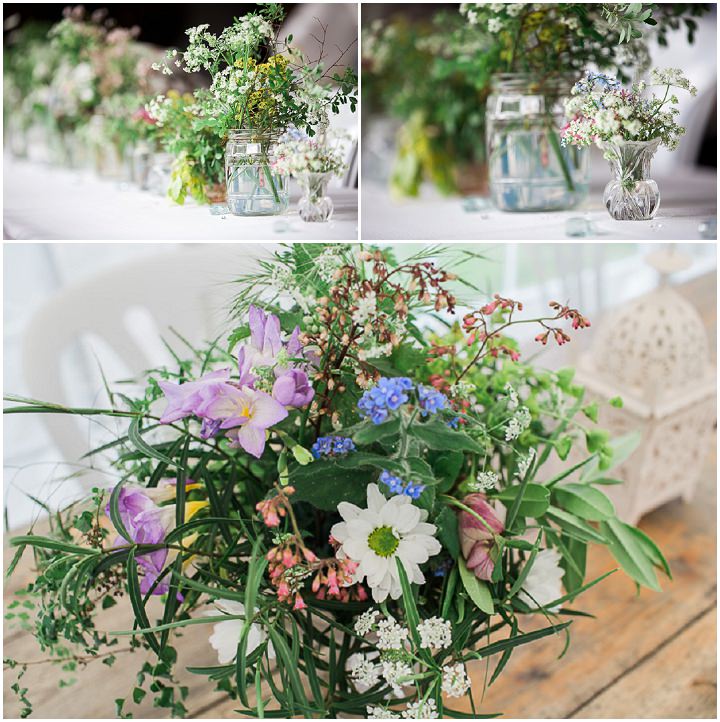 Entertainment
Swagger– a funk cover band and DJ Pete Ferrant
Stationery
We made these ourselves
Special Moments or Highlights
My surprise wedding car- a vintage Volkswagen campervan, the hilarious speeches, dancing, sitting on hay bales around a camp fire 'til the early ours.
Advice for other couples
Our wedding was completely DIY which meant the pressure was full on during the setup, looking after our guests all day e.g. handing out drinks and food etc. and clearing up (which took two days). It is completely worth it though and we feel it made our wedding stand out from the rest.
Allocate a little extra money for all the last minute things you didn't realise you needed.
Take moments throughout the day to take a step back and take it all in because it goes by in a flash.
Have a videographer so the memories last for ever.
Biggest Surprise
The wedding car!
Supplier Shout Outs

For more information on Sophie's work go to:
www.sophiehoward.photography / www.sophiehoward.photography/blog / [email protected] / 07708866910 / FACEBOOK / @SophieHwrdPhoto / PINTEREST 
My style is unobtrusive and relaxed, focusing on the little moments that make up your perfect day. Based in Essex but will travel all over the UK and worldwide to capture love.