Happy Monday everyone, I hope you all had a good weekend? We have a jam packed week ahead on the blog with some lovely real weddings to share with you. We are starting off with this gorgeous Marquee Wedding in Somerset, courtesy of Devon Wedding Photographers Warren and Carmen. Ruth and Neville spent a lot of time going to other peoples weddings before they got married themlevs, so they knew exactly what they wanted by the time it got ot their big day. A relaxed, laid back, non traditonal day filled with lots of personal touches and homemade details.
It was a fun filled, emotional, personal and relaxed day, surrounded by our favourite people and everything about it represented us as a couple. We had involvement and help from so many family and friends, they were the biggest part of the day and without them we would have been lost.
Ruth and Neville were married on the 21st May 2016 at Cowparsley Weddings, Roughmoor Farm in Taunton, Somerset. 'We knew we wanted something different, and loved the idea of an outdoor wedding in a natural environment. After a LOT of research, we stumbled across www.cocoweddingvenues.co.uk, and Cowparsley weddings stood out. From the moment we walked through the gate we fell in love! A sunny Somerset farm filled with wild flowers and hay bales, a gorgeous vintage marquee and the flexibility to make it totally DIY, choosing every supplier ourselves. We loved the idea of getting married outside and Cowparsley provided a beautiful orchard where ceremonies could take place. Little did we know that typical British weather would scupper our plans and that rain would take us into the gorgeous marquee for our special moment. But we loved it! If the weather is key to your day, having a plan B is definitely something to consider – make sure your guests are well provided for with umbrellas etc, just go with the flow and embrace it all! The wedding took 8 months to plan.'
How they met
We met just over 7 years ago at my leaving party before I went off travelling – they always say it'll happen when you least expect it and it really did!
The proposal
Nev proposed whilst we were holidaying in our family campervan in Sussex, with a photobook full of our memories, and then we chose the ring together. After spending a long day tackling Hatton Garden, we decided upon a local company, Jacobs, in Reading, and designed my solitaire ring together, which was really special.
How did you allocate your budget?
We decided what the three most important things were to us, and worked backwards via a massive Excel spreadsheet! We allocated a budget to every part of the day, and made sure we worked towards it all the time. If we went over on one thing, it meant less for another!
Where did you splurge and where did you save?
We splurged on my dress and the venue, and saved almost everywhere else. One of the biggest savings was doing a booze cruise to Calais for all of our alcohol, we saved so much money doing it and have still got loads leftover – definitely worthwhile and a fab way to continue the celebrations!
How did you choose your photographer?
The process of choosing a photographer seemed such a daunting prospect, especially as we knew no-one in the Somerset area to give us a personal recommendation. Time was passing and then out of the blue, a random conversation with close family friends led us to the utterly amazing Warren and Carmen! We checked out their photos online, fell in love with their work immediately and knew they were ones for us. We then met for dinner and a drink in a local pub and the connection was instant. Their style of telling the wedding story by capturing spontaneous, real moments and the emotion of the day suited us perfectly. In the lead up to the wedding and on the day itself they were absolutely fantastic, relaxing us with their fun and laughter and bringing out the best in everyone. We loved that they were drawn into the emotion of the day (especially Carmen!) and know that we have made two new, special friends. When we saw the photos we were absolutely overwhelmed with how much we loved them – we were blown away! We knew they would be amazing but they were more than we could ever have hoped for. Months later we still can't stop watching them!
The Dress
After many days spent trying on a variety of dresses in a wide range of shops, my mum, sister and I travelled to White Mischief Bridal in Henfield, where we knew I would be able to see the work of a particular designer I had in mind. However, all previous thoughts disappeared when I saw and ended up falling in love with the Jesús Peiró collection. Having been open to so many different styles but still unsure, I was worried I wasn't going to find "the one" but when I finally did it was worth the wait! I loved everything about it – soft and delicate, with a beaded cami top that came off in the evening to create two looks. My something borrowed was a close friend's veil, which matched the dress perfectly, and I wore nude suede wedges from Mint Velvet (to stop me sinking into the grass!), and a flower crown. The shoes didn't stay on for long – as the day continued, on went the wellies and the rain was embraced!
The suit and bridesmaids
The groom wore a dark blue suit from Reiss, with Loake shoes. The best man and ushers wore their own blue suits, and they all wore matching soft pink ties to bring them together.
The bridesmaid dresses each wore individual, above the knee dresses in white/ivory, with sprigs of gypsophila in their hair. They were brought together as a three with identical gladiator style sandals and bouquets of bright, English cottage garden flowers. It was hard finding different dresses that all had the same boho look that I wanted to create, but it was important to me that the girls each loved their dress and could wear it in the future.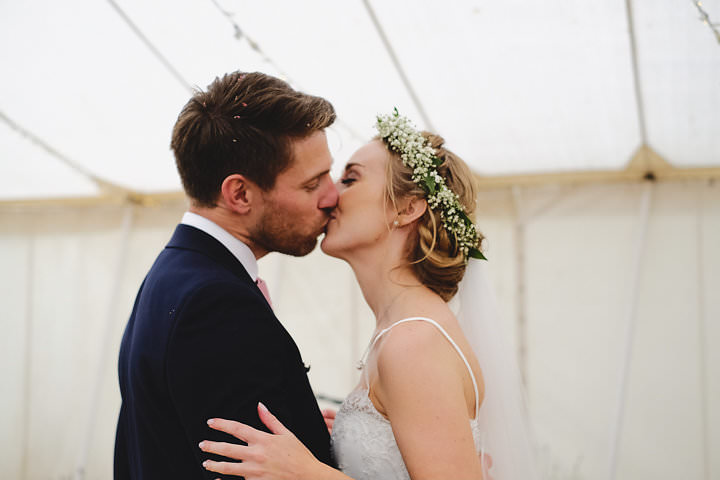 Theme or Colour Sheme
Since being together, we have been lucky enough to have attended a number of weddings, so we had a rough idea of what we wanted. We knew we didn't necessarily want to follow tradition and it was important to us to create a fun and relaxed environment, preferably outside. We wanted it to be small and intimate with a garden party theme, and to make a weekend of it so that we had time to properly catch up with everyone who came. Our colour scheme was no set colour scheme!
Flowers
I had a gorgeous bouquet made by Nev's godmum, full of colour and life, it was perfect. It was made with a mixture of so many bright and gorgeous flowers, ranging from ranunculous to sweet peas to buttercups, and was full and overflowing, which was the look I loved.
Decoration
As the vintage marquee was a blank canvas, we had the freedom to bring in all our own suppliers and decorations. We wanted a wedding full of fun and bright colours, loosely based around a traditional country/rustic style/festival style.
A few days before the wedding we followed up a previous visit to J W Blooms where the wonderful owner Jan guided us through her field of beautiful quintessential English cottage garden flowers and helped us to make our final selection for the table decorations. We settled on mainly blues, purples, whites and pinks with the odd pop of orange and yellow to bring the colours alive. A bucket of stems was also set aside for a family friend to use in my bouquet. In the weeks and months leading up to the wedding, friends and family gathered a variety of jam jars and bottles to supplement the vintage glass vases that had been sourced from various charity shops and bric-a-brac stall etc.
We hung tissue pompoms inside the marquee but then found our creative selves and set to with a variety of handmade projects. My Dad was amazing!  He and a friend worked together to create our initials in woven willow – they stood at over a metre high and made such a stunning first-impression as guests made their way across the lawn. He also constructed vintage-style blackboards to provide signage around the gardens, made signposts as well as honing a very old piece of wood to make the cake stand. Kind friends lent other additional decorations – metres of brightly coloured home-made bunting and some beautiful large class storm lanterns to add candlelight during the evening.
Food
We knew from the start that we wanted festival style food, simple and non fussy to fit in with the relaxed, informal theme! We loved the idea of a food van and there was no hesitation when we found the lovely Rob, owner of The Pie Hole UK  – he makes the most delicious pie and mash known to man, all served from a stylish airstream trailer. The pies went down a treat, our friends still comment on them now!
Wedding Cake
The cake was made by a close friend – the perfect naked Victoria sponge, served with strawberries and raspberries as a dessert along with some other yummy puddings baked for us by friends. Luvverly Dairy Ice Cream provided delicious homemade ice cream from their vintage tricycle during the afternoon and we put together a simple cheeseboard ourselves for the evening.
Entertainment
We wanted to create a chilled, relaxed feeling during the afternoon and choose Lee-Rasdall Dove, an amazing soloist guitarist, to perform whilst everyone mingled  – he was fantastic! Evening entertainment took on the form of a disco. We spent so much time putting together our very own playlist, all our favourite songs for the DJ to play, and although this was a lot of effort, it was like being out on the best night ever! Every song was one of our favs and the dancefloor was packed all night!
Anticipating an afternoon spent chilling on outside on the lawn, we filled the garden with a selection of outdoor games – space hoppers, croquet, skittles to mention a few. Despite the rain, a few mad souls braved the elements and got stuck in! Knowing us well, our friends weren't surprised at the random games put out on the tables to be enjoyed during the meal. The end result? Fab photos of our guests wearing post-its on the foreheads and moustaches wherever they chose to put them! Continuing the fun theme, a hamper of props for photos came out during the evening, accompanied by a selection of giant photo frames (made by my amazing Dad!) and the cameras got clicking. A basket of flipflops ensured the girls could dance pain free throughout the evening, and a supply of throws ensured everyone could keep warm as the temperatures dipped.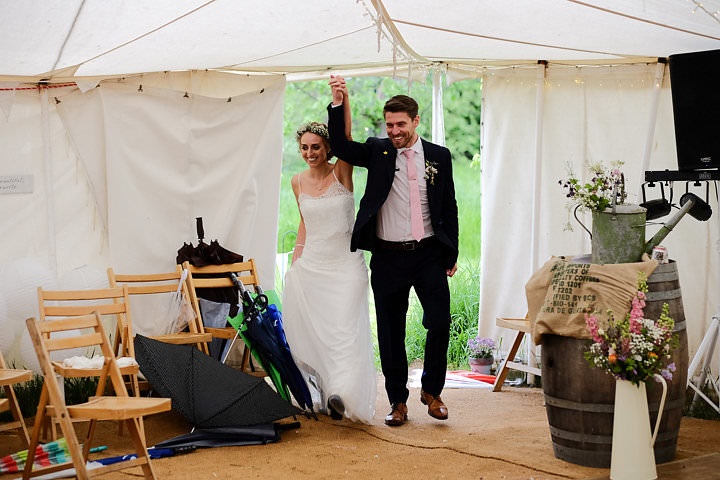 Stationery
A friend of mine designed our save the dates and invitations, which were beautiful and completely in keeping with the theme and venue. For the table plan on the day we used an old glass window pane and wrote the names on with a chalk pen the day before.
Personal Touches
We had a quiet legal ceremony at Taunton Register Office with just our family, two days before the wedding, then on the day had a Humanist ceremony, conducted by the lovely Jo Bromley. It was so personal and filled with emotion. We worked with her over a number of months to create a relaxed and intimate service, and we loved it. We wrote our own vows and chose to save the exchanging of our rings until that day so that all our friends and family could witness the moment.
We provided sachets of confetti for everyone to throw and attached a thank you note to them to show our appreciation to everyone for making the long journey to join us in Somerset. It meant so much to us that everyone had travelled to be with us.
We hung up signs all around the marquee of our favourite quotes, decorated old ladders with flowers, and had sweeties in old fashioned paper bags on the tables. One friend made our initials out of paper mache and decorated them in floral paper, a perfect addition to the card table!
Special Moments or Highlights
My mum helping me put my dress on in the morning was so special, and then watching the bridesmaids walk up the aisle, following arm in arm with my dad, and seeing Nev waiting at the end was an amazing feeling. For us the most special part was the ceremony, and then dancing to the last song at the end of the night, surrounded by the people we love the most.
Biggest Surprise
Not caring that my dress got ruined, and how quickly the time goes!

Advice for other couples
My number one tip would be to enjoy being engaged before the madness of wedding planning takes over! DIY weddings are brilliant but do require a lot of work, so the best thing we did was to just enjoy being engaged for 4 months, talking through ideas and just celebrating this special time. Once you start planning, be decisive (something we struggled with!), keep focused, have fun and tick off as many things as you can as soon as you can! It is so difficult to not become consumed with every little detail, but on the day all that matters is the two of you getting married surrounded by people who love you the most. Enjoy it! Don't be afraid to accept help – my mum in particular played a massive role in helping organise the whole wedding, and without all of her hard work I don't think the wedding would have gone ahead (thank you Mum!).
Try and match the wedding to your personality – we made the day our own, not worrying that it was different. It was "us".
The morning of the wedding goes SO quickly – start getting ready way before you think is necessary to avoid a mad rush! On the day, take in every moment, and just enjoy every moment – it goes in a flash!
Also – don't worry about the weather! We planned our whole wedding on the basis that it would all happen outside, then on the day it rained…and rained…and rained!  But we didn't let it dampen our spirits, we got stuck in, put some wellies on, laughed and loved every minute – especially the rainy space hopper race (although falling off into the mud was perhaps a step too far….!). We wouldn't change it for the world – those photos filled with the colours of the umbrellas and the beautiful light in them. To top it off my once pristine dress is covered in mud – but it fills me with happiness seeing it and remembering the amazing day.
Supplier Shout Outs
For more information on the photographer's work go to: