Today I have a whole lot of pretty for you in the form of this cute and relaxed wedding from Helen Cawte Photography. I actually came across Helen as I am featuring her own wedding in a  couple of weeks time, an amazing Ibiza wedding shot by Christian Ward. Helen got in contact with me and told me a bit more about herself and submitted this gorgeous wedding to me!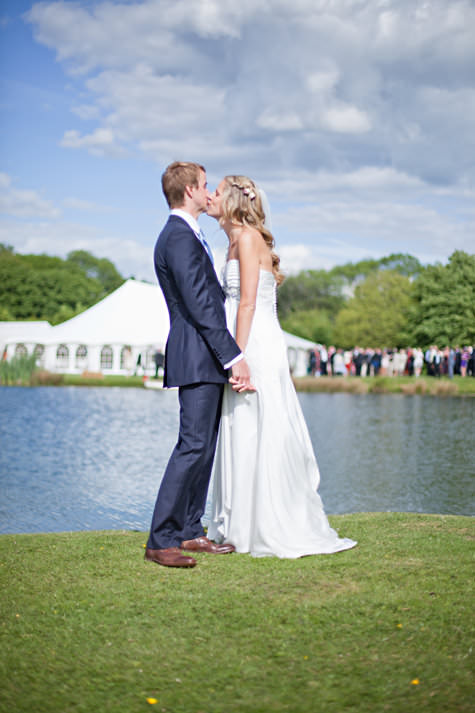 It's the wedding of Tom and Natalie Weller who were married on 14th May 2011 at Bosham Church, with the reception at Duncton Mill with 120 guests. It took 9 months to plan the wedding. Tom and Natalie describe their day as 'The most amazing and incredible day of our lives, from the moment I woke up until I fell asleep I couldn't stop smiling.'
It's such a pretty wedding, I'm loving so many things about it, the pastel shades, the location, the boats, the beach hut theme, the bunting, the flowers and I LOVE Natalie's dress, so relaxed, unstructured and it really flows with the whole feel of this gorgeous wedding!
How they met
We met when I was 11 and Tom was 12 at Bosham Fireworks night, we were friends for years and got together when I was 24 and Tom was 25. We're been together for nearly 7 years now!
The proposal
We went camping in Cornwall, it was a really windy night and we were in a cliff top camp site, our tent nearly blew away and we didn't sleep at all. The next day we decided to pack up and go home, before we left we decided to go for a walk. We ended up on a secluded beach. He popped the question, I cried and said yes. Then a moment later a random man arrived stripped down to nothing and ran in the sea!
The venue
We both grew up in Bosham so Bosham church was a must. Duncton Mill was just a stunning location, we are both really into water sports so wanted to be by the water, so it fitted the bill!
The dress
Sottero & Midgley, shoes Topshop flat sandals as I'm 6 foot tall, accessories my own
The suit and bridesmaids
Suit- Marc Wallace Bridesmaids- Coast
Theme
English beaches and pink & blue pastels
Flowers
Pink Peonies, pink Roses, gip, eucalyptus.
Food
Canapés of filo prawns, mini Yorkshire puddings and roast beef.
Hog Roast and salads for main with lots of crackling,
Trio of our favourite puddings,
My uncle Charles Martell cheeses.
Entertainment
A rowing boat taking people around the lake, and a friends band called 'The Groomers'
Decoration
Homemade bunting, beach huts, sea shells, star fish, flowers.
Personal touches
• My friends and I formed a 'bunting club', we met every month for about 6 months before the wedding taking turns at each others houses with our sewing machines. We made bunting using pink and blue fabrics.
• I collected mini jam jars which we made apple sauce to go with the hog roast. We then made little fabric lids and name tags these were the favours on the tables.
• A homemade beach huts board to display the table plan.
• My uncle's cheeses, friends band the groomers, a friends amazing lemon drizzle cake which was decorated with homemade paper bunting.
Planning Advice
Loads I'd love to be a wedding planner, to help couples plan a day as perfect as mine!
Get all the big stuff like budget plan, venue, catering out the way then you can spend more time on the pretty stuff, and get your best friends involved and make it fun, as it's all over too quickly!
Special moments
Everything! The ceremony, the speeches, dancing, the atmosphere.
Biggest surprise
How overwhelming it felt to have so many loved ones in one place feeling really happy for us!
Supplier Shout Outs:
Fore more information on Helen's work go to:
www.helencawtephotography.com
www.helencawtephotographyblog.com
FACEBOOK
07795491542
I am a Wedding and Lifestyle Portrait Photographer based between the UK and Europe, but currently shooting a couple of weddings in New Zealand so perfectly happy to travel anywhere!
I don't really like to classify my style but if I had to I would say it was light, fresh and romantic.  My photography is definitely more documentary than traditional, as I like to catch natural moments unobtrusively – this is when I am able to capture the real emotion, beauty and atmosphere of your day.