Welcome along to another week! How was your weekend? have your survived the snow? It's still pretty thick here I'm really hoping it melts quickly and that this is the last we see of it! Heaven knows we all need a bit of spring to cheer us all up! I'm hoping that today's will be the start to the week that we all need! It's a totally gorgeous country wedding with a real Boho feel to it! Whats more it's totally DIY with the dress being made by the brides mum, as well as all the Fowler arrangement's, even the food was catered for my the bride and her family! I love the pretty pastels, the flower crowns, the amazing decoration, THAT pudding tree stump…WOW! the whole wedding is just amazing and as for the gorgeous couple, so happy and full of smiles! what an absolute joy of a wedding. Big thanks to Helen Cawte for the beautiful images.
'It was totally personal to the both of us- a wonderful mix of tradition, modern, chaos, fun, plus a little bit of romance. A culmination of everything we are and that we love shared by lots of amazing friends and family'
The Lovely couple are Hannah and Alastair who were married on 18th August 2012. The ceremony was held at the local village church, All Saints Church, Langtree. With the reception at home in Langtree, North Devon. 'I had always wanted a marquee wedding at home, because I always knew we were going to be totally hands on with every single element and I think marquees allow you to be really personal with the party setting. It was great, people camped overnight and we had a bonfire going until the early hours. We had 130 guests, the engagement was about 8 months.'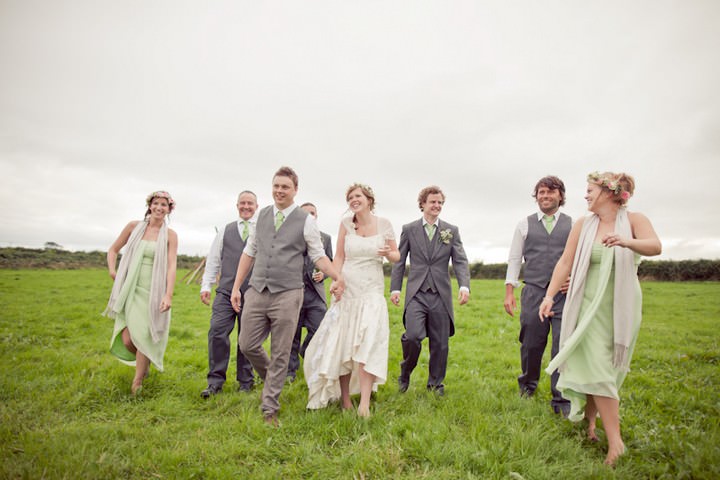 How they met
We met working for the same company in Val D'isere. We were both chalet chefs. We had been together five years before we got married.
The proposal
Well…..It wasn't totally out of the blue…we had been talking about our 'big party' for ages. I had a sneaky suspicion it was going to happen the weekend it did, because after a few drinks at a friends' leaving party Al dropped a few unsubtle hints! But it was very lovely anyway- a stroll along the river on a beautiful autumn day with a picnic, and then an accidental shuffle by Al onto one knee and he didn't even need an answer!
Why did you choose your photographer?
This was one of the biggest surprises. As we were trying to budget, we had suggested just getting copies of photos from friends, and asking friends with decent cameras to take a few 'official ones'. However, unbeknown to me, Mum had seen Helen a few months before (we went to the same school, and Helen used to work for Mum's catering company), and arranged that she came as a big surprise. Amusingly, during one of our many chats leading up to the wedding, I had said that even if we had an unlimited budget the only thing I would like to change would be for Helen to come and take the photos. So it was such a wonderful surprise- thanks to Mum and Helen!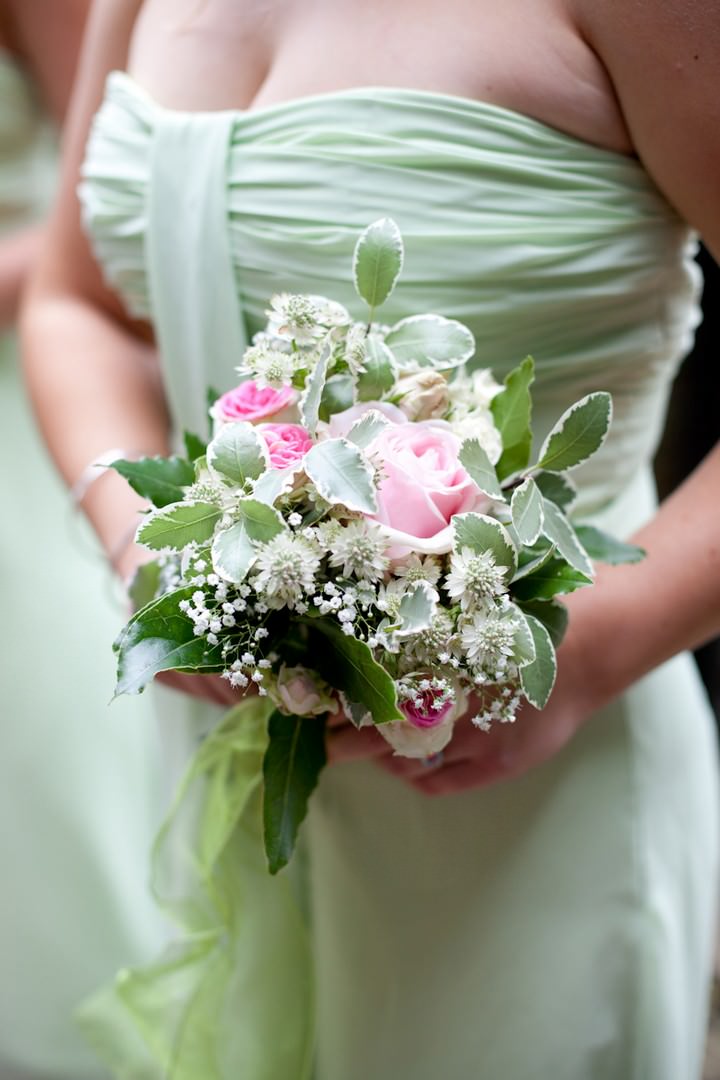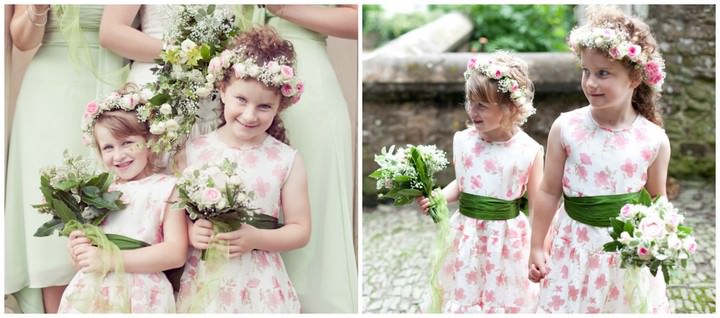 The dress
Mum made my dress. It was the same pattern of a dress which she had made thirty years ago which I had borrowed and worn to various parties. The shoes were by Irregular Choice, and just happened to match perfectly with the dress purely by chance, as we found them after having chosen the material for the dress.
Bridesmaids
Mum again made the dresses for the flower girls, out of the fabric she made her own wedding dress out of. We were really lucky with the older bridesmaids' dresses, as we took a bit of a gamble ordering them off the internet from America. When they turned up they weren't the colour I was expecting- totally my fault, I had pressed the wrong colour on the colour chart. However- everyone agreed that the colour which turned up was far nicer than the one I had thought I was getting! Their shoes were brilliant too, Irregular Choice again.
The suit
After much deliberation and dragging all the ushers off to go and get morning suits, Al found the perfect one in TopMan! It was a light tweed with a skinny fit leg- and it was absolutely what he had always had in mind. Of course the ushers all looked great in their more traditional suits too.
Theme or colour scheme
Vaguely and it kind of happened by chance really. But greens loosely, with splashes of pink here and there.
Food
Deliciousness! We made lots of mini Cornish pasties, sausage rolls, pork pies and formed the 'British' canapé/ starter platter, and also had antipasti platters too. The main course was slow roast spiced lamb with roast vegetable and chick pea salad. We didn't want to waste precious dancing time with sitting and eating pudding- so we had cheese and sweet munchies for people to help themselves to as and when. We did the catering ourselves as a kind of trial run for the catering company- The Cauldron – which we have since set up.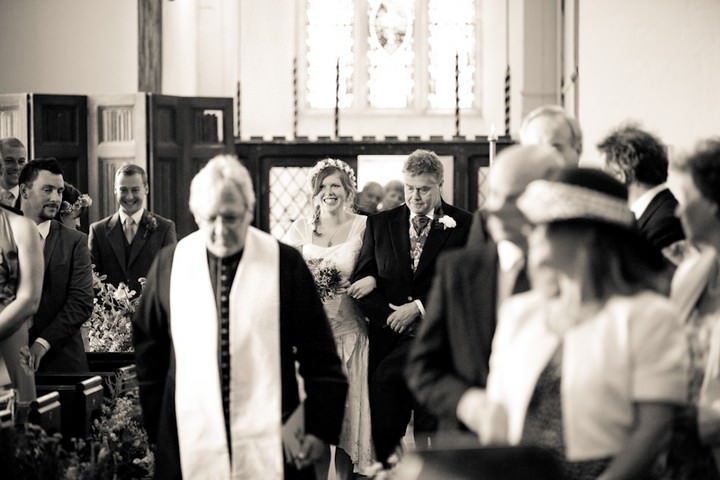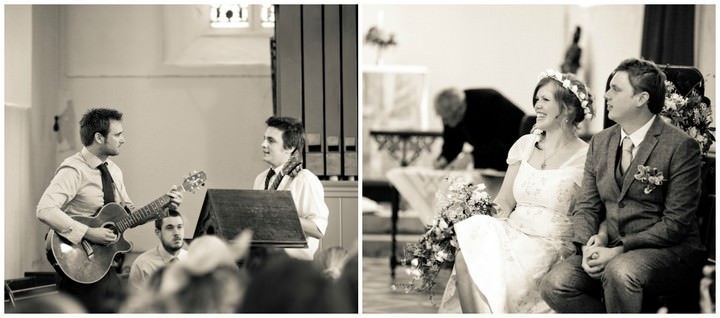 Entertainment
Some wonderful and talented friends sang a few acoustic and gentle versions of favourite songs of ours during the ceremony- Sweet Child of Mine, Smells Like Teen Spirit, and When The Night Feels my Soul by Bedouin Soundclash.
Flowers
A beautiful rustic mix of greenery and flowers growing in friends gardens, as well as lots of gypsophilia, small spray roses and Scilly Isle pinks. Again I have to credit Mum who also made all of the arrangements too…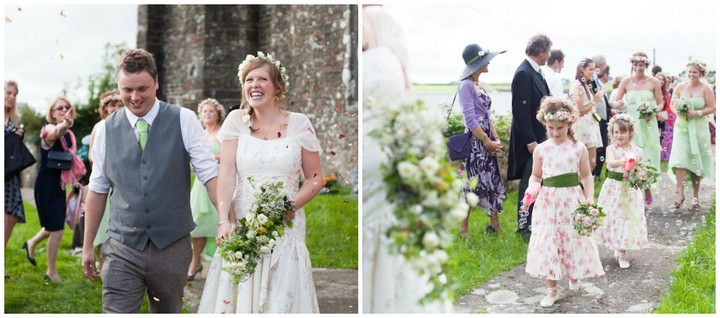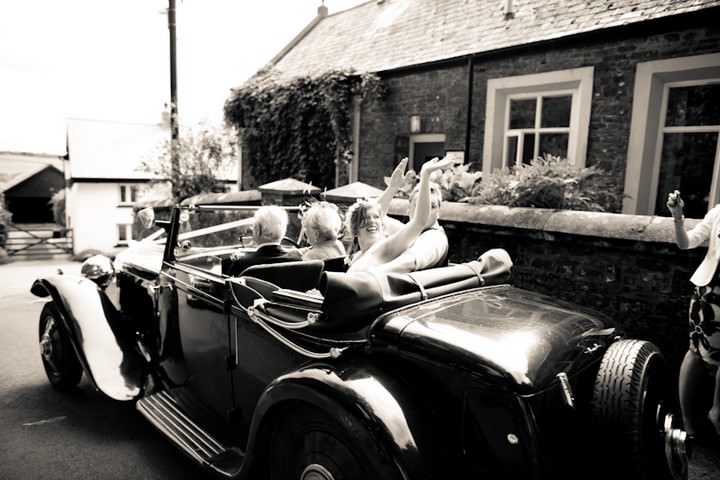 Decoration
We had lots of flowers, bunting, candle pots with hydrangea petals, and each of the plates was tied up with pink or green raffia, with little fabric hearts. The bar tent was one of my favourite aspects. We had all of the chilled bottles in an old boat filled with ice, and the ceiling was draped with branches, bunting, fairy lights and paper pompoms. The pudding tree stump/wedding cake was also quite a decorative feature. Again I had that in mind for ages before the wedding. We had it in the garden for ages, and levelled the different stumps off- to wrap rope, ivy, gypsophilia and paper roses in amongst it all. Leaving of course room for baskets and flowerpots filled with cake pops, paper windmills and other cakey things.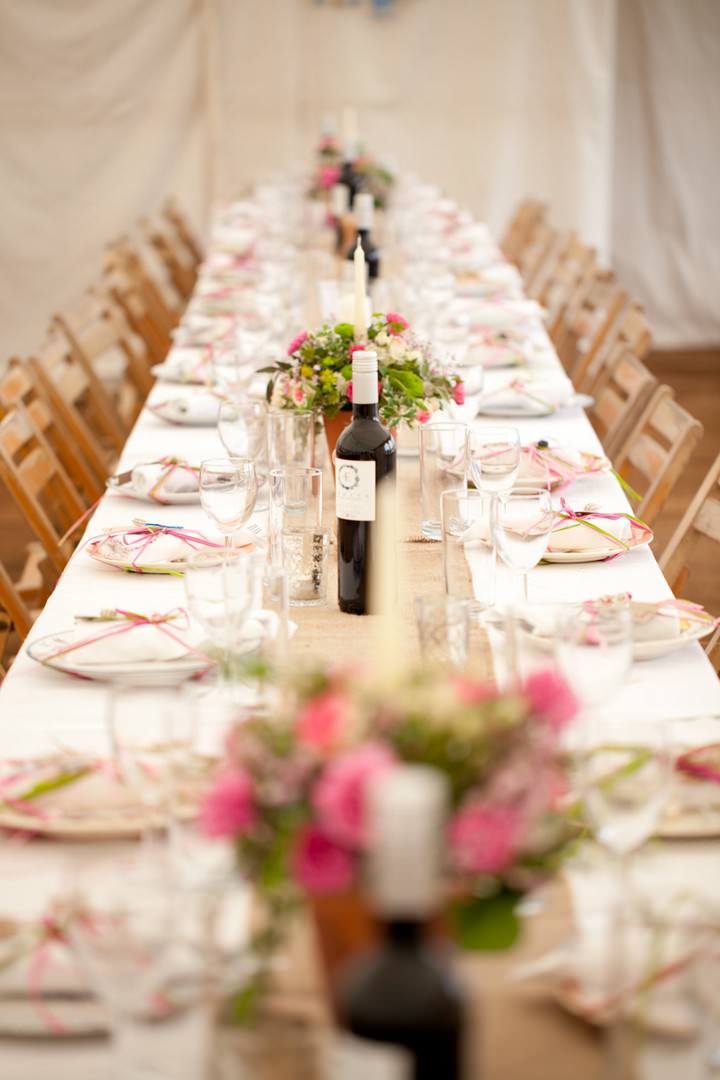 Personal / DIY touches
We really did do pretty much all of it!
• Catering
• Flowers
• Dresses
• Al and I spent hours creating our perfect playlist with a quirky first dance
• We collected different floral and patterned plates from charity shops and auctions .
• Along with the help of my sister and some amazing friends I made the table names using brown luggage labels and a small paper rose I had made out of an old book. I also made larger ones of these to decorate the pudding tree stump.
• We made the tissue paper pompoms, and the windmills out of wallpaper samples.
• As we had a bit of a ski theme I made the table names out of piste maps, and hung paper hearts with the seating plan off some skis and snowboards.
• We also hand made the invitations and envelopes. We wrote and formatted the details and printed them onto brown card, then hand painted floral garlands along the top. I made the envelopes out of loads of different vintage style wallpaper samples.
Special moments
Our first dance. I loved every minute of it. We danced to Gangsters by The Specials, it was so much fun and just showed exactly how we are together. We did do a few wine induced practices beforehand.
My other favourite moment was when Al took me aside during the evening/party and we just spent a good 15 minutes sitting back, just chatting about it all. Otherwise we would have hardly spoken to each other!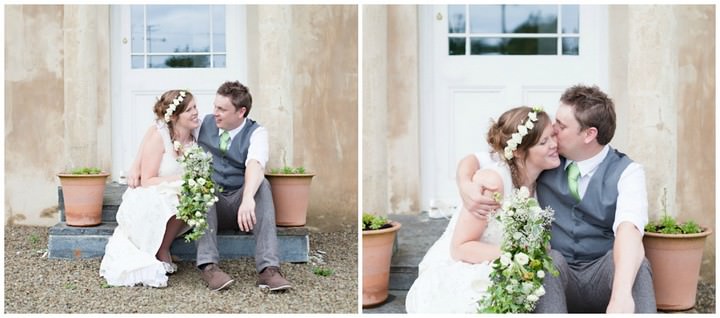 Advice
It was such a lovely opportunity to be as creative as possible and add personal touches. It was great to hear people say that it was a really personal wedding and how much it reflected the two of us.
Biggest surprise
Helen Cawte Photography. They are exactly what we wanted, unfussy, simple and natural.
Fore more information on Helen's work go to:
www.helencawtephotography.com
www.helencawtephotographyblog.com
[email protected]
FACEBOOK
07795491542

[jprel]