Todays wedding is full of Autumn goodness, rich colours and a couple full of gorgeous DIY detailing. It was sent into me by Sarah Illingworth at Mirror Imaging photography. It's the wedding of Zoë and Anthony Rampley who were married on 22nd October. The Ceremony was held at St Mary Magdalene Church, Keyworth, Nottinghamshire with the reception at the Carriage Hall, Plumtree, Nottinghamshire. They had 80 adults and 11 Children as guests and an additional 30 guests in the evening. It took 18 months to plan the wedding.
You can tell from all the detailing that a lot of thought went into this wedding Zoe spent a HUGE amount of time, designing, and putting together things like the stationery, the favours, the escort cards. Every bit fo the wedding flows and links from one part to another, she has a great eye for detail don't you think? I'm loving the pork pie cake, and all the autumn touches like the wedding bike, and all the amazing touches with the flowers and the table decor.
Zoe and Anthony describe their day as 'An extravaganza of autumnal tweedy madness, with a spotty sophisticated edge! A sublime day.'
How they met
We attended the same secondary school from the age of 11 but rarely had much contact with each other, although we both knew of each other. We both stayed on into the sixth form and got together during the first term aged 16. We have now been together 15 years and got married 15 years to the day since we became a couple!
The proposal
Not the most romantic story – having been together for 13.5 years and already having had a son, we were just sitting on the sofa one day when I said – 'Shall we get married' and Anthony replied 'yeah ok, when were you thinking of'?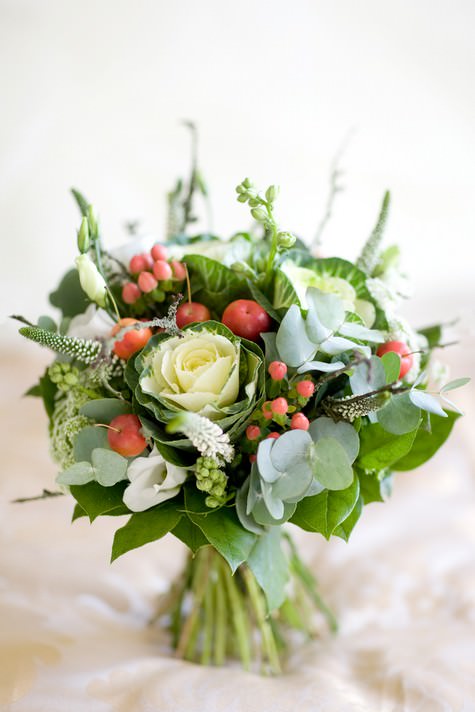 The venue
The church was in the village where I (Zoe) had grown up and we had both attended the village secondary school. Our parents still live in the village and Anthony's parents had married at the same church. There wasn't really any discussion about this, it was where we always imagined we would marry.
The venue for the reception was stunning and fitted our personalities perfectly with stylish bright contemporary space against the traditional brick building. Plus, the venue also has a popular restaurant in the grounds at which we had celebrated many family occasions together, so it held special memories for us already.
The dress
Dress – A bespoke creation by Caroline Chamberlain at Burton Waters in Lincoln (she's amazing!)
Shoes – Pure & Precious
Pearls – Lido
Headpiece – bespoke by Rebecca at Beetlebum by design using tweed I had purchased from Ebay, offcuts of my wedding dress and a spotty wooden button found in my mother in laws sewing box along with Rebecca's own pearl buttons!
The suit and bridesmaids
Grooms suit was a vintage tweed 3 piece suit from online store Tweedmans which amazingly fitted like it was tailored specifically for him!
Adult spotty bridesmaid dress was from Monsoon. Headpiece – Debenhams, cardigan -Coast, shoes – Dune.
Flower Girl dress (age 5) – Adapted slightly myself from a dress by Michelle Samuels Design, tweed headband – Monsoon and adapted by Beetlebum by design with the addition of my spotty dress fabric, Shoes -Monsoon, cardigan – Monsoon.
Page Boy (age 3) – Handmade tweed waistcoat by Jems Clothing in Scotland other items Ted Baker.
Theme
The theme was simple autumn with a rust and mink colour scheme, tweed and plenty of spots thrown in!
Food
Starter:
Red wine poached pear with chilled melon, berries and coulis (v)
Home smoked cheese, walnut & brandy pâté (v) with pear & mustard seed relish & toasted
Tian of poached salmon & smoked salmon with beetroot & caper dressing
Main
Roast suprême of local chicken, served with Dauphinoise potatoes, smoked bacon creamed cabbage & a grain mustard cream sauce
Confit of duck leg with Dauphinoise potatoes, smoked bacon creamed cabbage, port jus
Seared fillet of sea bream with parmentier potatoes, Mediterranean vegetables & beurre blanc
Mediterranean vegetable tart tatin, glazed with mozzarella (V)
Dessert
Milk chocolate tart with chocolate sauce & fresh raspberries x 27 (inc 1 x no raspberries, allergy)
Crème brulée with berry compote
Entertainment
We had a string quartet as guests arrived at the reception. In the evening music was provided by 'The Pesky Alligators' band.
Flowers
I wanted a contemporary twist on autumnal flowers and shades. Ornamental white cabbages were included in my hand tied Brides bouquet along with twigs, oak leaves, berries and crab apples. The bridesmaid and flower girl bouquets were smaller versions of mine minus the cabbages.
The buttonholes were a tweed fan of fabric with berries, crab apples and greenery including fresh herbs such as rosemary.
The table centerpieces were hollowed out pumpkins as vases filled with complementary autumnal flowers in oranges, greens whites and browns.
Decoration
Table centre pieces as above.
Outside the venue we had an autumn display of pumpkins, squash and gourds that had been grown for us over the year by family and friends, friends of friends and even the local garden club got roped in! We had them all displayed around a vintage bicycle with a 'wedding' sign directing the guests into the venue. Cycling is a huge part of Anthony's life and I was very keen to bring touches of this into the day.
The wedding cake was a tiered pork pie cake. We had seen one featured in a country living magazine and visited my parents small local butcher (Bailey's, at Upper Broughton, who have since featured in Jamie Oliver's Great Britain programme). We showed them a picture and it turned out they did actually already offer them so we ordered one (or 3!). We purchased a tiered metal framed stand and cake boards and decorated it with stems of ivy. Our florist provided us with all sorts of goodies – herbs, berries, apples, dried chillies with which we decorated each pie. We then ate this as part of the evening buffet. Our bride and groom were another ebay purchase and were Lego figurines in a wedding dress and suit. We also managed to buy a Lego bike which we propped alongside the groom!
Personal Touches
Where to start!!!
• Following the ceremony, in the church grounds, everyone received a glass of wine and a home-made shortbread in a stripy bag (very kindly made by a close family friend). This was actually adapted from a German tradition with where we have a strong family connection. It worked brilliantly as people were just beginning to get a bit peckish, it gave us the chance to chat with everyone and be congratulated as they all filtered from the church into the grounds and everyone stood around chatting and drinking whilst we were whisked away for a few couple shots by the photographer.
• I am a graphic designer and run my own greetings business Spotty N Stripy (this is where the spots for the wedding came from!) All the stationery was designed and handmade by me and followed the rust and mink colour scheme – and of course they were spotty! The orders of service were the same design as the invitations and menu place cards.
• I created translucent paper envelopes, printed with our names and date, filled with confetti and sewn up on the sewing machine which were displayed in wicker basket and handed out in the church yard following the service.
• The favours were cellophane bags of jelly beans tied with rust and mink ribbon with a spotty tag with our names on.
• I made brown paper bags of goodies (balloons, stickers, bracelets, crayons …). This included a personalised activity book (again spotty!) to each child with pictures to colour, dot to dot images and word-searches all themed on bikes or pumpkins – very useful when it came to getting them all to sit at the table during the meal!
• Place names – as everyone was given a choice of meal we decided to list everyone's choices on their place card in case of any forgetfulness! I made cards that matched the wedding stationery and included the guests name and each individual menu. Anthony cut small circles of tree branch (from a eucalyptus tree in our garden which was sadly killed by the frost and snow during the winter prior to the wedding). We inserted a wire holder to each and these formed the stand for each place card.
• The tables were named after different types of bike – tandem, penny farthing, mountain, bmx (you get the idea!) So, I also made the table cards which included an outline drawing of each of the types of bike. These fitted with the escort cards we produced which were brown luggage labels printed with the names and image of the bike. Anthony made a large frame (he's a joiner!). We painted it a mushroom shade and attached lengths of ribbon (in rust and mink) which we then pegged the cards onto (in alphabetical order). This worked brilliantly as people just removed the card from the frame which meant there were no crowds of people or a queue at a table plan! Once all the cards were removed we later asked everyone to sign the frame with a message to us – we now have this displayed on the wall of our lounge.
Special moments
• The wedding ceremony was our favourite part of the day and contained many special moments – one being when Anthony jumped in accidently with 'I Will' about 5 minutes too early and before the vicar had barely started – 'hang on' said the vicar 'Sorry, I've waited 15 years for this moment' replied Anthony'! Much laughter from the congregation and then everyone relaxed into the day.
• The Vicar that took the service is a friend of the family so it was very special to have him conduct the ceremony. My stepfather is a very talented organist so we were incredibly privileged to have him play for us and the church choir accompany him. I walked into church following the choir singing an anthem which created the most amazing atmosphere and again they sang for the signing of the registers. My younger brother (also an usher) did our reading and Anthony's mum (with help and encouragement from her other half) wrote a poem for us that she read during the ceremony which was very moving.
• Personally, a special moment of the day was when I received gifts whilst preparing on the morning of the wedding from Anthony – despite us agreeing that we wouldn't do this!! Firstly a bunch of flowers that Anthony had had specially put together to reflect the rest of the autumn theme and also a necklace in a beautiful walnut box he had made himself. This was no ordinary necklace – on our first anniversary way back 14 years ago Anthony had made me a necklace from the plastic lids of Smartie tubes (you may remember they used to have letters of the alphabet punched into them?) it spelt out my then name, Zoe Brocklebank – he had eaten a lot of smarties to get the right letters! This new necklace was a similar design spelling out I still love you Zoe Rampley. Smarties no longer produce these lids since they're packaging changed a number of years ago. It turned out that Anthony had the grooms party searching high and low for these in the weeks preceding the wedding, purchases had been made from Ebay, people had been contacted including Nestle themselves, by the best man, who came up trumps by finding a load stashed away in a store cupboard which they let him have – I love this!
• And a highlight – Anthony and I had been secretly taking ballroom dancing lessons for 7 months leading up to the wedding and had a dance choreographed especially to Ellie Gouldings 'Your Song'. Neither of us had ever done any dancing before and weren't terribly good but the surprise and delight on the faces of our family and friends as we 'performed' the first dance was magical.
Planning advice
18 months seemed like ages to plan and book everything but the time flew by, try and be as organised as possible and make 'to do' and 'done' lists – have a diary with dates highlighted for deadlines for things like payments – I only stated doing this at the last minute and it made planning everything in the last couple of weeks much easier – wish I had done it all along! This will be especially helpful if you plan to make a lot of items yourself as we did – the last month or so was filled with tying ribbons and finalising all the design aspects we had done ourselves, so things like the photographers final payment and paying for our cottage for the wedding night slipped my mind – fortunately they were very relaxed about it!
The sense of achievement on the day and seeing how much people were enjoying all the special touches we had done really made it all worth the effort and I would so recommend making the day as personal to you as a couple as possible and where you can, get creative – even if it's just a tied bag of sweets as a favour, it just makes it more personal.
For the brides on the day – having my hair and make-up done by someone else on the morning gave me chance to relax and enjoy being pampered – at no point during the morning did I get nervous and I felt fabulous when it was done, I would highly recommend it.
Biggest surprise
My first surprise was that my Dad did not embarrass me during his speech – I had totally envisaged this, but what he said was very thoughtful.
During Anthony's speech our bedside table was brought to our top table – it was a table Anthony had made for me when I was 17 and is the only piece of furniture he's made that we have kept and taken from home to home with us as we have moved over the years.
Anthony explained that when he had made this table for me at the age of 17 he had written a personal message to me inside with a marker pen and we were about to saw it open in front of everyone and read it out! A friend came forward with a saw and I set about sawing through the table (I didn't manage it myself so Anthony took over) inside the message read ' I love you Zoe Brocklebank, will you marry me?). This had lived alongside me for the last 14 years. There was a gasp and a flurry of movement as handkerchiefs were sought out around the room and tears wiped away!
Turns out he had always intended to use this as the way he would propose – would have been slightly more dramatic than the way it actually happened!
Supplier Shout Outs:
All of our suppliers were superb and really went out of their way to ensure we got exactly what we had envisaged. I would have no hesitation in recommending all of them! We were very lucky to have found so many helpful and talented people.
Also just wanted to mention that both my Mum and Mother In Law got their outfits from Jane Young at Newark who are superb for occasion outfits and the service you receive is second to none http://www.janeyoung.co.uk/
For more information on Sarah's photography go to:
www.mirrorimaging.co.uk
http://www.mirrorimaging.co.uk/Blog.aspx
FACEBOOK
[email protected]