I haven't featured any wedding stationery on the blog for a while so I'm loving todays Boho Loves feature. Today I am loving the new Knots and Kisses Candy Stripe and Russian Doll ranges.

Knots and Kisses offers gorgeous bespoke and 'off the peg' vintage inspired wedding stationery, for couples who want something that stands out from the crowd. They have a lots of original collections ready to order from their website including these two new collections Candy Stripe and Russian Doll
Candy Stripe

Nikki from Knots and Kisses says; I'm delighted to introduce the first of two new wedding stationery ranges. Its called 'Candy Stripe'.
The design has been inspired by a mixture of clean modern lines and retro sweet packaging, and comes in a variety of ice cream inspired colourways … three to be exact … Aqua & Mocha, Pink & Sage Green, and Lemon & Grey. These could be ordered for your wedding all in one colourway or easily mixed and matched as you wish!
The Day Invitations are a pocketfold design, wrapped in brown paper and a candy stripe band, and come with a matching information card and rsvp card inside as standard.
Alternatively there is a simpler folded evening invitation, which could also be used as an alternative day invitation if you wish, and a full range of matching reception stationery & Order of Service.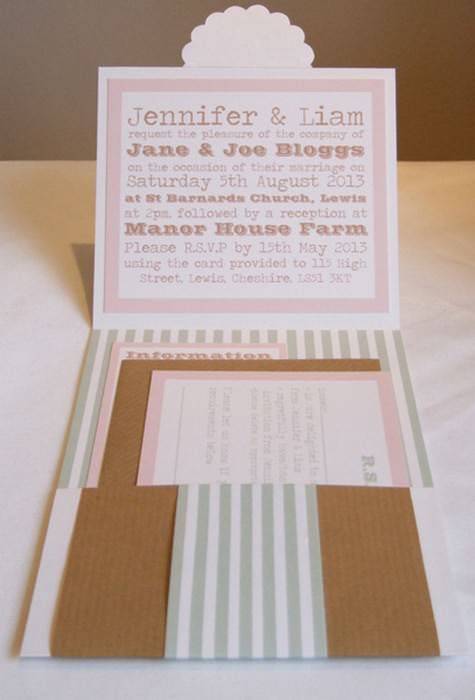 Russian Doll

The second range I have launched is called Russian Doll.
It has been inspired around Russian Dolls and Travelling Fairs and my love of bright colours. I have a feeling many more brides are wanting an alternative to the pastel side of 'vintage' this year … its great to give them this option.
I've always loved Russian Dolls (I have two in my kitchen!) and the gypsy feel of them.  I think this look could be really easily incorporated into a wedding style with lots of heavily embroidered fabrics and table runners, colourful vases and perhaps even a fairground caravan for your guests to relax in!
The Day Invitations are again a pocketfold design as I'm finding many more couples wanting to include a rsvp card and information card as part of their invitation. It comes wrapped in a colourful Russian Doll motif band and there's even a cute little Russian doll inside as well.
You can find evening invitations, order of service and a full range of matching reception stationery on the website
www.knotsandkisses.co.uk
[email protected]
FACEBOOK
TWITTER
07976625201