Sure, honeymooning at all-inclusive resorts sounds fun, but some couples may want to try something more adventurous on their honeymoon. So, if you're searching for ideas for post-wedding adventures, why don't you try a cycling holiday? Cycling tours are the perfect opportunity to explore some of the world's most magical landscapes while revelling in wedded bliss. Below, check out some of the best destinations for cycling-inspired honeymoons.
Tuscany, Italy 
One of the best things about a cycling holiday is seeing some of the world's most stunning landscapes, especially if you cycle in Tuscany, one of Italy's most beautiful regions. With its dramatic rolling hills, picturesque medieval towns, gorgeous vineyard, and UNESCO-protected countryside, Tuscany can offer a unique and unforgettable cycling-inspired honeymoon.
Tuscany is a popular cycling destination, boasting some fantastic cycling routes. Your journey can take you to the rolling hills of Chianti and the beautiful hill towns of Montalcino, San Gimignano, and Siena. 
The route from San Gimignano to Siena is one of Tuscany's most panoramic cycling routes. It starts in the town of San Gimignano and requires two climbs. But once you reach the top of the mountain, you can enjoy a relaxing slow descent and some of the most stunning views of Tuscany before arriving in Casole D'Elsa, a charming village in Siena.
You will descend gradually towards the small village of Badia Isola, one of the stops along the famous Via Francigena Pilgrim walk. During the 12th century, it was a stopping point for pilgrims, but now houses a museum showcasing its history. Not long after arriving in Badia Isola, you'll pass by the majestic Monteriggioni Castle, where you can stop for a break and refreshments.
The Algarve, Portugal 
Considered the jewel of Portugal, the Algarve region boasts a breathtaking coastline, fantastic weather all year round, and some of the most stunning beaches. The best way to discover the region's breathtaking landscapes is on a cycling tour. It's one of the best places in Portugal to explore by bike, with cycling trails for beginners and professionals. 
If you and your spouse prefer a more thrilling experience and want to venture off the beaten path, consider mountain biking in the Algarve. You can cycle along the hills surrounding Monchique and conquer some challenging trails. The Vicentina Natural Park is also a popular spot for mountain biking in the Algarve. 
Consider joining a bike tour if you prefer to cycle while sightseeing. These tours will take you to some of the most beautiful places in the Algarve with a knowledgeable local as your guide. You can book a private tour or one that lets you join a group.
Rota Vicentina is one of the most popular cycling routes in the Algarve. It's a paved trail along the coast with scenic views. Although it's primarily for walking, you can also cycle along this route.
Mallorca, Spain 
Mallorca is one of Spain's most beautiful islands and a popular spot for beach honeymoons. But honeymooners will also find plenty of excellent cycling routes on the island. Those ready for some challenges can join the popular Mallorca 312 Challenge, an exciting way to spend quality time with each other.  
The Port Pollenca and Sa Batalla Circle loop is one of Mallorca's most famous cycling trails. It covers the Tramuntana mountains' northern section and starts anywhere along the coast, between Pollensa and Alcudia. Follow the trail towards Caimari before ascending at Coll de sa Batalla, a popular climbing route. Complete the loop by following the rolling terrain past Lluc before descending Coll de Femenia towards Pollenca.
If you prefer a shorter trail, you can cycle from Palma to Arenal Coast, a short route of about 15 kilometres. It's almost flat, so it's best for beginners and couples who prefer easy rides while enjoying Palma's historic sites. The trail starts at the marina, at the foot of Bellver Castle. You will then join a cycle path and venture east towards Palma's city centre. You will remain by the coast the entire route, offering fantastic views of the Palma Old Town and the La Seu Cathedral.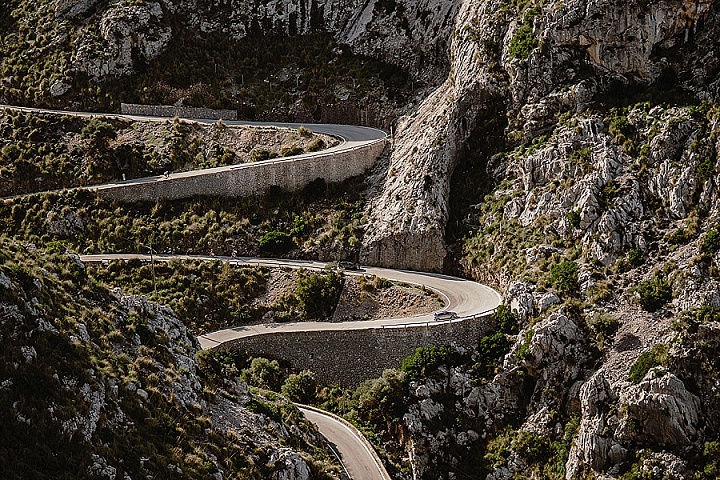 Northern Scotland, UK 
Northern Scotland is one of the most stunning places to enjoy a cycling-inspired honeymoon, boasting numerous scenic trails. Most of these trails are quiet and peaceful, featuring incredibly splendid views. Your cycling adventure in Northern Scotland will take you towards green rolling hills and into freshly ploughed fields contrasting beautifully with black mountains and desolate moors. 
If you want to cycle by the coast, take the Hebridean Cycling Route. Follow some sections of the National Cycle Network Route 780, a long-distance trail spanning the length of the stunning island chains of the Outer Hebrides. Aside from the gorgeous ocean views, you'll also come across local attractions like the Butt of Lewis Lighthouse and the Calanais Standing Stones.
Head to the Highlands for a more challenging cycling adventure. Conquer the Assynt Achiltibuie Circular route, a stunning loop along the northwest section of Scotland, taking you through the country's most idyllic landscapes. You could see some majestic mountains along the way and pass by glittering lochs and beautiful beaches, where you can stop for a break.
Julian Alps, Slovenia 
If you want your honeymoon in a lesser popular but stunning destination, consider the Julian Alps. It's a majestic mountain range occupying an area of 4,400 km2, straddling the border between Italy and Slovenia. Over three-quarters of the mountain range is in Slovenia, including over a hundred peaks of about two thousand metres.

Full of stunning beauty, the Julian Alps is well worth exploring on a bike. You and your spouse can cycle along the Juliana Bike Mountain Bike Loop, taking you around the Julian Alps, part of the Slovenian touring cycling trail. The trail connects villages past majestic valleys and plateaus. It runs along dirt roads, forest paths, and cart tracks.
Your cycling adventure in the Julian Alps starts in Bohinj, taking you across Goreljko and into the stunning Pokljuka, the greenest area of the region, overgrown with vast spruce forests. You will then descend to Gorje and into the picturesque valley of the Radovna River.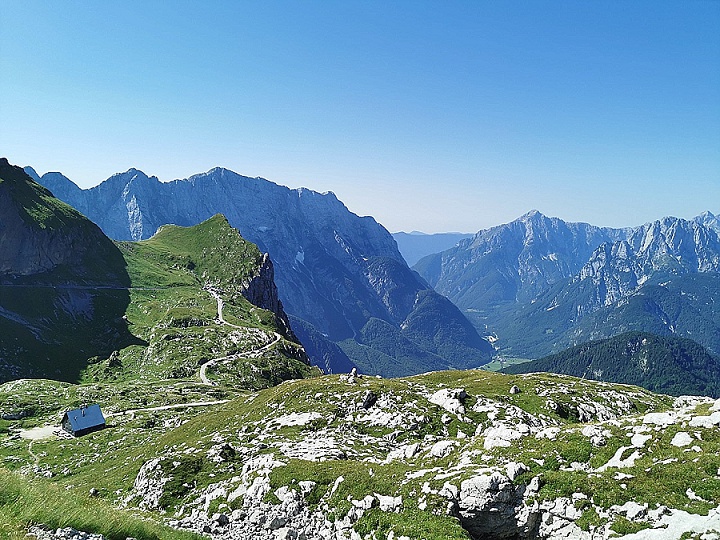 this is a collaborative post