I have a beautiful intimate destination wedding for you today, all the way from very sunny Italy. It was sent into me by Harrera Images. It's the wedding of Guy & Gemma Dub who were married on 23rd June 2011, the wedding ceremony was held at Positano, Amalfi Coast, Italy with the reception in a rented Villa (just outside of Sorrento, Amalfi Coast, Italy. They had 14 guests.
I love destination weddings, so full of warmth and sunshine and at this time of year we certainly need some sunny weather! having married abroad myself I know what it's liek to spend your wedding day chilling out in the sun and holding a completely relaxed and informal day…..just like this gorgeous wedding. I am loving the shots of Gemma with her veil, she looks outstanding, and those portrait shots with the sunsets are just stunning! doesn't it just make you want to book your summer holiday!!
Guy and Gemma describe their day as 'It was the most perfect, sunny, intimate, relaxed and happy day'
How they met.
We met in the first week of the first year in the student union at Uni. We have been together just over 12 years now.
The proposal
We were heading down the mountain after working in the French Alpes, it was along one of the beautiful mountain roads, with amazing scenery. Guy getting down on one knee was the last thing I expected at that particular time!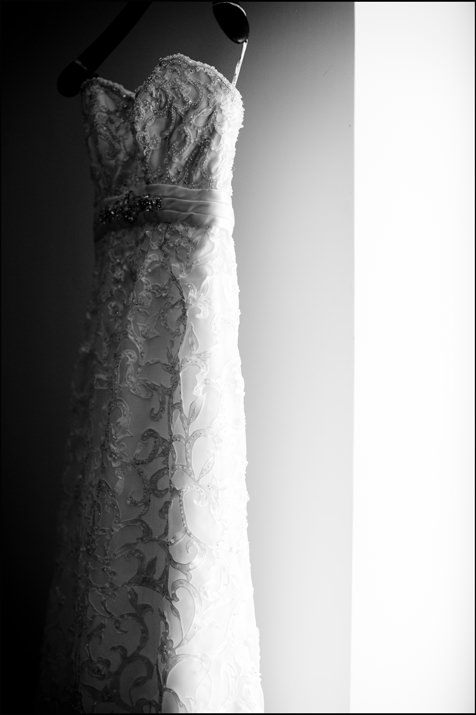 Planning the wedding
We were engaged for 5 years before deciding a date. From setting the date to the wedding day it was approximately 14 months (not all of that time was planning! I could not do very much until I got to Italy)
The venue
We decided to get married there to guarantee the beautiful weather, beautiful food, and to keep it small and intimate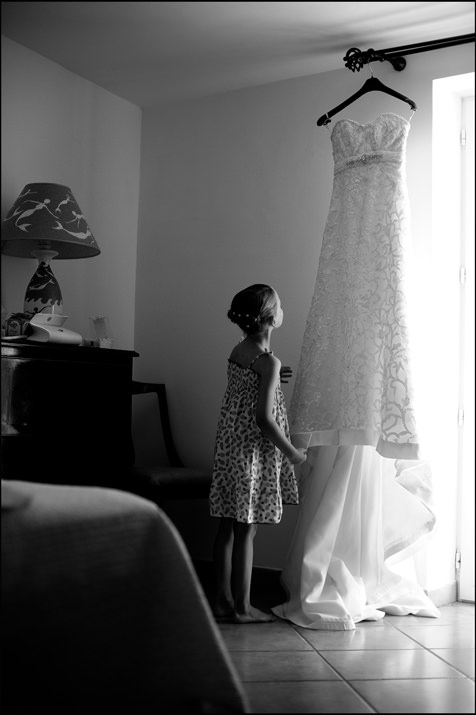 The Dress
My dress was by Sottero Midgley, I made my tiara and shoe clips, shoes were very simple from Elegant Steps. I had some sparkly simple jewellery from Debehams.
The suits and bridesmaids
Guy wore a Ted Baker light grey summer suit, with a creamy white waistcoat from Moss Bros. He had a white shirt from Calvin Klein and no tie, it was very relaxed and informal. My sister was the witness and she wore a long silk evening dress in a light coffee colour.
Theme
I wanted everything white simple and elegant – although we had light pink roses as centre pieces to bring in a touch of colour.
Food
We had caterers come into the villa we had hired for the week and they put on an Italian feast. We ate for hours. The starter was typically Italian, mozzarella, Olives, hams etc, the main was steak, cooked outside on the terrace, and panacotta for dessert – and a beautiful local cake with wild strawberries and cream for the wedding cake. Plenty of Limoncello!
Entertainment
As it was such a small wedding we didn't feel the need for entertainment. We downloaded some tunes and they played throughout the evening in the background.
Flowers
Light and white pink Roses, my bouquet was white roses.
Decoration
I made some of the decoration, I made handmade paper heart bunting hanging up around the terrace, held together with hessian twine, I made some very delicate tealight holders from handmade paper and skeleton leaves. I bought lots of paper bag tealight holders and dotted those around the place. The caterers did an amazing job on the rest of the terrace, with favours, table linen etc. My mother-in-law did all of the beautiful flower arrangements for the tables with light pink roses.
Special moments
We got married at 5pm, so it was lovely spending the morning pampering myself with the ladies. One of my favourite moments was walking through the tiny streets of positano just after the ceremony, and people congratulating you. Italians are very romantic and love weddings.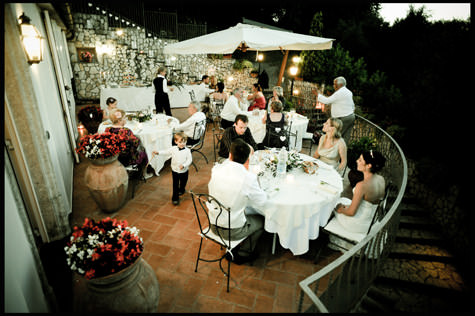 Planning advice
I would say the most important thing is to choose the right photographer. This is documenting the best day of your life, and you need to get that right. My photographer had a very unique style. The photographs are so intimate, and they stand out from any others I have seen before. Everyone I speak to says they are the most amazing wedding photographs they have ever seen. He managed to capture my so day perfectly.
The only other advise would be to relax and enjoy the day, if you stress about it, then it takes the enjoyment out of it all.
Biggest surprise of the day?
I think the only thing that surprised me was just how welcoming the Italians were.  The catering team that came in were amazing and nothing was too much trouble.  They went out of their way to ensure our day was perfect
Supplier shout outs
www.naplesvillas.co.uk
www.amalfinuptials.com
www.harreraimages.co.uk
For more information on Harrera's work go to
website :  www.harreraimages.co.uk
Blog address  :  http://www.harreraimages.co.uk/devon-wedding-photographer-blog/
Email :  [email protected]
Phone number  : 07795 608 941
Facebook : http://www.facebook.com/harreraimages
Twitter @harreraimages
'Harrera Images  offers an artistic documentary of your wedding punctuated with influences of fashion and art. Andy Green has had a 16 year professional career shooting for many regional, national and international press publications he is now well prepared to offer something uniquely exciting and artistic in wedding photography.'