Happy Bank Holiday Monday everyone (well to those of you in the UK anyway). How is your weekend going? Did you enjoy the coronation? Did you celebrate in any way or was your weekend filled with wedding planning jobs? I was up in Leeds yesterday/night, at an open air dance music event, we all had an absolute blast celebrating the bank holiday in style! So on with today's DIY Tipi wedding and it's the turn of Laura and Alexander, a totally gorgeous couple both inside and out. The thing that stood out to me with this wedding is Laura and Alex themselves! Their smile and laughter is infectious, they look like they have had the most amazing day, totally loved up and so comfortable around each other! Big thanks to Fraser Stewart for bringing us the wedding in all it's glory.
Without a doubt the most fun day of our lives. And the best party we've ever thrown.
Laura and Alexander were married on 3rd September, 2022 at Hartree Estates, Biggar in the Scottish Borders. 'Nerd alert. We are both big fans of Lord of the Rings and one of the main ideas that came to us when we started talking about wedding planning was of Bilbo Baggins' party tree. We wanted to get married in front of that tree during a wedding party that rivalled Bilbo's 111th birthday! Hartree had it all – a party tree, a tipi and gorgeous views. It also helped that Biggar was good middle ground between where our family and friends lived. We had 100 guests. We started planning not long after we got engaged in November, 2018. We were originally meant to get married on September 4th 2021, but had to push the wedding back by a year due to COVID affecting our international guests. We were probably only planning for the first and last 12 months as we took a breather after deciding to push the wedding out by a year.'
How they met 
We met at the University of Glasgow as Fresher's Helpers in 2012. We met at a flat party before heading to the 'iconic' Garage night club. We've been together for over 10 years now, getting married the day before our 10th anniversary!
The proposal
I actually really love telling this story. Laura and I were on a 3-week trip in New Zealand, zooming around from place to place to try and see it all. When we were staying in Abel Tasman National Park we decided to go and do a big day-walk; it involved getting a water taxi out into the park, then walking a section, and getting picked up by another water taxi at the end (it's a very big park!). We'd forgotten to check the tide times for one of the sections and when we arrived it was underwater. We needed to get to the other side to catch our taxi and we wouldn't have had enough time to go all the way back to the high-tide route—we had to cross it. We both pulled our backpacks up over our heads and waded across Torrent Bay. In the middle, Laura was almost up to her neck in water! On the other side we stopped and had to laugh about what we'd just done. I'd been carrying the engagement ring around with me everywhere, waiting for the opportune moment, and I decided this had to be it. I pulled the ring box out, got down on one knee and popped the question!
How did you allocate your budget?
The spreadsheet. The budget spreadsheet handed down to us from couple to couple for who knows how long was an absolute lifesaver. We picked the things that were most important to us and made sure we could allocate enough of our budget to pay for what we wanted. We were really lucky in that a number of things were handed down from friends and family. We also roped in our families to help us out with DIY-ing extras for us.
Where did you splurge and where did you save?
We splurged on our venue—after we visited and could see that it was perfect for us we worked the rest of our budget around it. The venue, food and photographer were probably the top three most important things on our list. We saved by getting our families stuck into the DIY by making things like the placename holders, signs, garden games, and collecting and drying flower petals for confetti. We saved money in other places too by putting together a Spotify playlist instead of getting a DJ, doing a DIY photo booth instead of paying for one, and we bought/made some cheap and cheerful handmade favours.
How did you choose your photographer?
We spotted Fraser's photos on a wedding blog and they were absolutely stunning—the happiest photos we've ever seen. We knew we needed to speak to Fraser so we FaceTime'd him and it just had to be him!
The dress 
Laura's dress was by Anna Kara by Marrime Bridal Wear in Jesmond. The dress alterations were done by Aimee and her mum from Corsetry and Couture, and the shoes were from Forever Soles. Laura's veil was from Sash + Veil – owner Heather spent time designing this with Laura to include some very sentimental and special wee touches, including my embroidered handwriting from a card I'd written Laura years ago! (This was a total surprise to me!) Laura also had a jacket embroidered for the chillier Scottish evening – it featured a line from the song we walked down the aisle to.
The suit and bridesmaids
Suit? Nae chance. My kilt was from MacGregor & MacDuff, and my pants were from Oddballs. The bridesmaids dresses were by Rewritten Bridesmaids.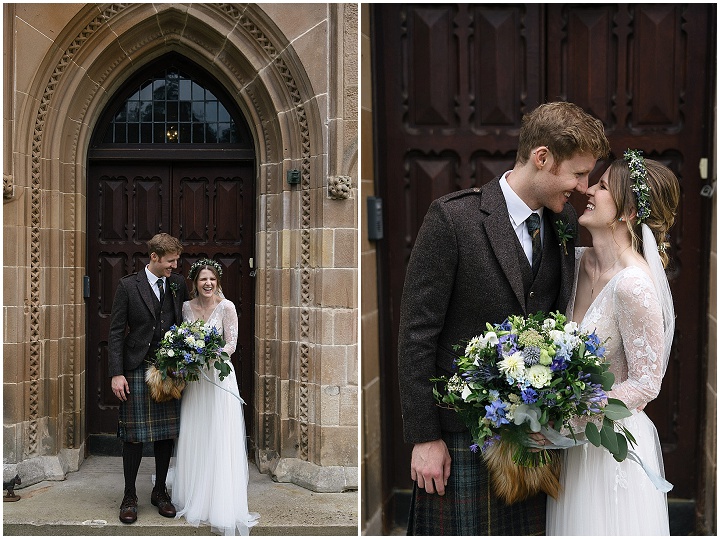 Theme or colour scheme
We didn't really have a theme or colour scheme. My tartan had a few different colours in it so we used that as our base for the flowers. We wanted the day to be as outdoorsy and natural looking as possible, so there were a lot of earthy colours.
Flowers 
We're really rubbish at naming flowers and didn't really know what we wanted! Rachel the florist (aka "The Flower Bee") was absolutely amazing (and patient!) We wanted to include as many in season blooms as possible, lots of foliage and blues to match the bridesmaids. Rachel arranged our bouquets, table settings, our archway, photo booth backdrop, aisle flowers and thank you bouquets. Laura's bouquet had lavender in it (her favourite) and me and the groomsmen had thistle buttonholes.
Decoration
We had natural decorations—a lot of flowers, bunting made by Laura's grannie, our DIY signs, and loads of photos of us and our wedding guests scattered around the tipi.
Food
Our menu was partly inspired by North Carolina BBQ—I lived in North Carolina for 10 years growing up. Pickled Haggis (based out of the Crown in Biggar) catered our wedding and they were truly unbelievable. We had a hog roast with all the BBQ trimmings and sides, plus a trio of desserts including espresso martinis. All of the food was served family style, so everyone ate as much as they wanted of absolutely everything. There was a lot of food, nobody went hungry and it was just incredible. If you're ever in Biggar, you must go to the Crown for a Sunday lunch—absolutely epic.
Wedding cake
The cake was by a local lady called Lisa who was wonderful. It was a 3-tier Victoria sponge naked cake decorated with fresh flowers provided by our florist, Rachel. We are biased, but it was the best wedding cake we've ever eaten.
Entertainment
We made a little kids pack with colouring in, puzzles and a photo bingo sheet. We also had garden games outside to keep the kids and adults entertained. We had the brilliant Staffin Island ceilidh band throw us an epic ceilidh. They got everybody dancing and were a very talented bunch—they really got the party going! It was a very hot and sweaty tipi.
Who supplied the stationery?
We designed all the stationery ourselves using Canva, including drawings done by one of our friends. We then printed everything through Printed.com. It was much easier to do it ourselves than we had thought!
Where did you go on your honeymoon?
Laura and I fell in love with New Zealand on our first trip and we had so much more we wanted to see so we knew it had to be NZ! We were lucky to both get a 3-month sabbatical off work, so decided to travel around the whole country. We did also take a short break in Northumberland straight after the wedding as we didn't go to NZ until Christmas.
Personal touches
As mentioned a bit already, we did do a few things ourselves. I think what I'm most proud of us having done were the big sandwich board signs. Laura's dad made them, I painted them with black chalkboard paint, then Laura did the main design with chalk paint. Our favourite was our very own "No admittance except party business" sign!
We also had some really personal touches during our ceremony including some very special readings by our close friends. My Mum played the whistle while we signed the register, and my sister, Charlotte, wrote us a very special poem that she read on the day.
Special moments 
Laura and I exchanged cards to open on the morning of the wedding. We clearly know each other very well because we bought identical cards for each other! For both of us, getting ready with our families and bridal/groom parties was a highlight. Our ceremony was also really personal—Stuart our celebrant did a spectacular job. We also had an incredible moment later on in the evening—Fraser ran over to us and said we had to take a rain photo. While he was setting up and taking our photos, we were stood together in the rain and felt like we were completely on our own together, absorbed in the day.
Advice for other couples
Your big day is the most fun ever – just enjoy. Eat your food! We've heard so many other couples say that they didn't get a chance to eat, but your food is going to be so good so make sure you eat some. Every now and again, just look around the room and have a moment to absorb it all—everyone is there because they love you, and that's incredibly special.
Biggest surprise
Because of unexpected rain, the amazing team at Hartree let us shelter our guests in the beautiful main house for post-ceremony drinks, which they said they hadn't ever done before. The house was stunning, and we are so grateful for their generous hospitality.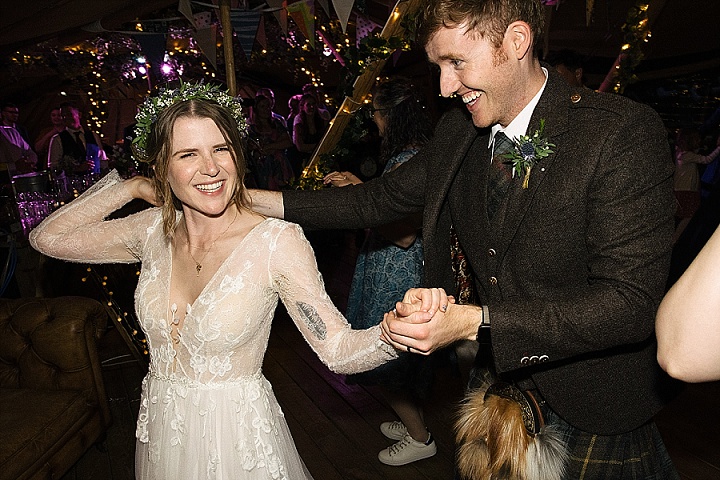 Supplier Shout Outs