I do love it when brides get in touch and tell me all about their wedding day. It's a real honour to be able to share my readers weddings with you all. Today it's the turn of Charlie and Iain who had a beautiful Bohemian handfasting wedding last year in the woodland of Bedfordshire. The whole day was a homespun affair form beginning to end, Charlie even made her own wedding dress. The day is oozing Boho goodness from the floral arch to the Tipi's decorations. A wonderful day captured by Kit Fraser Photography
'A bohemian whimsical woodland fairytale. Perfect English countryside, summer weather and a perfect guy!'
Charlie and Iain were married on 11th July 2015. The Woodland Handfasting happened at Swineshead, Bedfordshire, the Legal Ceremony was held at Oundle Museum & Registery Office, Mill Road, Oundle and the Reception was held at West Farm, Ringstead, Northants. 'We always knew we wanted a ceremony outdoors. We love walking, rambling and hiking together, and have been coming to the same spot in Swineshead for many years to do just that. So this felt like the perfect place for us to be wed and we were over the moon when we asked and were granted permission. We are also very down to earth, casual relaxed people, so the last thing we wanted was something formal and traditional. We wanted the day to be a reflection of us, who we are and what we enjoy. We had a total of 86 guests and we got engaged in August 2014, and I started planning from then on really!'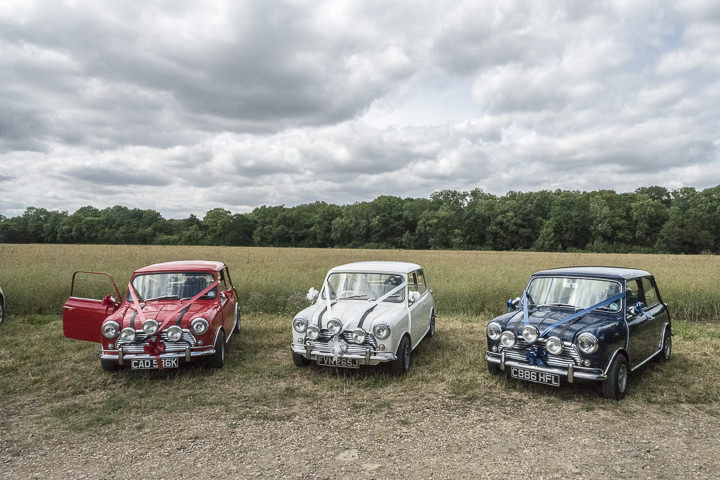 How they met
Iain and I physically met for the first time when he attended my 22nd birthday house party. We had been talking on-line through 'MySpace' (back in those days!) where I had discovered him through a mutual friend of ours, Scott Tennent, who was then the Best Man at the wedding. So Iain came to the party and that was it really, 9 years on and we've been inseparable ever since.
The Proposal
I had arranged for Iain's 30th birthday to take him away for a track day experience, then at the last minute the company called me and told me there had been a double booking and our day had been cancelled. In panic I tried to think of something else to do, I managed to book a vintage mini cooper for us to drive about in the Cotswolds for the weekend. It was a lovely sunny weekend and turned out better that I could have expected as he'd already decided that he was going to ask me to marry him that weekend despite what ever we ended up doing for his birthday. We drove up to Dover's Hill viewing point, which is just fantastic scenery and he asked me there, very timidly too bless him, I think he felt a bit of a prat! But I of course said yes and we giggled between ourselves for a bit before we got on the phone to the family.
How did you allocate your budget
We didn't have a huge budget and we tried to do most things ourselves to keep costs down. Luckily we are quite creative and also have a lot of talented friends and family who helped where they could. We were fortunate enough to be given a bit of cash from our lovely parents, without whom none of this would have been possible and for that we will be eternally grateful.
I did a bit of research on the things we liked to estimate costs and made a bit of a spreadsheet with all the information on to keep note and benchmark against. I am also a Pinterest addict! So there were many a board for different aspects of the day from wedding dress ideas to drinks.

Where did your splurge and where did you save
Despite having a tight budget, there were things we knew we wanted and didn't want to compromise on.
The tipi tents for the reception were from a lovely place called The Natural Tent Company.  The guys there really made us feel special and did everything they could to give us what we wanted.
The wedding cars were from Italian Job Mini Hire and again were just fantastic! Iain loves minis so we were always going to have those on the big day.
Our handfasting ceremony was conducted by the lovely Rachel Thompson who really took the time to get to know us, our values and spiritual beliefs to deliver a fantastic personal service.
We saved money by shopping around, making things ourselves, exploiting our friends and family for their talents and time! Our reception venue was on the farm land of a family friend, who we only had to pay with beer so that saved us a lot!
My step dad also needs a mention here as he is one resourceful guy! He made our wedding cake stand, put us in contact with need to know folk and was the biggest pair of hands for all tasks leading up to the big day. So thank you Mark, you are a superstar!
How did you choose your photographer
Kit Fraser Iain and Kit have been friends for years since they were at school together and we know how crazily talented he is. Wedding photography isn't his day job, but he did this as a favour for us which was great.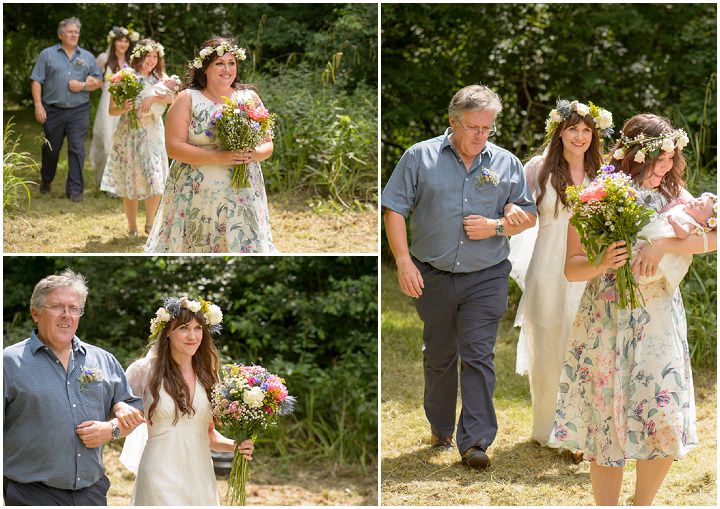 The Dress
I designed and made my dress. I am a fashion designer by trade and have been making and altering dresses since my late teens. I always knew that I would design and make my own dress, mainly because I'm so fussy and when I see something in my head I always get frustrated when I cant find it!
One of my first fashion related jobs was as a seamstress in a local wedding dress boutique. This inspired my degree final collection which was made from bits of discarded wedding dresses.
For my wedding dress however I shopped around for the best fabric I could afford. I knew I wanted silk crepe and Chantilly lace as they're so soft, delicate and drape really well to give me the whimsical romantic silhouette I wanted. The fabric does all the work, so I didn't have to try very hard!
The Suit and Bridesmaids
None of the boys had matching suits. We told them the general feel for the day, and they all went off and sorted themselves out. They all had a tweed waistcoat and a navy pair of chinos and looked vey handsome!
I got the bridesmaid dresses from Monsoon. I loved the idea of having soft floral printed dresses and these fitted into the theme of the wedding perfectly. My bridesmaids looked so pretty, like little fairies.
My eldest sister had given birth to my niece, Poppy, 3 months before the wedding. So I made Poppy a little dress from off cuts of fabric from my wedding dress. She looked so cute, like a little doll.
Theme or Colour Scheme
The theme I suppose was 70s bohemia/prairie in terms of my dress, the guys outfits and the flowers. I was also inspired by my favourite childhood books, Brambly Hedge, specifically the Summer Story, the wedding of Poppy and Dusty. So much of this tale is emulated in our wedding day, apart from we aren't mice!
Flowers
For our beautiful wedding flowers I collaborated with my very talented friend Natasha Thornton. We visited a flower wholesaler together and chose what we wanted, which was all sorts: peonies, gypsophila and thistles as Iain's dad is Scottish. We then spent the day before the wedding arranging the flowers and erecting the floral archway for the ceremony together in the sunshine! Tash made the bouquets and button holes and showed me how to make the floral headpieces. I learnt a lot that day!
Decoration
Other than beautiful flowers dotted about the place, everything was a bit home spun. I made bunting, my sister Lindy hung lots of paper pompoms from the tipi canopies, which was a mammoth task, so thank you Lindy! We had fairy lights on tables and wrapped around the tipis and a little Instagram photo collage of me and Iain which we printed from inkifi.com
Food
The food for the wedding breakfast was from a lovely little street food company called Hungry Toad who were very reasonable and the food went down a treat! Iain and I love music festival fayre and wanted the wedding day to emulate that. We opted for burritos followed by ice cream from their ice cream van.
Later on in the evening we hired another street food van, Kupkoa who provided hot drinks and churros, which were great for sitting around the fire pit, just what we wanted!
My mum also helped on the catering side, she helped me make picnic basket buffets for all the tables.
Wedding Cake
My fantastic mum made our three tiered wedding cake: Victoria sponge, chocolate and lemon drizzle and it tasted out of this world. Mum has always made a mean cake! This was decorated with edible dried and crystallised violas, cornflowers, rose petals and marigold petals. It looked absolutely stunning.
Entertainment
For the ceremony, Iain's dad David played me into the the woodland glade. He's a fantastically talented singer song writer, so for him to play guitar at our wedding was a real treat.
For the reception, Iain and his friends love to DJ! Our good friend Fabio and his wife Munira very kindly and generously paid for the DJ equipment for the day. Fabio then did the opening set, followed by Iain's friends. Iain also made a wedding play list which we listened to during the wedding breakfast.
The Stationery
For our beautiful invitations I collaborated again with my friend Natasha Thornton. I sent her my ideas, doodles and photos which she translated into lovely little postcards. I then sent the files off to be printed at Vistaprint.
Personal or Handmade Touches
We did so much of it ourselves. I made my dress and my niece's flower girl dress. I made our hand fasting tie and the seating plan. I spent spring and summer walks with the dog collecting blossom and wild flowers to press for table confetti. Mum and I collected pine cones and spray painted them copper for place settings, we collected picnic baskets, bottles, tines, jars etc for table centres and decorations. My friend Tash and I sorted the flowers, we made a floral archway from a cheap £10 garden rose arch, which we erected in the woodland. My step dad trimmed conifer trees in the garden to use the branches to weave in the floral arch. Iain cut twisted hazel from our garden for table centres, made sign posts to guide our guests through the woodland to the ceremony. The list goes on, but thats what made our day our day, all these personal touches from everyone involved.
Special Moments
The weather was the biggest thing, it could have felt very different if we hadn't been blessed with glorious sunshine all day. It still would've been an amazing day but having the sun shine and it being dry and comfortable was more than we could've hoped for.
What sticks in my mind the most, is the walk to meet Iain in the woods. My dad, my bridesmaid sisters and me walking through the woodland, following our signposts to the location. The excitement and happiness from that moment will stay with me forever.
Advice to other couples
Do what you do for you. Everyone spends so much time worrying about what they should and shouldn't do, what's traditional, what people think, who to invite, what they need to spend, but it all comes down to the two of you. When you're walking down that aisle, or in my case through the woods and you see your partner at the other end smiling back at you, that's all you see and that's all that is important.
Biggest surprise
My biggest surprise of the day was everything going to plan and without a hitch. And what's more, I wasn't worrying or stressing about any of the little elements that did or didn't happen, and I really did surprise myself with that!
Supplier Shout Outs