Some times weddings land in my in box and they are so gorgeous I don't believe they are an actual wedding, today's wedding is one of those. I had to email back Martina Boggian straight away to confirm this wasn't a styled shoot! And no it isn't a styled shoot, it really is an actual wedding!!! Francesca and Manuele wanted an intimate wedding and decided to invite just their special friends, for their stunning day in Ferrara, Italy. Everything about this wedding is exquisite! The styling is pure perfection, the colour palette is super stylish, the modern flowers, the cake, the tablescape, the lighting, my oh my, I just love it all!! I hope you love it as much as I do.
Two young lovers, Francesca e Manuele, with a pure hearts and wild soul in a vibrant May's afternoon framed by a perfect light, smiles and eyes full of love: everything was practically perfect.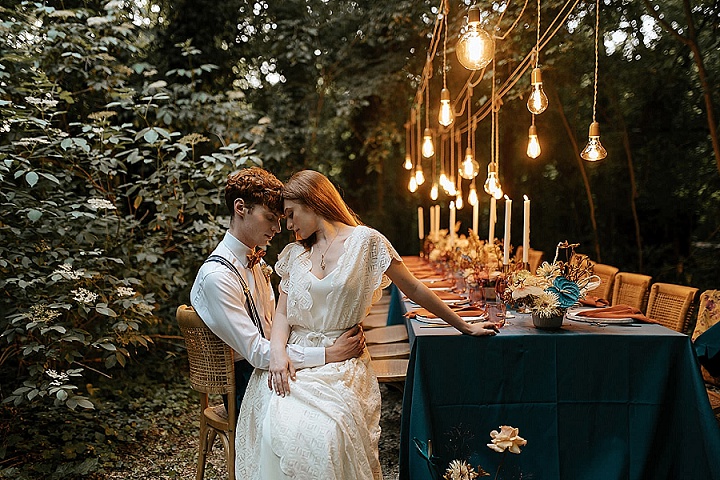 Martina the photographer tells us more
Francesca e Manuele decided to get married in a magnificent Venue in the countryside of Ferrara, Italy. @aitretesori, a unique venue offering a perfect mix between modernity and tradition. Everything was special, from the rooms where Francesca and Manuele got prepared, to the little tower where they decided to say their "always and forever", to the forest where they had dinner.
Angela of @officinadeimatrimoni managed everything with great taste and a modern approach to the event. Every last detail was carefully designed. The perfect lights created by @nikky_service brought an amazing atmosphere during the dinner.
The flower design by @florallestimenti gave that aesthetic look which was exactly how F&M imaged.
The rings were handcrafted especially for F&M by Francesco of @francesco.ridolfi.orafo, as every other jewels created for Francesca.
The bride choose a special dress designed by @ceciliagerosa.atelier, handmade with a precious French lace, while the groom wore a elegant suit by @linneo.eu. And not to forget of the refined shoes by @leiseshoes.
Carlotta's (@lotta_mua) make up for Francesca was stunning and enhanced her natural beauty. @margottistudio created brand new graphics, with a unique combination of colours and designs. @angelamoreadesign produced original fabrics to let Angela of @officinadeimatrimoni creating a special dinner table.
The cake was made by @m_pasticcere, and believe me, it was delicious! And also a huge thanks to @noloparty, you have been fundamental to the success of this special event!
Martina Boggian 
www.martinaboggianph.com / www.martinaboggianph.com/blog / [email protected] / +39 3335890772 / FACEBOOK / INSTAGRAM