Weddings are always a display of love and identity. Many people want to make their wedding day super personal and unique to them as a couple. Looking at your family tree and finding out more about your cultures, then bringing those cultures into your wedding can be an excellent way of honouring your heritage. Learning about your cultures and then researching different unique cultural experiences that can be performed at your big day will make the whole day mean so much more. These nods to your heritage can be as big or as small as you wish. They can be something that all your guests get involved in, or keep as private moments between you and your fiancé. As with all wedding planning there are no rules, just do you!!
Unique Cultural Experiences to Add to Your Wedding Reception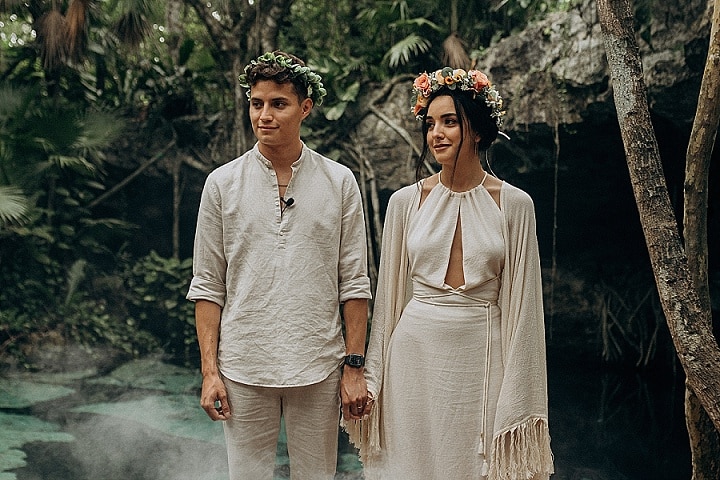 1. Share a Special Meal
Your reception dinner will be delicious. It's a work of art and love that you'll coordinate with your caterers, but it can also have an extra layer of cultural significance if your families are Armenian.
Armenian couples traditionally enter their reception, break a plate and share lavash bread with honey. The lavash symbolizes the couple's safety from evil spirits, while the honey represents their future happiness. It's a brief ceremony you can add to any reception plans you've already established.
2. Aim for a Custom Bullseye
Archery might not have been an initial part of your wedding dreams, but it could be if you or your partner are Chinese. Historically, a Chinese husband aimed headless arrows around his bride. After shooting them into the ground, the couple collected and broke each arrow as a promise of endless love.
You or your fiancé could order a bullseye or other target designed specifically for your wedding to incorporate this unique cultural experience while making it as safe as possible. As long as your venue coordinator approves of the potentially dangerous activity, it's a wedding experience you can treasure together.
3. Incorporate a Cultural Drink
Brides often find themselves overwhelmed with opportunities while talking with their bartenders. There are many trendy recipes for custom cocktails, but they might not have any meaning to you. Anyone with Japanese heritage could change that by adding sake to their reception plans.
There's a sweet sake-sharing ceremony that puts very little pressure on the couple getting married. If you're nervous about performing a ceremony in the spotlight, san-san-kudo could be the best tradition for your big day. It requires both spouses to drink from three sake cups three times each. The combined nine sips symbolize the three branches of their families tying together.
You could sip from your sake cups privately or in a quiet room with your photographer. Your immediate family members could also gather around if you want them to participate. It's easy to customize to whatever you and your partner prefer.
4. Bite Into Sweetbread
Plan a sweet nod to your Russian family tree by enjoying a bit of sweetbread at your reception. Russian couples order or prepare it before their wedding day so it's ready after their ceremony. When you're ready to toast your new marriage, place a plate of karavay sweetbread next to your champagne.
The key is to take a single bite. Compare the bites afterward to decide who wins the head of the household. Although modern couples often prefer to run their house as a team, it's still a fun tradition that's a longstanding part of Russian culture that could make your reception more special.
5. Release a Few Doves
Many romantic films and moments in TV shows feature a newly married couple releasing doves after their ceremony. You might not have thought it connected to a culture, but couples in the Philippines have released doves since before the tradition became iconic.
The doves symbolize harmony, plus a future of adventure as they fly off into the sky. With some planning, brides or grooms with Philippine heritage can easily incorporate this cultural experience into their wedding reception. Find a dove company near your wedding venue or within driving distance to coordinate every last detail.
6. Shave the Groom
Laid-back partners who don't mind losing a few whiskers could sit down for a shave during your reception. In Greece, groomsmen or male family members gather with the groom at the wedding venue or his home. The best man shaves his face to symbolize the start of his new life.
While that happens before a wedding reception, you could merge it with your post-ceremony activities. Celebrate your or your partner's Greek roots by making a show out of the best man shaving your fiance's face on the dance floor. His song of choice could play while the show continues — just coordinate with your DJ beforehand so he can add the music to his roster for the night.
7. Pull Cake Ribbons
Peruvian couples order a special cake for their reception. It contains either a charm or ring tied to a ribbon, which stretches out of the cake's lowest tier. Other ribbons also come out of the cake. Single ladies attending your wedding would each grab a ribbon and gently pull them free. Whoever gets the one with the ring or charm is supposed to have the next wedding.
8. Dance Under Money
Cuban couples or individuals can look forward to dancing under a rain of cash. The tradition asks family members and guests to toss bills over the couple as they dance at their reception. One partner can pin money on the other or they can just enjoy the fun experience. The cash represents the ability to pay for the wedding with help from loved ones, but it can also serve as a gift for your new life together.
Everyone has an extensive personal history that stretches across countries and cultures. Look into the family tree that led to you and your partner. If you find unique cultural experiences that align with one or both of your histories, the traditions could become a special part of your wedding reception.
this is a collaborative post