Happy Monday everyone. How are you all doing? After a few days of reflection and a pause in the normal schedule due to the terrible news of the Queens passing, the blog is back and hoping I can bring you some wedding joy amongst such sadness. Today I am welcoming Maddison and Adam to the blog  and their gorgeous bohemian theme autumn wedding in Devon. Everything about this wedding is so joyful. It's chilled out, looks divine and filled with earthy tones and the most stunning dried flowers. Amy Chapple was there to capture the day in all it's glory for us.
A day we will truly never forget for all the right reasons!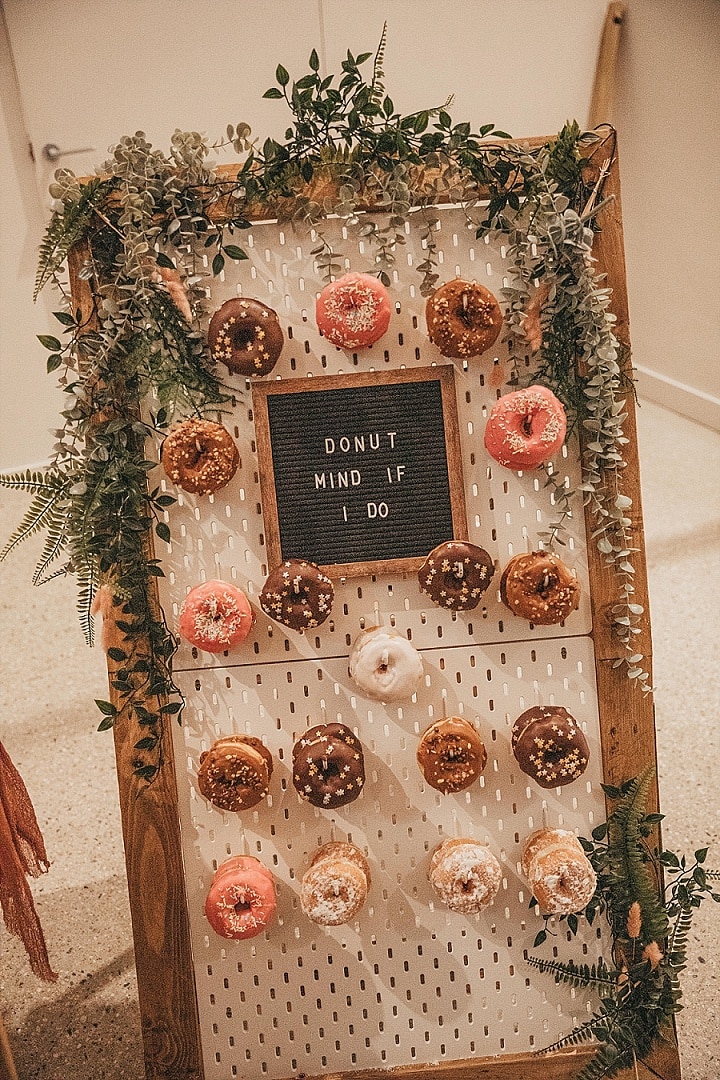 Maddison and Adam were married on 16th October 2021 at Brickhouse Vineyard in Devon. Whilst we live in the West Midlands, we have always loved Devon and it feels like our second home so we knew we wanted to get married there. We came across the venue quite quickly and fell in love with it immediately. When we contacted them, we got really lucky that they had a slot and it felt like it was meant to be! We wanted to keep things small whilst still having our closest family and friends there. We had 45 for the day and 55 for the reception. It took 4 Months to plan! After getting engaged in the spring, we imagined we would have a long engagement as we were just about to buy our first house together. We planned to focus on that and the renovation project we had ahead of us, however that all changed when the venue we loved had an opening in October that year! We just thought why not and are so glad we did.'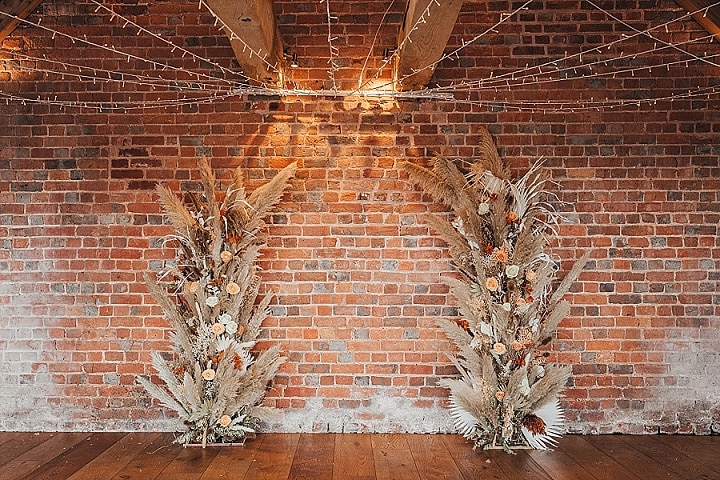 How they met 
We very first met when we were just a couple of three-year-olds in nursery and we went to the same primary school for the first few years. After whirlwind romance of being 'boyfriend and girlfriend' for a week, we went our separate ways before bumping back into each other many years later at a bowling alley in our hometown. We have been together 6 years since then!
The proposal
After our dream holiday to Sri Lanka got cancelled due to Covid, we planned a road trip in a van around Scotland. We were staying on the Isle of Skye and Adam had planned that we get up at 3am to hike up the old Man of Storr to watch the sunrise. It was a little cold and cloudy, but still an incredible experience to have enjoyed that view to ourselves. After an afternoon nap, we headed to a secluded beach on the island for a barbecue. As windy as it was beautiful, we went for a walk along the beach at sunset and Adam stumbled (yes, stumbled!) onto one knee and popped the question. Needless to say, the answer was "yes, yes, a thousand times yes!"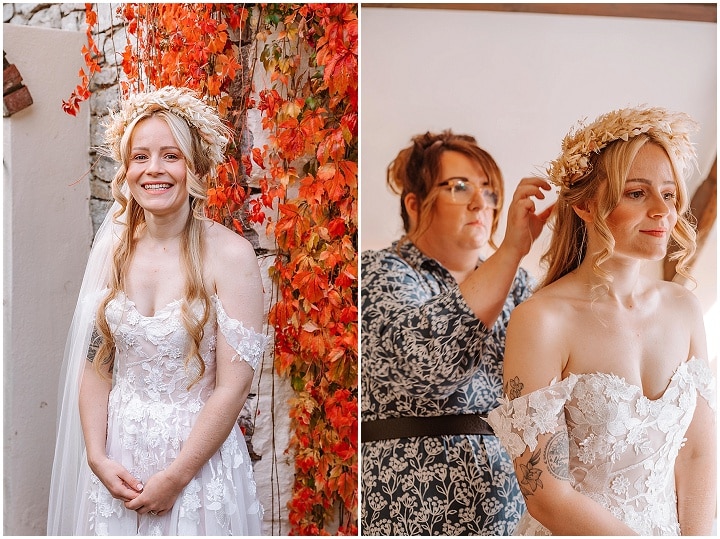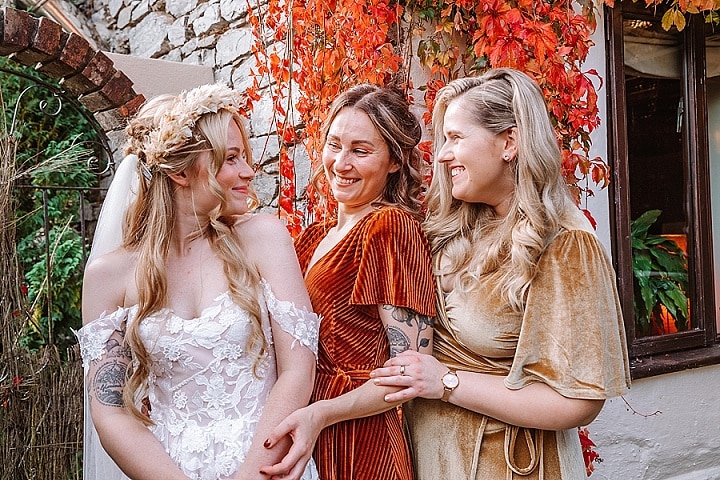 How did you allocate your budget?
We prioritised what was most important to us and then looked at where and how we thought we could save. This worked really well as we didn't compromise on anything that was a 'must' (e.g. the venue or our amazing photographer), however we also really enjoyed where we had to be budget savvy (like making our own candle stick holders out of clay!)
Where did you splurge and where did you save?
We are big foodies so having the right caterer was important for us. Maddi also loves live music and we both wanted to ensure that everybody got up on the dancefloor so having a band was a must for us too. A lot of 'musts', but we did make huge savings on flower arrangements by choosing simple but very beautiful dried flowers, the bridal party doing their own make-up (after watching some tutorials of course!), baking our own cake and getting creative by crafting our own table arrangements, doughnut board and wedding signs. We also used a website for our wedding invitations… all of the little things tend to add up!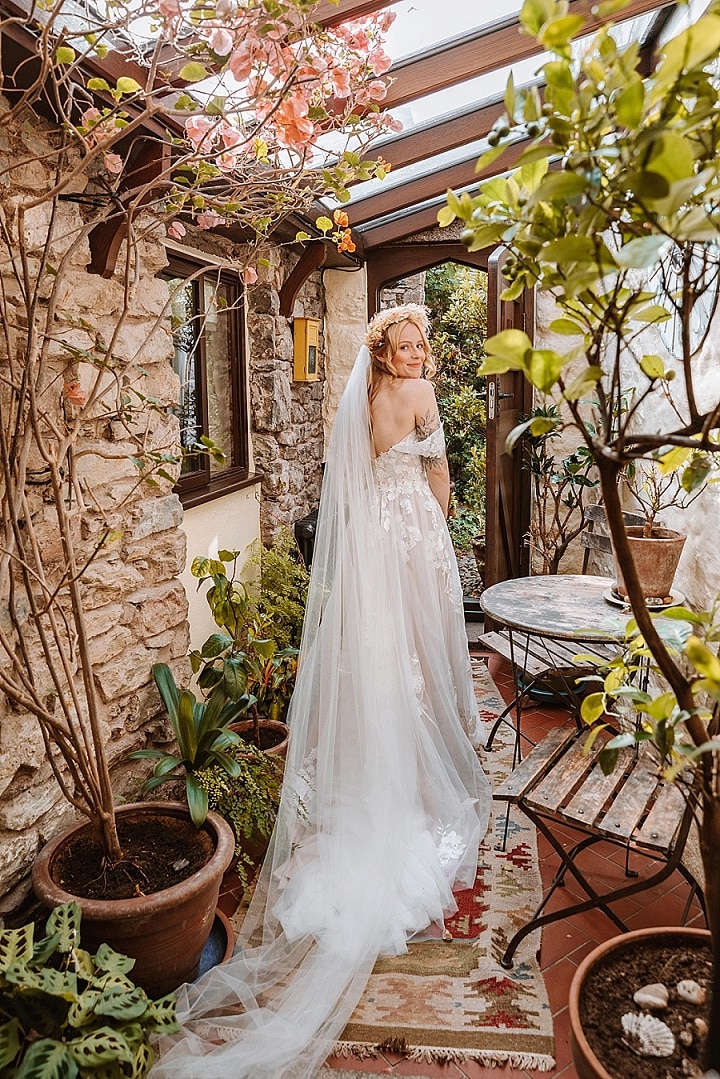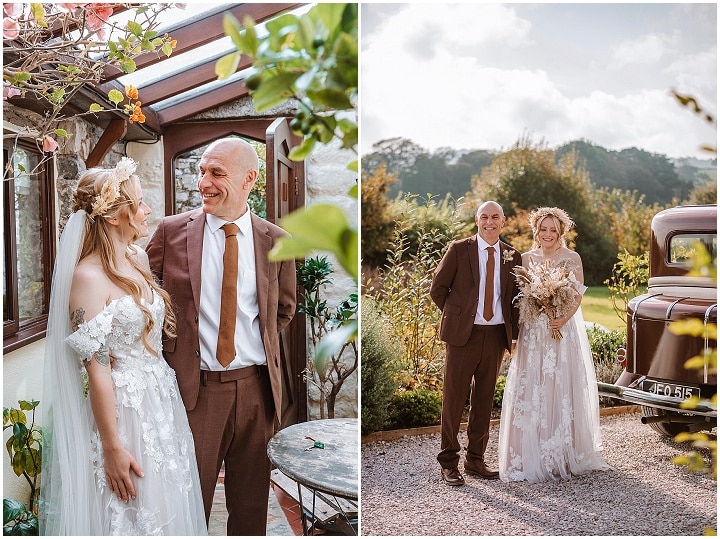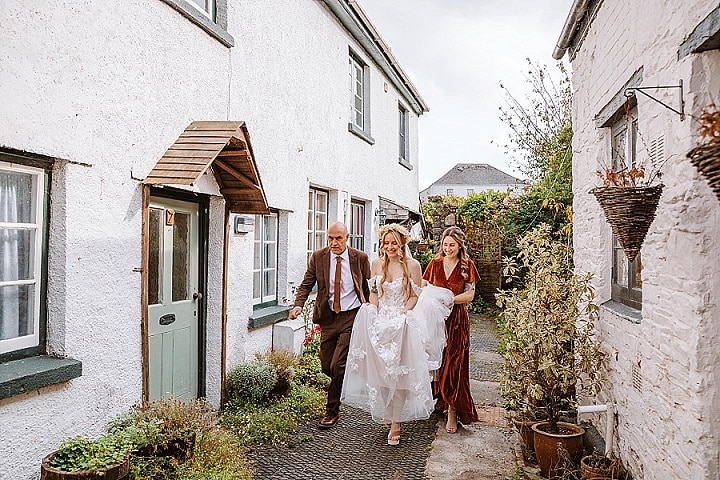 How did you choose your photographer?
Finding the right photographer was so important to us and Maddi spent probably the most amount of time just searching for the right fit, looking at endless websites and Instagram posts. It was important to find somebody who could achieve the style/look we wanted and matched our budget. It turns out our dream photographer exists and with luck on our side, Amy Chapple was available for our big day! Amy was amazing throughout the whole process from beginning to end and beyond. As we knew we would be spending a lot of time with the photographer on the day, we really wanted to feel comfortable around them and Amy made us feel we could be completely ourselves, quirks and all!
The dress 
Dress – Madi Lane. Shoes – River Island. Flower crown – Hand & Bloom. Rings – Justin Duance Jewellery.
The suit and bridesmaids
Suit – Moss Bros. Best man, groomsmen & father of the bride – John Lewis. Bridesmaids Dresses – Baltic Born. Bridesman suit – ASOS.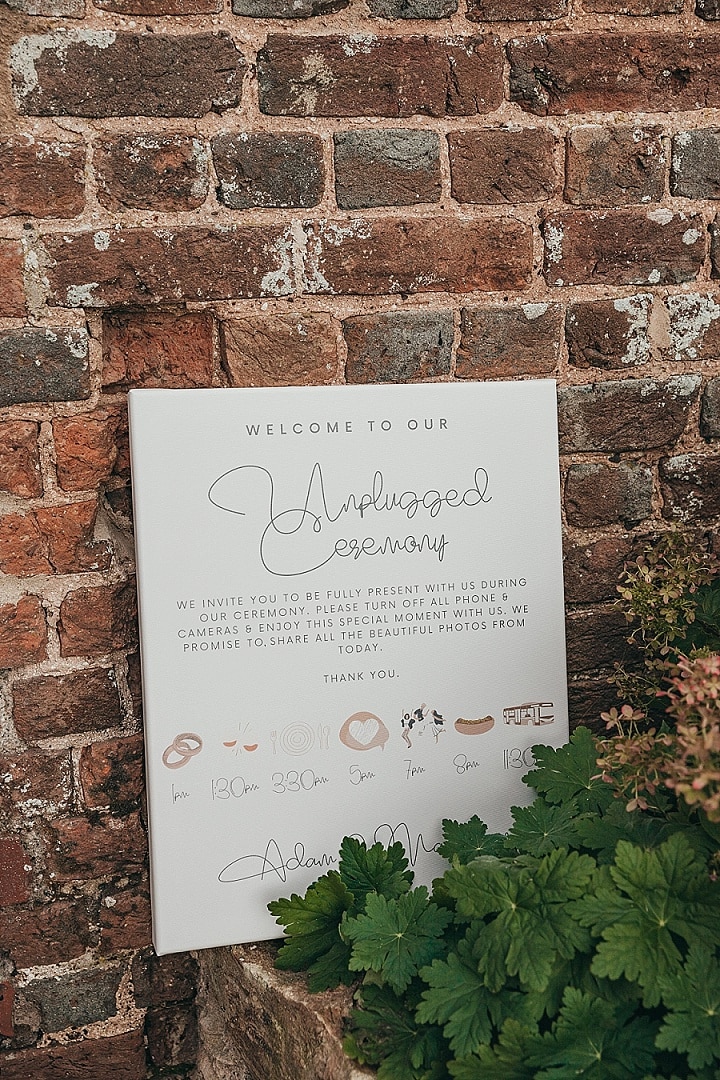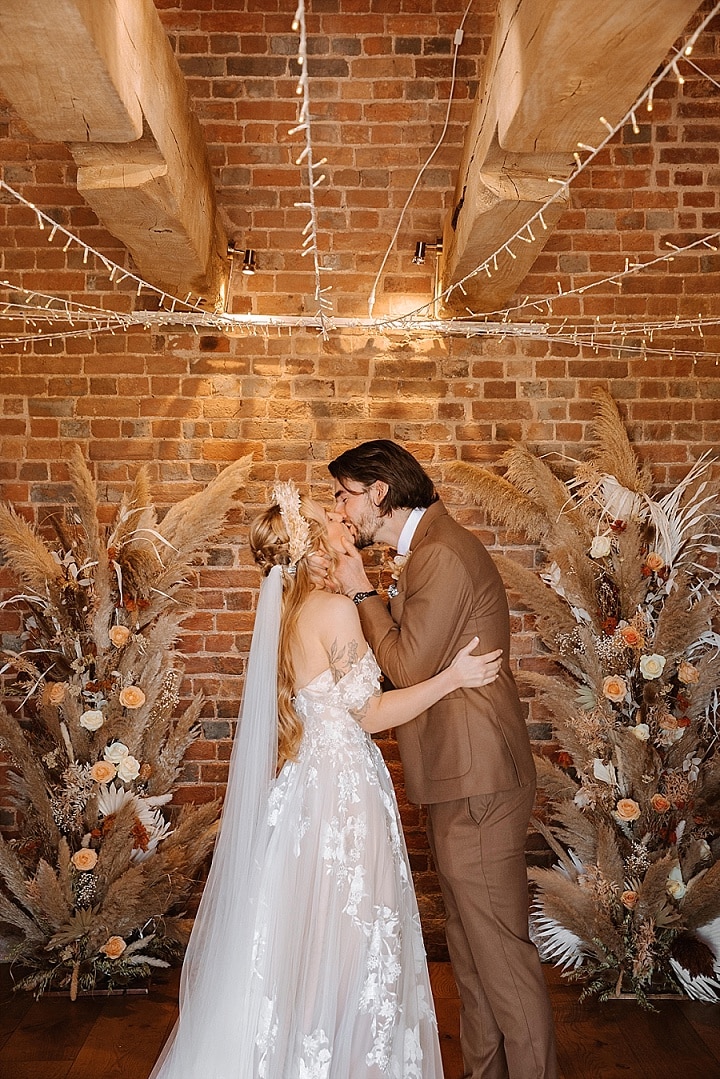 Theme or colour scheme
Whenever and wherever we got married, it was always going to have a strong boho theme. We love earthy tones and we were getting married in autumn, it felt only right to go with browns, mustards and burnt oranges. We both love nature too and the venue just played perfectly into this with the rolling hills, rustic roundhouse and leaves changing colour.
Flowers
We had all dried flowers from From The Wild Florist. Alice was brilliant and completely got the wild & boho look we wanted to achieve. A major plus of having the dried flowers was that we got to take some home with us to keep!
Decoration 
We kept the decorations quite simple. We had fairy lights in and around the roundhouse, a gorgeous dried flower arch for our backdrop and on the rustic farmhouse tables we had handmade clay candle sticks, beautiful terracotta cloth and palm spears in glass jars.
Food
Our caterers were amazing and provided us with a bespoke menu. The majority of our close family are vegetarian or vegan so we kept it all veggie-friendly. As we got engaged in Scotland, we had a main course option of Vegetarian Haggis Pie (sooo good!) with the vegan option being Arancini balls with vegetables. For dessert we had a trio of mini desserts or a vegan sticky toffee pudding. For the evening, we had potato wedges and dirty vegan hotdogs with all the toppings!
Wedding cake
The wedding cake was another area where we decided to make a saving. The bride and her bridesmaids baked their famously good carrot cake with buttercream so we could have a cut-the-cake moment, and we also had we had doughnuts for people to pick at on the evening which made a nice feature on our doughnut board.
Entertainment
On the evening we had a local band called Conscious Club. The dance floor was always full as the band absolutely smashed it, everyone complimented how great they were. They learnt the song for our first dance and played a selection of crowd pleasers with their own twist throughout the night so there was something for everyone.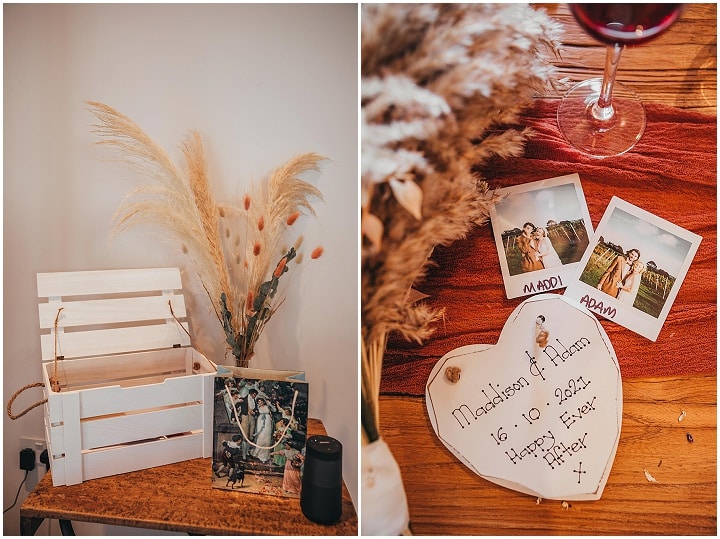 Who supplied the stationery?
We supplied/created all of the stationery ourselves.
Where did you go on your honeymoon?
As we love Devon we travelled round Devon and Cornwall at a number of different AirBnB's so we got to see different areas we hadn't explored before. We absolutely loved it and soaked up the chilled coastal vibes after the most perfect but also very busy wedding day!
Personal touches
We had lots of personal touches and these are the parts that our guests still talk about today. We made lots of bits ourselves, wrote our own vows, choreographed our own first dance and did a surprise celebratory dance back down the aisle to 'You Make My Dreams Come True' based off a hilarious dance scene to the same song in '500 Days of Summer' (youtube it!) Our photographer got some great shots of this which are some of our favourite photos.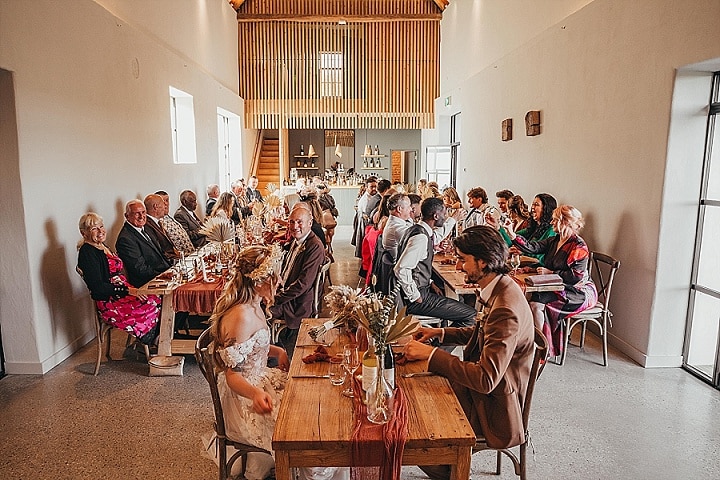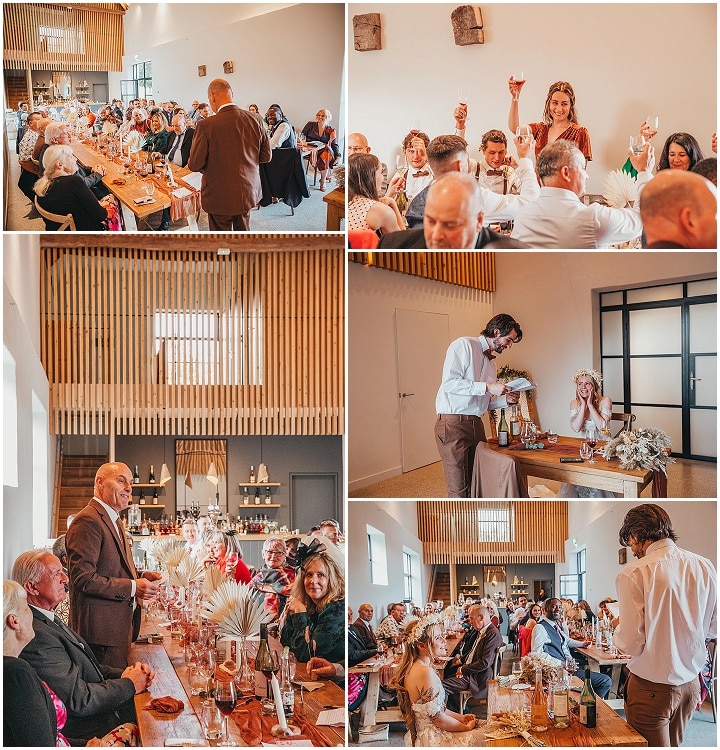 Special moments 
Our dances! Adam also sang in his speech which was a highlight for Maddi watching him try to beat Tom Fletchers famously awesome wedding speech. He succeeded!
Advice for other couples
Adam: Put your trust in your suppliers and all the planning that you have done leading up to it and know that it will all come together without you needing to think about it on the day. Just be sure to enjoy every moment of the best day of your lives with the person you love because the day really does fly by.
Maddi: Someone gave me a piece of advice to choose a moment of the day where you are truly grounded and mindful, focusing on all of your senses and capturing the moment in your mind. I did this twice during the day and I can still remember those moments – how handsome and happy Adam looked, the sun on my skin in the vineyard, the sound of laughter at the meal and how damn good the Crème Brulé tasted!
Biggest surprise 
We knew it was going to be an incredibly special day because it would be the day we become family, but the idea for us that you could pick and plan and organise the best day of your lives? We felt a little sceptical – surely it was going to be a little stressful and nerve-wracking. The biggest surprise for us was how relaxed we were and how joyous, romantic and perfect the whole day was. It may be a cliché, but it was hands down the best day of our lives.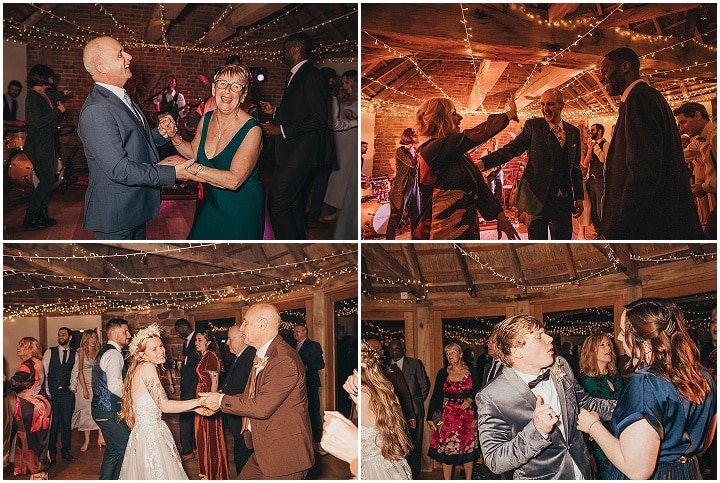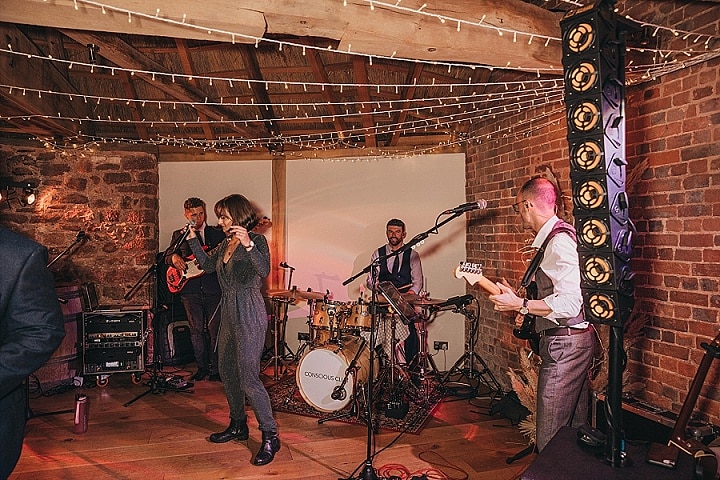 Supplier Shout Outs
Amy Chapple Photography 
www.amychapplephotography.co.uk / www.amychapplephotography.co.uk/Weddings / FACEBOOK / INSTAGRAM / PINTEREST