Happy Good Friday everyone! I do hope you are feeling happy and excited for the Easter break? Are you off work? Or are you yet to pack up for the Easter break? I am off for a few days with the family for a little trip away, there are 25 of us altogether, including 8 children, so I'm sure it will be a weekend filled with lots of laughter and fun, I can't wait! To finish of the week we are bringing you a touch of autumn with this fabulous October wedding. It is a beautiful wedding filled with lost of handmade details and decoration ideas, plus the whole day was planned in just 4 months! Now that's a lot of DIY crafting in a short amount of time! The tones are raw and rustic and go perfectly with the couples 'earthy' theme. The animal figures on the tables are my favourite, so cute. Big thanks to French Connection Photography for the lovely images. Enjoy Easter everyone!
The most happiest and quickest day of our lives so far! It was perfect in every way possible.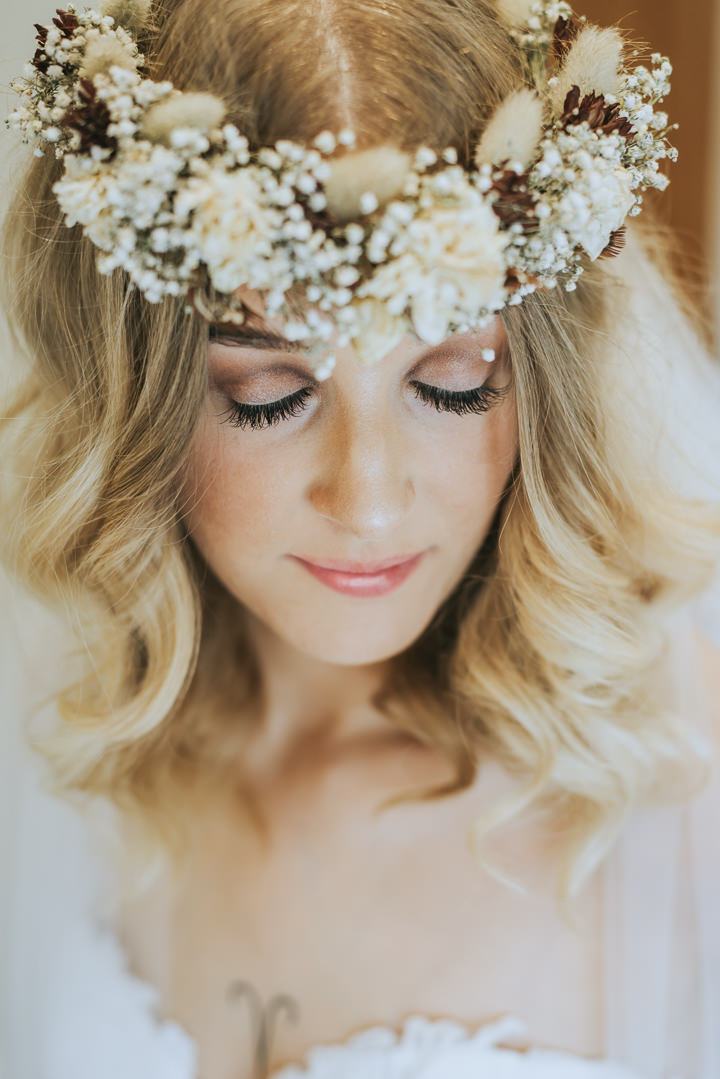 Kimberley and Aaron were married on Sunday 16th October 2016 at Packington Moor Farm, Lichfield. 'As soon as we saw the venue we loved it! The converted barns are gorgeous as they still have some of their original features. We could picture getting married there straight away and it's the only venue we visited. It gave us a warm and comforting feeling being there. We had around 52 guests come to our ceremony and an extra 30 or so come to our evening party. We had four months to plan. That'll probably sound crazy to a lot of people but me and Aaron are easy going and enjoyed planning and making things for our wedding!'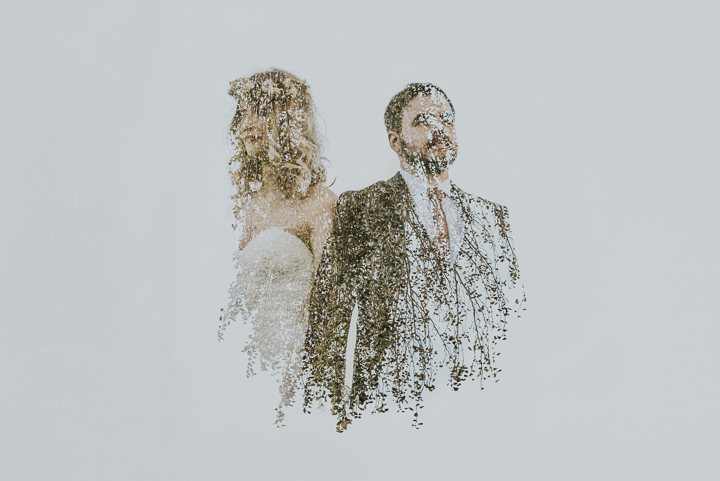 How they met
We met on the train on 16th October 2013. Little did we know that three years from that exact date we'd be getting married. Aaron was coming home from work and I was coming home from uni. It was extremely crowded, We spoke until I had to get off at my stop. It was like we had known each other for a long time! I told him that I hope to see him again soon and walked off the train. I was feeling so happy and dizzy that I walked the opposite way to the exit on the platform and had to embarrassingly walk past Aaron again because the train doors hadn't shut yet! He says from that moment, he knew I was 'the one'. We've now been together for nearly three and a half years.
The Proposal
It was extremely unexpected!! We were walking our dog, Franklin, down by the ancient forest part of Cannock chase. He had picked a particular oak tree to propose under. A part of its trunk had broken down which now looks like a mossy bench, the rest of the tree is still growing and slightly arches over. He got down on one knee and asked me to marry him. The rest of the walk felt surreal! I'm so happy that Franklin was there with us that day.
How did you allocate your budget?
We had a £15,000 budget… but we went over our budget but who doesn't? We saved a lot of money on certain things because we made them! We got all the big things out of the way first, such as rings, photographer, food, dresses/suits etc…
Where did you splurge and where did you save?
We spent a lot on our food and photographer. We wanted the best when it came to these! We love our food and wanted beautiful photos that we could look back on. It was definitely worth it! We saved A LOT of money on flowers. We didn't have one living flower at our wedding… We had home dried! I also made a lino print for our wedding invitations. Each one was unique and a piece of art itself! We've even kept one for us to display for when we buy our first house.

Why did you choose your photographer?
Our photographer was Ian France, French Connection photography. When we saw his style of photos we were so impressed! We didn't bother too much about looking at other photographers, we had to book him ASAP!
The Dress
It's a funny story with my shoes… I'm taller than Aaron so I didn't really want to wear heels. The search from there is quite a difficult one as I also need wide fitting shoes. You can't find many flat/wide fit bridal shoes, most of them have heels! I ended up buying some lace dolly style shoes just as a backup if I couldn't find anything and of course, I couldn't find anything! My dress just about covered them so I wasn't really bothered. They were comfortable and I didn't care about getting them muddy on the farm because I actually paid £5 for them from Tesco!
My dress was by Naomi Hilton. My lovely mom bought it for me! It has such beautiful lace detail that's quite boho but still elegant. It was so comfortable and had a long trail that I could pin up at the back. I wore a long veil during the ceremony which also trailed down with my dress. Gorgeous! I made my accessories. I did my own make up and Beverley did mine and my bridesmaids hair.
The Suit and bridesmaids
The men wore beautiful tweed suits from Marc Darcy. They were paired with a mustard coloured tie and cream hankie. They all looked really handsome! The bridesmaids dresses was a bit more challenging. They were my three sisters which all have slightly different tastes and body types, so as you can imagine it wasn't easy. In the end, we all agreed on a lovely cream dress from Miss Selfridge. They weren't actual bridesmaid dresses but more of a festival style, boho evening dress. They looked stunning and fitted in perfectly. My 3 year old niece was our flower girl.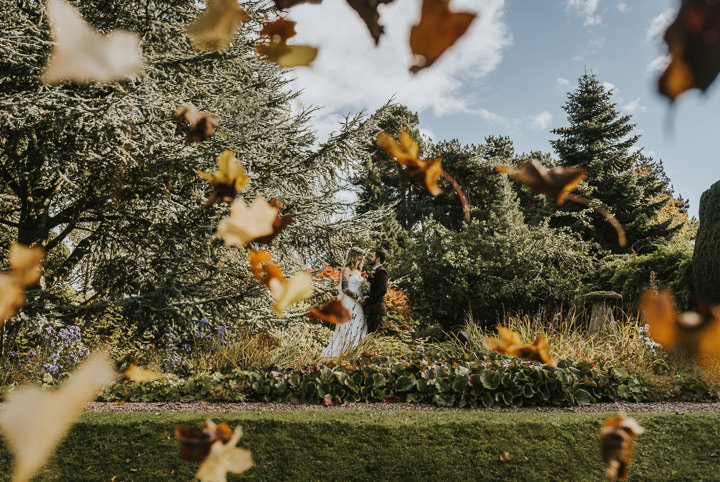 Theme or Colour Scheme
I wouldn't particularly say we had a set theme. Me and Aaron are both quite earthy people who both love that raw, rustic look, so it all flowed naturally. Colour wise, we picked a warm autumn tones.
Flowers
All our flowers were dried. It started at the beginning when I was planning my hair and dress etc. I wanted some sort of crown but wasn't 100% sure on how I wanted it to look. I'd looked at artificial flowers to ceramic but I was still unsure. All the searching got me inspired to create my own, but out of dried flowers! I loved it so much I went on to do all our table flowers, button holes, hair combs, corsages, flower girls basket, bouquets and I even added some onto my mom's hat. We spent the summer foraging and collecting flowers to dry out. I am still currently foraging and have started my own little business in dried flower accessories.
Decoration
I made about 36 meters of bunting from warm autumn  fabrics which were made to decorate out dining area. There was also mini bunting and a pine cone garland. We displayed pumpkins of all shapes and sizes next to candles and faux grass animals. Dried flowers decorated jars and taller candles which were placed around the venue. Our tables were animal themed. I made a large table plan were people had to find their name which was placed under a silhouette of an animal. Each table then had an illustration of that animal which they had to find. It was all very fun and visually! Each table also had a small figurine of that particular animal which the kids loved! For our favors, we bagged up some sugared almonds and added charity pins. We chose cancer research and the RSBP. It's a great way to help out charities. The kids had animal masks as favors.
Food
Our food was catered by Galloping Gourmet! It was truly delicious! For our starter, we had this beautiful scotch egg. It was just incredible! Our guests say it was the best one they've ever had! Our main was steak. I couldn't eat all of my pudding but it was a rich chocolate fudge. They have many menus you can tweak and choose from!
Wedding Cake
Our wedding cake was made by a family friend, Stacey Brown. We had a two tier cake, the bottom was traditional fruit cake and the top was sponge. It was dressed with royal icing and dried flowers (that I passed on to Stacey). She arranged them beautifully and the cakes tasted divine!
Entertainment
Dave Dee Disco! He was recommended by Packington Moor. He's a lovely man who gives a great show. He got everyone involved!
Special Moments or Highlights
It's hard for us to pick a particular moment because it was all so good! We honestly enjoyed every minute of it.
Advice for other couples
I'd say the best thing to do is go with what you both love. Don't let anyone try to change your mind or persuade you that your idea isn't right for you. Don't get stressed out trying to make other people happy! It's both your day and you need to do it the way that you both want to remember it!
Biggest Surprise
During the best man's speech when he told everyone Aaron once pooped into a bag and put it in his mouth just to entertain people. How. Gross.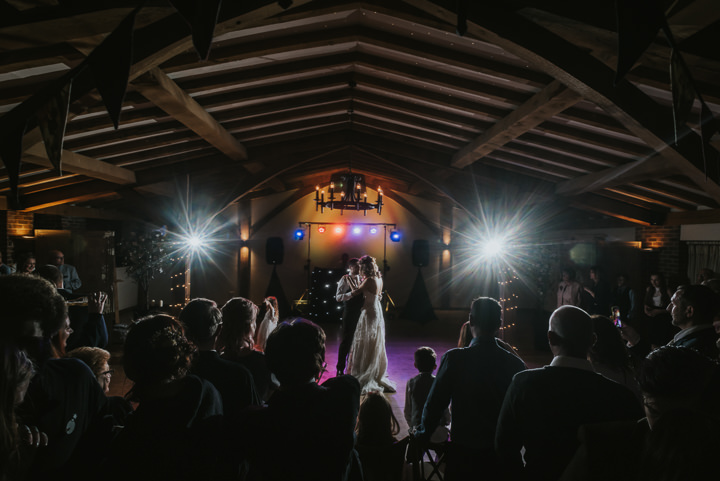 Supplier Shout Outs
For more information on Ian's work go to:
www.fcphotography.co.uk / 01543 509 075