Happy Tuesday everyone, today we have a wonderful rustic farm wedding for you that takes place in the beautiful Devon countryside, courtesy of Lee Maxwell. Amy and Paul took a pretty laid back approach to their big day and this relaxed vibe can can really be felt throughout their whole day. This wedding is full of the most wonderful portrait shots, amazing cars, delicious food and so much fun. With a gorgeous rustic feel and lots of pretty pastel details it really is a beautiful day from start to finish.
The day was hands down THE best day of both of our lives so far, every moment of the day was so special and it will not be forgotten in a hurry. Everything about the day could not have better reflected us as a couple.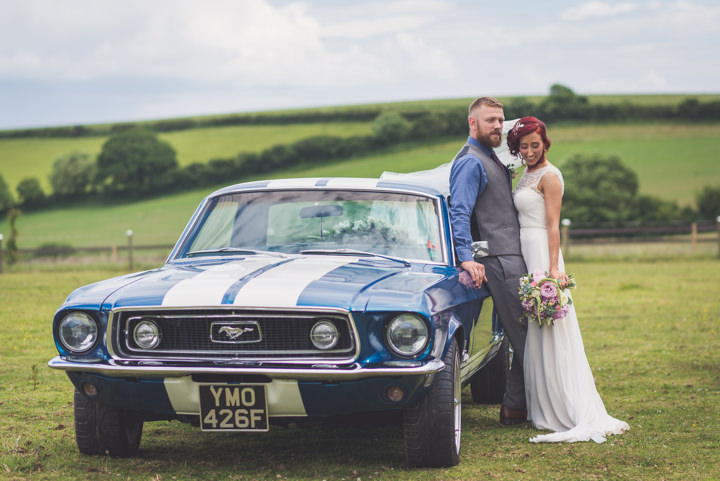 Amy and Paul were married on the 25th June 2016 at Marldon Church followed by a reception at Ash Tree Farm, Devon. 'In truth not that much planning took place, primarily due to our disorganisation and similarly laid back attitudes! We booked the venue, photographer and the cars about a year in advance and more or less everything else was done in the few months prior to the big day.'
How they met
We originally met in a very cheesy nightclub when we were both teenagers but didn't become official until a couple of years later. We have now been together for over 8 years.
The proposal
It occurred in a small Scottish village in the height of winter whilst on holiday. I now know that multiple attempts at the proposal were thwarted throughout the stay, including a minor snowboard collision in which the ring box got smashed and the ring temporarily got lost in snow. Paul finally and completely unexpectedly got down on one knee on the last day, he presented a beautifully broken box, held together only by the ribbon, with the sweetest dainty ring inside. For a man that normally finds romantic gestures a little out of his comfort zone, he did a grand job.
The Dress
The dress was called "Farah" by Maggie Sottero. The shoes were from Rainbow Club – so comfortable! Lingerie was Agent Provocateur – not so comfortable! The headband and veil both came from Brides at Waterfields. My earrings were a gift from my parents and the cameo on my bouquet is an antique borrowed from my grandmother.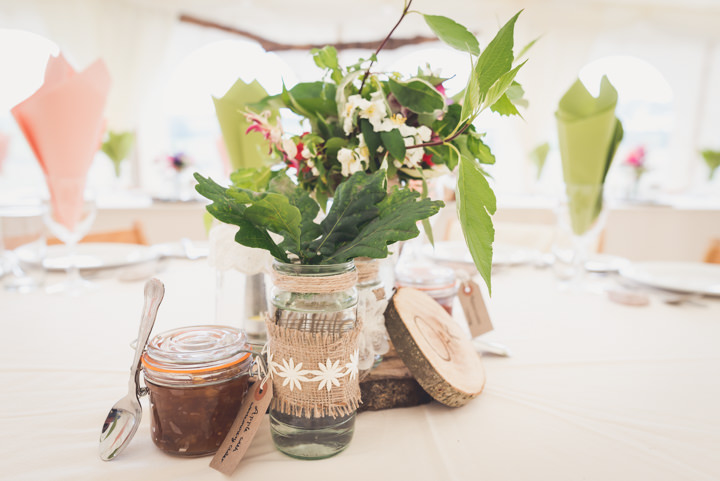 Theme or Colour Scheme
The idea of colour schemes and themes was somewhat terrifying for us as they require a degree of ordering, planning and matching, none of which we have the patience for. The bridesmaids picked their own dresses and with my only preference as "pastel" based colours they unwittingly picked the colour scheme. We tried to incorporate the two colours they picked where possible to give the impression of planning and bring the whole thing together. Many of the guests later complemented us on the colour theme so I guess we pulled it off.
Flowers
My bouquet included peonies, roses, eucalyptus and succulents. The bridesmaids had gypsophila with roses and my niece, the flower girl, had a matching wand. The church and reception were decorated with a combination of home grown sweet peas, wild flowers and ferns.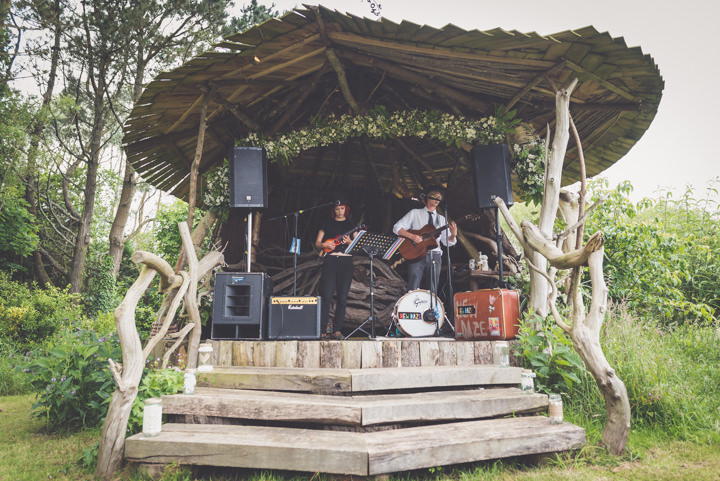 Special Moments or Highlights
Of course one of the most special moments was the marriage itself; the vicar, our friends and our families all made the service feel like a true celebration with the right balance of formality and fun. For me a major highlight was the wedding transport, this was something that Paul organised as a surprise and nobody knew what to expect. But I will never forget the sound of three V8's rumbling through the sleepy village where my parents live overlaid with the sound of 8 over excited screaming women announcing the car's arrival. Another stand-out memory was one of peace and tranquillity in the form of a midnight barefoot walk around the beautiful candlelit gardens, it was a chance for us to be alone, enjoy the stars and each other company. Though its very hard to pick out too many specific moments of what was such a perfect day!
Supplier Shout Outs
For more information about Lee's work go to:
www.lee-maxwell.com / www.lee-maxwell.com/blog /  [email protected] / FACEBOOK / T: @Leemaxwellphoto / I: @leemaxwellphotography