Happy Monday everyone, and how are you all this fine Monday? Was your weekend filled with wedding activities? Did you go to a wedding? Maybe you got married? This is such a busy summer for weddings after the last 2 years! My weekend was lovely, pretty chilled but it was much needed. Dexter and I went to the theatre on Saturday to see School of Rock, which was brilliant! And Sunday of course we watched the football!!! On with today's wedding and it's the turn of Claudia and Connor who chose a DIY blue themed wedding in beautiful York. They wanted a laid back day, full of relaxed vibes and lots of personal details and projects. The day is full of sunshine, smiles and lots of fun, big thanks to Amy Jordison Photography for the photos.
It truly was the best day of our life and we wish we could do it all over again.
Claudia and Connor were married on 28th May 2022 at Aldby Park, Buttercrambe in York. 'We were viewing a different location in York and it was suggested to view a different venue called Aldby Park. We knew it was the perfect venue for us when were first saw it. It has the most stunning gardens and so much space to explore. We loved that it was so different to what we initially were looking for but loved all the open space. It even has a zip wire across the river Derwent. It simply fell perfectly into our dream wedding. We had 80 day guests and 130 even guests. It probably took about 1 and a half years to plan. we started as soon as we go engaged.'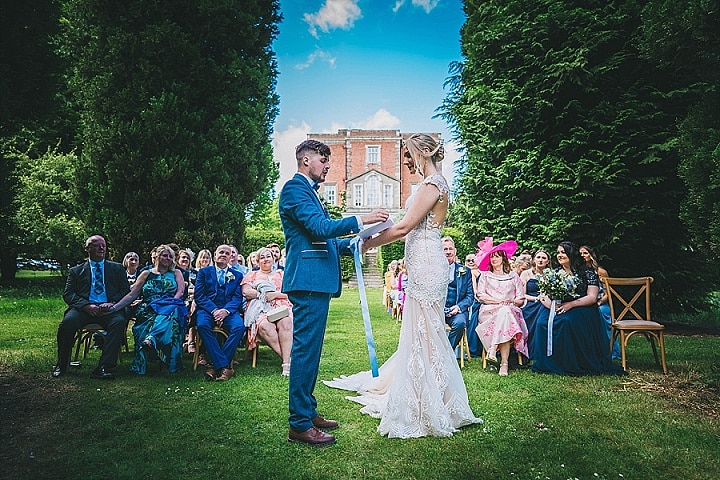 How they met 
We met at work and Connor started the flirting immediately. He went travelling for a year soon after we met but when he came back, we fell in love and have now been together for three years.
The proposal
We were supposed to go to Paris but Coronavirus got in the way of that so we took a little trip to the Yorkshire dales. Connor had planned to ask me next to a waterfall but the English weather stopped that so Connor got down on one knee under the hot tub shelter around lanterns that spelled out "will you marry me?".
How did you allocate your budget?
We didn't, close to the wedding we realised we had just booked loads of things without looking at what we had spent already – WE SHOULD HAVE ALLOCATED A BUDGET!
Where did you splurge and where did you save?
We decided to DIY most of the decorations for our wedding rather than paying someone to style it for us. We decided to splurge on the photographer and videographer as we felt this was our biggest priority, and we have no regrets. Our photos are going to be treasured forever.
How did you choose your photographer?
We spent a fair while looking through various photographer's portfolios and just seeing Amy's clicked for us. We just had that feeling she would be the one.
The dress
The dress was Leia by Calla Blanche. I was obsessed with Calla Blanche dresses but had a hard time finding shops in the UK. I ended up taking a trip up to Newcastle and the dress found me. It was a sample dress that was in my size and I didn't even need any alterations to it. It was practically made for me.
The suit and bridesmaids?
Connors suit was from Marc Darcy and the groomsmen were given the brief to find a Navy suit they liked. The bridesmaids were also given the brief of finding dresses they felt comfortable the matched our colour scheme of dusty blues. I loved that none of them matched but all went so well together.
Theme or colour scheme
Our colour scheme was dusty blues.
Flowers
We saved money on buying flowers as mainly stuck to have fake flowers except for Claudia's bouquet which was made up of white roses, veronica gentians and even some Thistle flowers representing Claudia's ties to Scotland. It was the most stunning bouquet which is getting preserved in keepsake items for the family.
Decoration
We made most of the decorations ourselves including pallet benches, a wedding arch, and even a greenery wall. We even hand dyed meters and meters of cheese cloth material to match our colour scheme for our table runners and made personalised name decorations for all our guests to take home. We kept our decorations simple with candles and a few flowers in vases and let the venue speak for itself with its beautiful gardens.
Food 
We wanted to have a meal that felt really relaxed as we didn't like the idea of having a formal sit-down meal and so we chose to have pizza and ice cream for our day guests. We got to choose from some crazy flavours including gin and tonic flavour or Connor favourite, kinder bueno. This was a massive hit with our guests. We served a cold finger food buffet in the evening and you know it must have been good when you return 20 minutes later to it all been eaten.
Wedding cake
The cake was a two-tier sponge cake. One tier was chocolate flavoured whilst the other was white chocolate and raspberry. We were lucky enough for the cake to be gifted to us by Connors Aunt.
Entertainment
The main entertainment was provided by Daniel Reynard also known as Iamkidrain! This guy blew us away, anyone reading this stop what you are doing and book this guy now, you won't regret it. He played us a few sets of classic wedding songs on his guitar and his voice was incredible. He kept the dance floor full from start to finish. We also had lawn games set up outside our marquee for guest to enjoy.
Where did you go on your honeymoon
A few days after the wedding we travelled to the Oaklands glamping site in Wales for five days, it was lovely. We have also booked to travel to Peru in December for three weeks as our official honeymoon. We hope to hike the Inca Trail and see Machu Picchu.
Personal touches
We spent a lot of time trying to save money and make our decorations. Most of the decorations you see in the pictures were made by us or painted or tampered with in some way. The thing that made it so personal to us was our celebrant and day coordinator, Penny. We spent some time with her prior to the ceremony for her to get to know us and write our ceremony for us. Penny made it all so personal to what our relationship means to us and it brought all our guests to tears. We read it back now and still love every word she said.
Special moments
We loved doing a first look together before walking down the aisle, it was such a special moment and we were grateful to have some moments together without other people to just be us. The whole day was a highlight from start to finish, it is too hard to pick out single moments. We were able to have a golden hour photoshoot with Amy just as the sun was setting but we had to climb over a few fences and walk through a few fields to get to the perfect location. It was so fun to do and definitely worth it to get the pictures we got.
Advice for other couples
The best advice we can give is to make sure you spend time together on the day. We took a few moments out of the day to just walk away from our guests and just sit and take everything in together. We were given some good advice before our day which was to imagine you are both handcuffed together. This allowed us to be together throughout most of the day and have similar experiences and memories we can share forever, remember it is YOUR day.
Biggest surprise
Just generally seeing the whole day come together. It was incredible to see how our families mingled with ease and how many of our guests danced all night long.
Supplier Shout Outs
Venue  Aldby Park | Louisiannas Weddings
Vídeo @georgeholdenmedia
Dress @si_bridal @callablanchedress
Makeup @paigeharleymakeup
Hair @georginaquartz
Catering: OUR OVEN IN A TRAILER | curiouscoffee @clifton_catering @ataddelicious
Celebrant @penelopejayne.co.uk
Flowers @wonderlandblooms_
Marquee @yorkshireyurts
Snug @starbrighthideaways
Music @iamkidrain
Bar @louisiannasweddings
Amy Jordison Photography
www.amyjordisonphotography.com / www.amyjordisonphotography.com/blog / [email protected] / 07859058083 / FACEBOOK / INSTAGRAM
I'm based in York and I shoot relaxed weddings for laid back people who don't like to pose!