Hello you lovely lot and how are you this fine November day? I am doing very well in case you were wondering! Dexter is currently on his first school residential, which means that Nik and I got to go out last night, child free! We went for Tapas which was lovely and we got to eat at a normal adult time, which made a wonderful change. Today I have all day and all night in the office, totally un interrupted, I'm hoping to plough through my works to do list and then crack on with my every extensive life admin list! A productive day it will be! (hopefully!) So today's weddings see's us head to York for the super spring wedding of Harriet and Nathan. They held a pretty pastel day filled with gorgeous flowers and personal touches. The day was captured beautifully by Amy Jordison Photography .
It sounds so cliché, but our wedding day was perfect from start to finish. It was a celebration of our relationship, surrounded by the people we love and care most about. 
Harriet and Nathan were married on Saturday 13th May 2023, with the ceremony at All Saints Church, Huntington, York and the reception at Deighton Lodge, York. 'We wanted to get married in church as that had been an important part of our lives growing up. We chose to have our reception at Deighton Lodge as we loved the rural location and rustic theme. We also really liked that Deighton Lodge are a dry hire venue which gave us the flexibility to choose our own suppliers and style to make it our own. We ha 80 day guests and 130 in the evening. We started planning just over a year before our wedding day.'
How they met 
We first met at secondary school, and then got together when we were both at sixth form. We've been together for six years.
The proposal 
I (Nathan) had a thoughtfully planned proposal in December at the Christmas markets as we both love this time of year. Typically, it rained all day and the perfect time never arose! I was so excited and anxious to propose that I did it anyway as a complete surprise to Harriet just as we arrived home from our wet day out.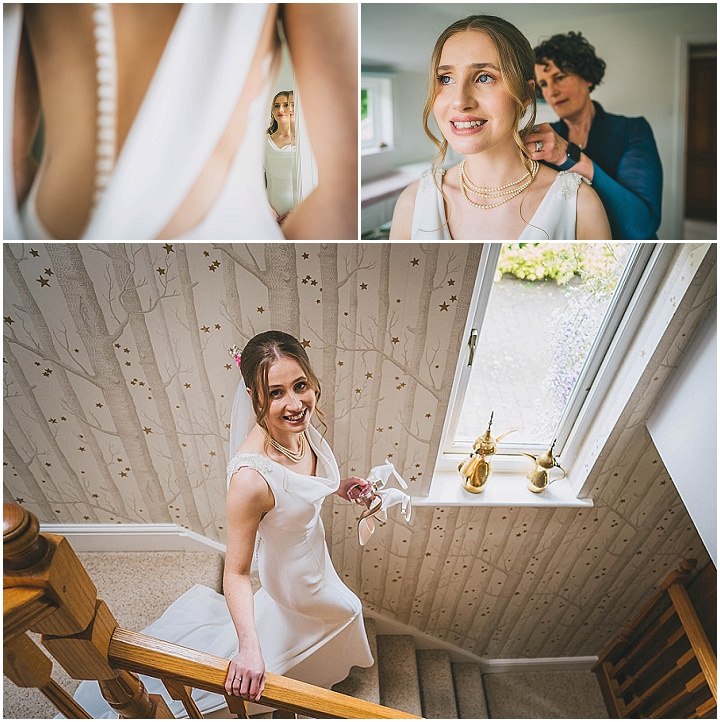 How did you allocate your budget?
We looked at "needs" and "wants" and allocated accordingly. There were some non-negotiables that were a priority for both of us. The main bulk of the budget was spent on venues and food, unsurprisingly! 
Where did you splurge and where did you save?
Catering was a relative splurge for us! It was important to us that our guests were well fed and watered! We also prioritised photography as we both felt it was a worthwhile investment to have photographs that would forever remind us of our day.
There were a number of things that we chose to do ourselves, partly to save money but also to have more flexibility and creativity. Firstly, décor, we had a lovely team of volunteers to decorate the church with flowers. It was lovely to spend the days before the wedding together decorating the space, and we saved money in the process! Amy and I did our makeup ourselves. We did all the stationery and sent mostly electronic invitations, which saved us further.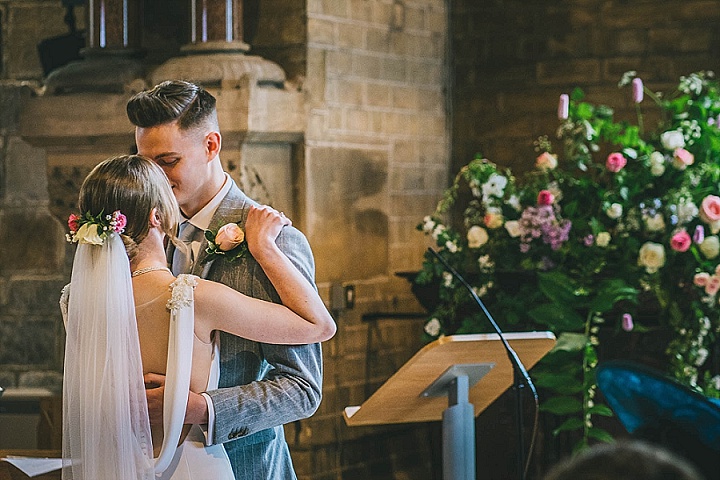 How did you choose your photographer?
We chose Amy Jordison after seeing her beautiful photos of a friends' wedding. She took natural photos that captured moments and emotions. That was exactly what we were looking for.
The dress 
I wore a Ronald Joyce dress and rainbow club heels. I also wore a pearl necklace that my sister, mother and grandmother also worse for their weddings.
The suit and bridesmaids
Nathan and our best man, Josh wore Moss Bros suits. Amy, our bridesmaid wore a Th and Th dress, called Phoebe in the colour Sage. We bought the dress from Hannah at Joy's Bella Bridesmaids.
Theme or colour scheme 
We didn't have a specific theme or colour scheme, but everything was quite rustic and natural. We chose flowers that were in season. The colours we chose were natural greens, such as sage, eucalyptus, and pastels, pink and cream.
Flowers 
We had lots of natural foliage that we foraged ourselves. We also had roses, gladiolus and gypsophila.
Decoration
We had a lot of flowers and foliage at the church and reception venue. That was our main form of decoration. We also had candles, log slices and vases on the tables as centrepieces.  We also had a lot of fairy lights all over the venue.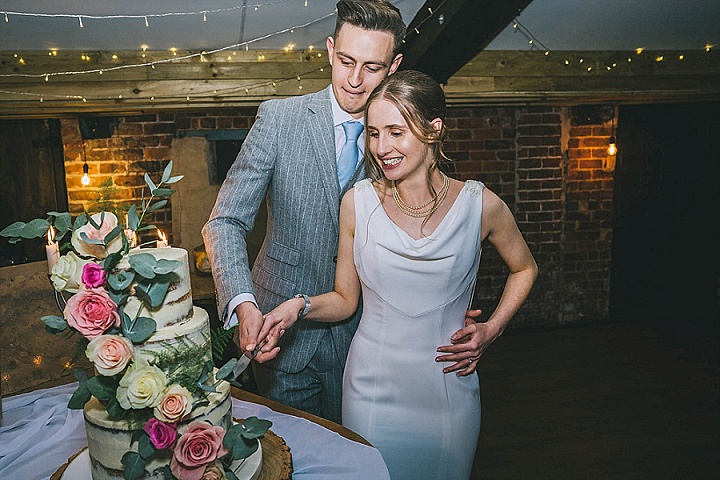 Food 
Croft Catering provided canapes on our arrival, and then served a three-course traditional meal for our wedding breakfast. The Woodfired Pizza Company then provided pizza in the evening to fuel the dancing! The food was exceptional, I can only wish we had more of an appetite ourselves on the day!
Wedding cake
Marley Rose Cakes made our three tier naked wedding cake. It was absolutely incredible! We had a wonderful tasting session when we chose Salted Caramel, Cherry Bakewell and Raspberry and White Chocolate for our tiers. We also had a cheese wedding cake provided by the Cheese Shed. It was incredible to look at, and eat!
Entertainment
We had a DJ in the evening to provide entertainment. Night Owls provided an excellent disco, keeping people on the dancefloor all night!
We also had a "magic mirror" provided by Props and Pixels. This provided excellent entertainment on the night and we have a lovely guest book filled with hilarious memories from the night!
Who supplied the stationery?
 We made our own stationery to fit with our natural, green theme, designing on canva and printing through third parties.
 Where did you go on your honeymoon?
A few weeks after our wedding we went away on our honeymoon to Italy. We went to Rome, Florence and the Amalfi Coast. It was so beautiful and romantic, we shared a lot of quality time together and ate a lot of excellent food!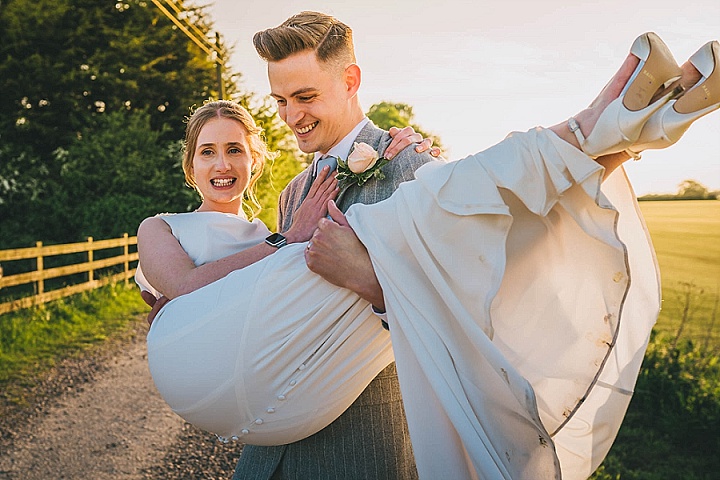 Personal touches
The process of decorating the church with flowers alongside our families and friends was a really exciting time. It led us up to the big day and gave us quality time to spend together.
Special moments 
We both agree that most special thing about our day was that both of us were so calm and happy. We thought we would be anxious and nervous, but in fact we were just so excited. The photos captured this beautifully.
Advice for other couples
We would recommend being organised, keeping records of everything and having a clear schedule. We had alerts and reminders set up to ensure we didn't miss meetings and payments. Saying that, we still missed some things and didn't get everything right. The best piece of advice is just to embrace the chaos and focus on the things that are most important to you both. Ultimately, you're unlikely to remember the tiny detail that went slightly wrong!
Biggest surprise 
That it went so fast! Before we knew it, it was over. Enjoy every moment.
Supplier Shout Outs
Amy Jordison Photography 
www.amyjordisonphotography.com / www.amyjordisonphotography.com/blog / [email protected] / 07859058083 / FACEBOOK / INSTAGRAM / PINTEREST
I shoot laid-back weddings and portraits for people who don't like to pose! My business is based in York and I'm very familiar with many of the gorgeous venues around that area. I also have a base in Spain and am taking on destination weddings in the Sitges area near Barcelona.