Yay for Friday! I certainly have that Friday feeling, do you? How has your week been? Mine has been busy, so I'm looking forward to a couple of days off from the computer with a bit of time to unwind. It's my Mum's birthday this weekend so she is coming up from Cornwall to spend the weekend here in Sheffield. I have a trip to the cinema planned and a lovely dinner out to celebrate. I'd love to hear your plans?
Today's wedding sees us head to Essex for this rustic farm wedding, filled with DIY decor and details, lots of pretty lavender, a Ceilidh band and plenty of fun, all captured perfectly by Amy Jordison.
It was a personal, country wedding surrounded by all of our favourite people.  From cutting the cake with a claymore to ceilidh dancing in a candlelit powercut, it was more fun and memorable than we could ever have planned for.
Frances and Joshua were married on 11th August 2018 at St Mary's Church, Radwinter, Essex and Anser Gallows Farm, Hempstead, Essex for the reception. 'We had 100 guests, from engagement to the big day, it was a year and ten months, but it took us a while to find the perfect venue in that time. Once we did, it was just over a year to organise everything, which was plenty of time to make it personal.'
How they met
We studied together at university and the foundations of our relationship were in folk singing together in pubs around York, which has been our joint passion for six years.
The proposal
It involved Joshua and the best man, James, skulking around York, looking for the perfect ring. Joshua had sent James on a recon mission with Frances, to stand outside a jeweller's and casually discuss style preferences. Secretly, Frances thought "If Josh ever wants to get me an engagement ring, he'll ask James for advice, so I'll be as clear and decisive as possible."  A few weeks later, we were walking near Ambleside in the Lake District and Joshua just said, "Maybe we should get married."  It took Frances a long moment to flounder like a fish and process what he was saying, so he had to clarify with, "I've got a ring." Needless to say, Frances said yes amid tears.
How did you allocate your budget?
We thought first about what was important (food, church, venue and Ceilidh) and prioritised those in our budget.  That way, we knew that if we spent a lot on those, it was money well-spent!  A particular advantage was the length of our engagement and this definitely helped to spread the cost of big expenses like catering and toilet hire (yes, luxury loos in a field!).
Where did you splurge and where did you save? 
Luckily, with the location being so local to where Frances grew up, we were able to call in the expertise and time of friends and family, which probably saved us quite a bit compared to if we were to attempt the same style wedding in an unfamiliar location.  Initially, we were going to go cheap on the portable toilets and pimp them up with some bunting, but in the end, we splurged and got some posh loos from Luxury Toilet Hire.  According to the guests: definitely worth it!
How did you choose your photographer?
We were good friends with Amy Jordison and have had the privilege of being in her beautiful photos before so we knew she would be the perfect choice.
The dress
Neither of us are particularly designer conscious when it comes to clothes and generally just go for what we like. I couldn't tell you who designed the dress but I got it at an incredible price at Abbey Warehouse in Headingly.  As I knew I'd be spending the day in a barn and a field with the potential hazard of cow pats, I didn't spend more than a fiver on my shoes.  My bracelet, wedding ring and leaf climber earrings were by Beaverbrooks, chosen by my fantastic little sister.  The hairpiece was handmade by me over a year ago to match the belt design on the dress.
The suit and bridesmaids
We searched high and low in York for a decent suit for Joshua, but found the perfect grey two-piece and patterned tie.  The purple brogue shoes were definitely a classy choice.  We didn't have any official bridesmaids, so Frances' three sisters wore their own choice of design and colour and they all looked amazing.  I can't stand it when bridesmaids are forced into colours and styles that don't suit them just because it fits the colour scheme!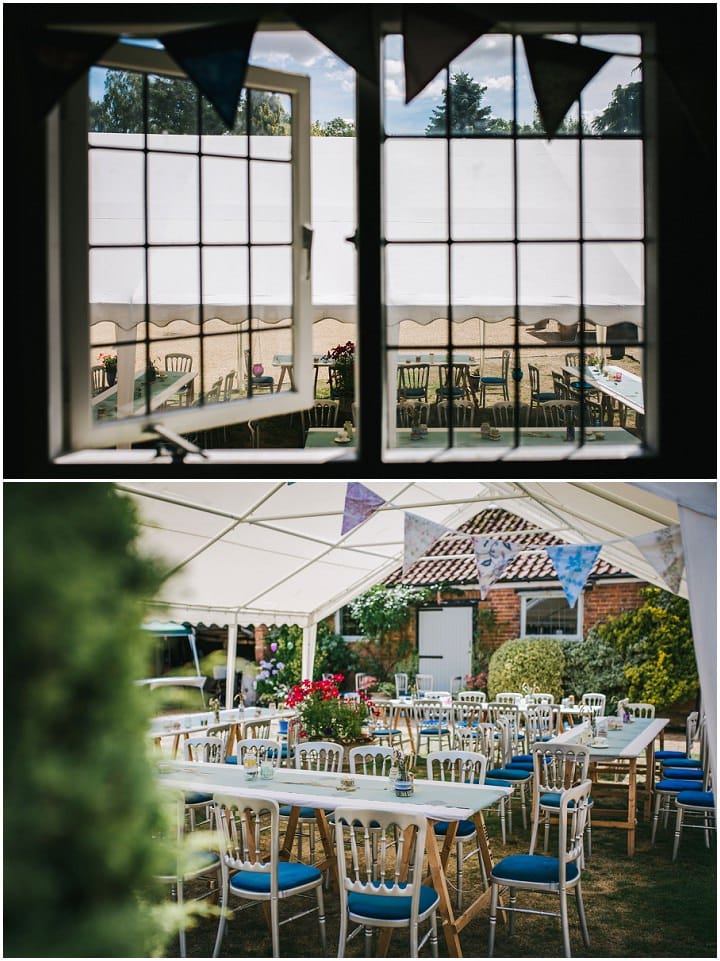 Theme or colour scheme
We'd heard of many couples getting stressed over sticking to colour schemes so we didn't initially go for one. Interestingly, as the planning progressed, we began to discover that the design choices we made seemed to lean towards three lovely country colours: lavender, rosemary and hessian.  It was nice that the design came together organically during the planning process.
Flowers
My bouquet was rosemary, lavender and white verbena and we had some of the same scattered over the tables and placed in jam jars throughout the barn along with some corn.  We'd also collected a whole summer's worth of rose petals from two different gardens and these became part of the decoration at both the church and the barn.  Other than that, I'm afraid we cheated a little!  I bought an array of purple and white plastic flowers and arranged them into small bouquets displayed in hessian.  These we used to decorate the church aisles and they looked really effective.
Decoration
We were lucky in that both the church and the barn venue were already stunning enough in their own right, so there was little more decoration needed.  For the tables, we used patterned wallpaper runners, decorated jam jars and tealights; my big sister made enough bunting to visit the moon and back; and we had a few fairy lights here and there over the bar and guestbook tables.
Food
This was an easy decision for both of us as we love our food.  It was also an easy choice of who to cook it: Dave, a local hero when it comes to catering on any scale.  He and his team rose to the challenge and crafted a mouth-watering hog roast and sides, with a bacon butty supper to get us through the dancing later on.
Wedding cake
This was an absolute bargain and delicious too.  Local bakery Dorringtons provided three separate cakes: carrot, chocolate fudge brownie and red velvet.  They were simple in their design but everyone was going back for seconds.  We topped one of them with miniature figurines of Legolas and Galadriel because…well, look at the photos of us.
Entertainment
Two members of our folk rock band provided guitar and double bass music during the signing of the registers, which – after ten minutes – turned from gentle acoustic music into something so funky even the vicar was dancing!  At the reception, we had the New Fox Ceilidh Band all the way from York who were fantastic and very patient as we all tripped over each other's feet and do-si-do'd in the wrong direction.
Who supplied the stationery? 
Frances designed the invitation based on the song that Joshua wrote for them to sing together when they first started dating.  The order of service was also a personalised illustration that Frances designed based on nine aspects of shared life.
Personal touches
We are so lucky to be surrounded by creative family and friends and this made it so personal.  Pretty much everything was DIY and I think that's what made the day so special, comfortable and relaxed.  Everything was within our control and if it didn't like right, we changed it.  We particularly loved the cushions provided for people to sit on during the informal speeches; signs warning, 'Careful! Cow pats!"; artistically arranged jam jar candles and flowers; and Frances even made a personalised pocket watch itinerary for that proper hipster vibe!
Special moments
The speeches were lovely, having everyone gathered informally on the floor of the barn and standing around; they were funny and heart-warming.  Arriving at the church and standing at the porchway about to walk down the aisle with my dad, knowing that all my favourite people were inside and Josh was waiting for me.  The power cut was excellent; halfway through a dance and the Ceilidh caller casually asks if we want to carry on.  Of course, the answer was a resounding YES and in true countryside fashion, we cracked on in candlelight.
Advice for other couples
1) Don't set limits from day one, learn them as you go.  For example, if you can, avoid a table plan, because one of the nicest parts of the day was being able to move around freely and chat to as many people as possible.  Be flexible in design ideas and colour schemes so that you don't tie yourselves into knots. 2) For a DIY wedding like ours, give yourselves plenty of time.  We weren't stressed out at any point, because we had over a year to think, plan and organise.  We couldn't have achieved the same result in six months.  3) Be in control, but don't be afraid to delegate.  Trust your family and friends or whoever is helping you organise the big day and let them show their own creativity.  It was such a pleasure to give people a job and see their own interpretation.
Biggest surprise
The biggest surprise came when Frances was halfway through the vows and had to stop as a spider dropped down on Joshua's head!  After a giggle, we got through the vows without any more arachnid intrusions.
Suppplier Shout Outs
For more information on Amy's work go to
www.amyjordisonphotography.com / www.amyjordisonphotography-blog / [email protected] / 07859058083 / FACEBOOK / INSTAGRAM / PINTEREST / TWITTER

I am based in York and cover Yorkshire and UK wide weddings. My style is unobtrusive, relaxed and creative –  I create beautiful images which tell the story of the day. I love little details and unique moments. My couples are fun, laid-back and not too hung up on tradition!

[jprel]