Its' cold, it's dark and it's December so what better way to brighten you up and welcome in the weekend than to bring you a bright and cheerful wedding. Todays beauty was sent into me by Sarah from Taken By Sarah who is based in North Carolina. It's the wedding of Jay and JoAnn Ashmore who were married on 8th October, 2011 at The Balcony on Dock in Wilmington, North Carolina with 120 guests.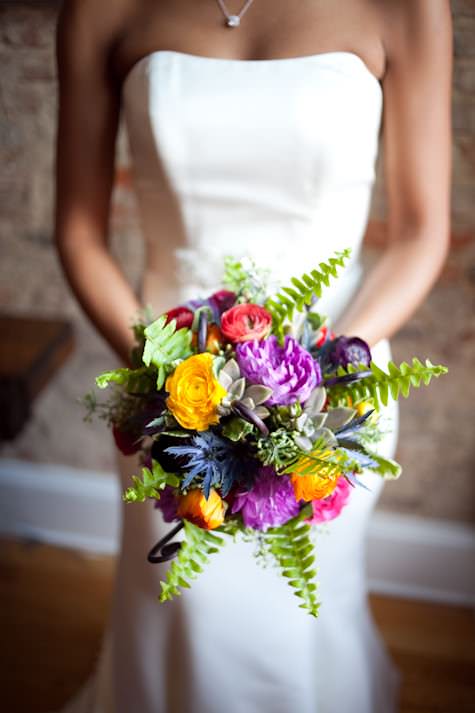 The first thing I noticed about this wedding was the amazing flowers, all so bright and each table arrangement is different, I LOVE them! I do love yellow, but I am a big fan of blights at the moment and these are extra specially beautiful. I also love the gorgeous smile on JoAnn's face she is smiling in every picture…….just stunning!
The venue
They have simple but elegant taste and the Balcony is both of those. It's able to be customized however you'd like and they wanted a place to have both ceremony and reception in the same place to make things easier.
The Dress
Dress and Bridesmaids were from David's Bridal, the earrings were a gift from Jay.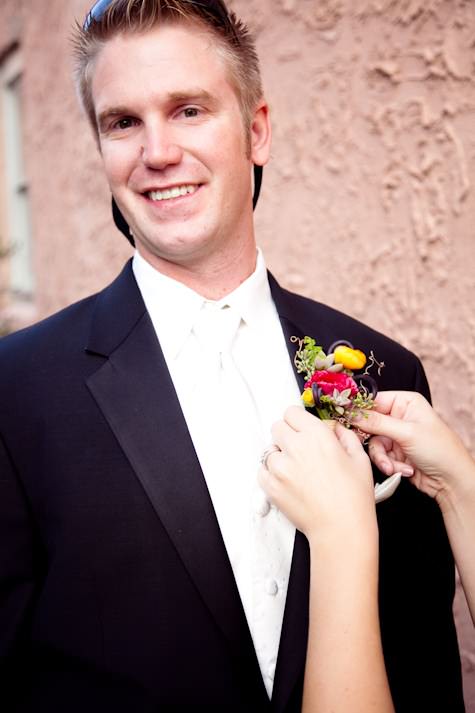 Theme
Deep purples and autumn colours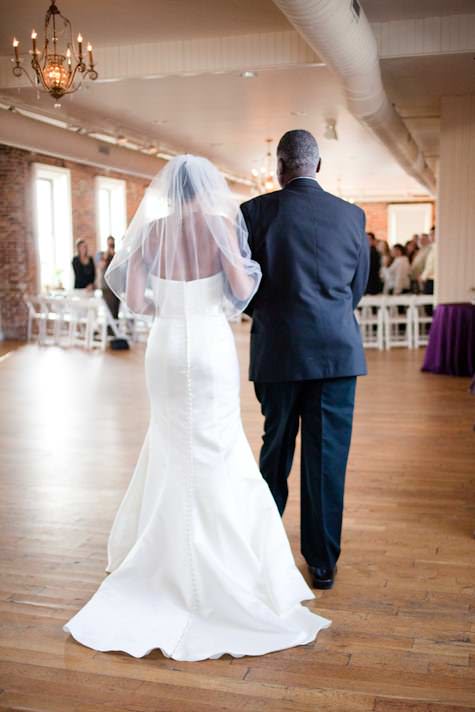 Food
Was amazing, The Balcony catered it and there was a pasta bar, shrimp with a spicy cream sauce, prosciutto wrapped asparagus, fruit salad, mashed sweet potato, and roast beef carving station.
Flowers
A huge and wonderful array of colorful and different flowers that were brightly colored with a hint of fall.
Decoration
Incredible centerpieces that included all sorts of flowers, moss, acorns, apples, pomegranits, slabs, of wood, and all different shaped glass bowls and vases. These were all first used as the decorations during the ceremony and were then rearranged to be the centerpieces for the reception. Fiore Fine Flowers in Wilmington did them and they were seriously breathtaking.
Personal touches
A friend who is a painter did the invitation design and also painted a tree on a canvas for the "guest book" for guests to stamp a leaf on and sign their name.
Special moments
It was River Fest in downtown Wilmington that day and it just so happened that halfway through the ceremony there was a fireworks show. We got some wonderful shots of everyone leaning out the windows to watch and the DJ played the fireworks song while they all sang along. That was an incredible highlight
supplier shout outs
For more information on Sarah's work got to:
Taken by Sarah Photography
takenbysarah.photographyblogsites.com
FACEBOOK
 315.436.5663
Due to an email issue if you have emailed me between the 2nd & 9th of December, please resend it.
X