This afternoon I have another styled shoot for you, and I'm delighted that is from my good friend Victoria from Victoria Made 'Couture Wedding Cakes' with the amazing images from S6 Photography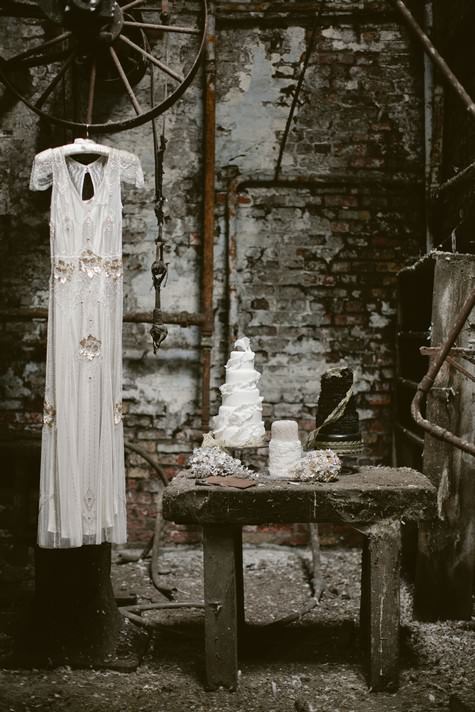 Victoria makes exquisite wedding cakes, if you remember I featured her in November in my Boho Loves feature. Her work stands alone as simplistic works of art and this can be seen even more clearly in this stunning shoot! She has taken some of Sheffield's oldest backdrop and juxtaposed it against her beautiful and carefully crafted cakes.
I'll pass the blog over to Victoria and let her explain her reasons behind the shoot.
'The shoot had been something I wanted to do for some time, I really wanted to do something a bit different and something that maybe showed wedding cakes off in a different light in an environment you would never normally find one. The chance to get some of Sheffield's industrial heritage in was really important as a way of showcasing the up and coming creative industries against the old'
'The building was fascinating if not a bit sad to see the machinery long stopped, but the whole effect was very atmospheric (bar the pigeon whatsit…) with so many photo opportunities. I was also aware that anything photographed in there had nowhere to hide either, no chance of elevating something a bit bland with a pretty background and styling, so the cakes and other items really did have to hold their own and I hope they do.'
'The next shoot coming up soon will be pretty much the complete opposite so really excited about it, again will be minimal styling and hoping the cakes will speak for themselves! I'm really loving this part of the job and will be working hard to make sure that all of my future shoots will be just that little bit different and hope that everyone enjoys them as much as me.'
Supplier shout Outs
Would like to thank the awesome Sheffield wedding talent (which seems to be exploding at the mo!) with their help and donations of items –
For more information on Victoria's work go to:
www.victoriamade.com
[email protected]
FACEBOOK
TWITTER
07971427998