Well hello Monday! I hope you all had a wonderful weekend? Mine didn't go exactly to plan. It was meant to be my 50th birthday party, but Saturday morning Dexter tested positive so we had to postpone. So I will be spending this week looking after him while he is off school while juggling work! Hopefully, he will test negative by the end of the week. I have a super busy week for you here on the blog starting with this gorgeous rustic chic Australian wedding. Phoebe and Liam were married on 30th December 2021 at Gordon Country in Queensland and their wedding is a real dream of a day. Rustic touches, rust bridesmaids, dried flowers and the most beautiful outdoor ceremony. Big thanks to Tyneale Hahn Makeup Artist for the wonderful submission and to Tessa Cox Photography  for the lovely images.
How long have you been together?
Liam and I had been friends since we were in year 8. We started dating in our final year of school so we are high school sweethearts!
The proposal
He proposed to me at the end of 2021 at Picnic Point lookout in Toowoomba in Queensland, Australia
Theme or colour scheme
We decided to go with a rustic theme to match the beautiful Gordon Country location and barn. Sage greens and rust oranges were our primary colours and Jacinta Lax (Lace & Barrel) did a beautiful job of tying everything together to match perfectly.
Where did you honeymoon?
Liam and I spent two weeks travelling around Tasmania for our honeymoon. It was lovely to be able to visit my grandparents who weren't able to attend the wedding.
Did Covid affect your day?
Some of our unvaccinated family and friends weren't able to make the wedding as vaccines were mandated. This was upsetting for us but we're so glad we had such an amazing videographer and photographer to capture the whole day to share these moments with them all! The thought of having our Wedding featured is also exciting – this will be so wonderful to share with our family.
Personal Moments
We chose to write our own vows. We felt it added a personal touch and we both had lots of memories to share. My grandparents, who live in Tasmania, were not able to travel to be at the wedding. They send a special message to be read out to everyone at the reception which was so special and emotional for my family.
Special Moments
It's so hard to choose a favourite part of the day but I would say it was the ceremony where we got to worship together, finally share our vows, take communion, celebrate with our family and friends and become Mr & Mrs. Liam's favourite moment of the day was the bridal party entrance to the reception – Each of our bridesmaids and Groomsman had a unique entry and our Best Man (Liam's brother) pretended to propose to the Maid of Honour (his girlfriend).
Advice for other couples
My advice for future brides would be to plan the day to be exactly what you and your fiancé want. Don't feel pressured to do certain traditions for the sake of it. Liam and I wanted our wedding to be super relaxed and fun so we made it that way so we could enjoy the entire day.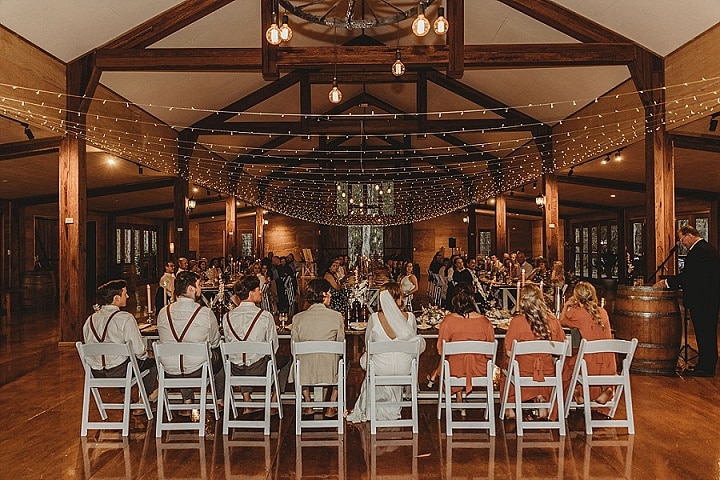 Supplier Shout Outs