I have the most gorgeous New York wedding for you today, but not New York as you may first envisage it! Today we are at Deer Mountain Inn, in the Catskill mountains of New York for the rustic chic and oh so romantic wedding of Christen and Andrew. I just love this outdoor loving wedding, the backdrop, the views, the rustic touches and the amazing portrait shots, oh that super sweet first look! But for me, it's Christen's amazing Rebecca Schoneveld gown, it's totally stunning as is she. In fact it was Christen who sent me this gorgeous wedding, so big thanks to her and a massive congratulations on such a beautiful day. Big thanks to Amber Gress Photography for the lovely photos.
It was the happiest day where my favorite person and I gathered our loved ones, ventured into the mountains and vowed to love, support and cherish each other until the end of our days. We are so thankful we chose to have an imitate wedding and were able to enjoy every moment together and make it a true celebration of our love for each other.
Christen and Andrew were married on the 2nd July 2017 at Deer Mountain Inn, Tannersville, New York located in The Catskill Mountains. 'Both the ceremony and reception were on the 200 acre property. It was great to be able to walk everywhere, it definitely had a glamping feel! We were keen on having an intimate destination wedding and our profound love upstate New York, specifically The Catskill mountains, was the natural place to host our celebration. We stumbled upon Deer Mountain Inn while researching accommodation in the area and the after a colourful Fall visit knew it was the perfect place! The delicious food and the mountain vibe of the property gave us the "this is it" feeling. We had 20 guests. It took about 8 months to plan, because we wanted to book the accommodation and photographer early before they were booked out. We didn't start planning the other details until about 3 months before.'
How they met
We met each other on a warm summer day in 2012 at a mutual friend's rooftop in Manhattan. My friend was dating my husband's roommate at the time and we had both recently moved to Manhattan. I like to say it was "friends" at first sight – since neither of us were looking for a romantic relationship, so we started as friends and then fell madly in love with each other!
The Proposal
The best part of the proposal was that I was truly surprised! He asked me to marry him at our apartment over an after-work drink on a pretty normal Friday evening. We had been talking about our future together for a while, but never discussed marriage exactly, and therefore I was in total shock. Hearing him say that he wanted to share his life with me was beautiful. Of course the feelings were mutual. It was perfect!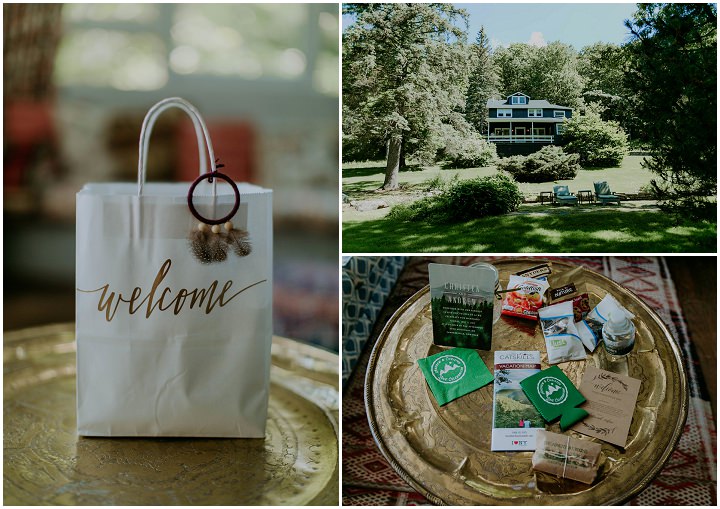 How did you allocate your budget?
We wanted to keep the cost practical and to not get caught up in thousands of little details (and dollars) that wouldn't matter much years from now. The majority of our budget was the cost to rent the rooms & cottage for the weekend since it was a destination wedding. The second biggest cost was the photographer and videographer. It was important to us to capture our day since it was so intimate, we wanted to have the memories to share with our loved ones that wouldn't be there to experience it. The reception dinner was very reasonably priced since it was a dinner party, not a full blown wedding reception.
Where did you splurge and where did you save?
We splurged on the photographer and videographer. And my dress – I fell in love with it and couldn't say no!
Why did you choose your photographer?
I discovered Amber Gress Photography on Instagram and immediately fell in love with the way she captures the authenticity of the couples she shoots – paired with her artistic eye (and light-hearted personality) she truly creates magic! After speaking with her, it was immediately clear that she was up for the adventure and agreed to capture our day.
The Dress
My dress was from Schone Bride by Rebecca Schoneveld. Flower crown from Etsy by Emily Rose Flower Crowns.  My earrings were from Etsy by Avigail Adam and the rings are family heirlooms
The Suit and Bridesmaids
The suit was Indochino and tie from Tie Bar
Theme or Colour Scheme
The theme was authentic to the location – romantic rustic chic, so we stuck with neutral colors for the natural greenery and wooded vibe to shine!
Flowers
My flowers were pretty simple – a bouquet of greenery and roses, but we arranged a gorgeous garland for our family style dinner reception table.
Decoration
The décor was whimsical and natural to the setting.
Food
We arranged a family style meal with Deer Mountain Inn restaurant. Chef Ryan Tate created the unbelievably delicious farm fresh menu:
hors'duerves: grilled watermelon with mint and chili // grilled shishito peppers with sea salt and lemon // cheese and charcuterie platter. starters: lettuces with radishes, shaved carrots, cucumbers and herb dressing // buratta with green garlic puree, picked chives and grilled bread // lemon balm and asparagus risotto. mains: hay baked chicken breast with roasted sweet corn, english peas and summer savory // wild striped bass with grilled fennel, fennel seed oil and charred lemons.
Wedding Cake
We had a desert table that included a delicious cake made by a local baker, Becky Kempter along with Italian cookies (that my mother brought all the way from western PA).
Entertainment
We are music lovers so we arranged a local guitarist to play for the ceremony and dinner reception. We discovered him at a local restaurant a few months before the wedding and he made the day extra special.
Who supplied the stationery?
Minted.com
Personal Touches
Yes, we put a lot of thought into our weekend celebration and picking the location was the hardest part because we wanted it to reflect our personalities. From there, I planned the décor for the ceremony and the dinner reception. A special detail was I asked our parents to bring photos of them (and our grandparents) from their wedding days to frame and have on the desert table. It was special to see them all together, where it all began. I didn't know at the time when I was shopping for my dress, but my grandma, my mother and I all wore long sleeve lace wedding dresses on our wedding day – crazy!
Special Moments or Highlights
Our favorite moments came from the freedom to enjoy every moment with each other and make memorable memories with our immediate family – I don't think we would have had those moments had we not decided to have an intimate wedding.
Biggest Surprise
To our surprise, the day ended with the brightest rainbow, which felt like a gift from mother nature herself!!!
For more information about Amber's work go to:
www.ambergress.com / FACEBOOK / I: @ambergressphotography / PINTEREST