Happy Friday everyone! I am super excited today as I have a full 4 days off as it's my birthday on Monday, and it's a rather BIG birthday! Today I am off for a spa weekend with Nik, I can't wait to relax, eat, drink and be pampered! Sunday we are all going out for a family dinner, then Monday it's brunch, the cinema and dinner. Next weekend I am having a Big birthday bash with my friends and family! Bring on the celebrations!! Today though it is the turn of Henrietta and Edward who held a rustic barn wedding in Gloucestershire, full of DIY details and decorations. It was a real family affair with everyone chipping in to help out. Thanks to Covid this was their 3rd attempt at getting married but it was certainly worth the wait! Zara Davis Photography was there to capture the day for us.
 A whirlwind of happiness, smiles, family, friends and love. A day we will never forget and could re-live over and over again.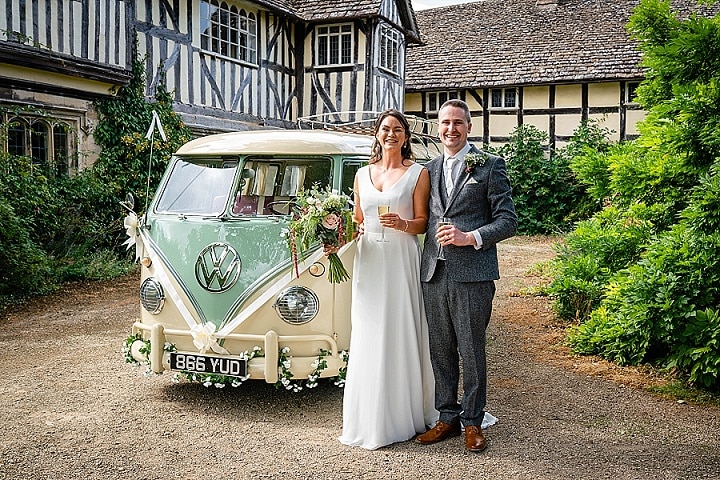 Henrietta and Edward  were married on 3rd September 2021, the Ceremony was held at Church of St Mary The Virgin, Arlingham, Gloucestershire, with the Reception at The Wool Barn, Frampton Court Estate, Frampton On Severn. 'Arlingham was the village where I (the bride) grew up and where my parents still live. I have many happy memories both in the village and the Church. It's a very small village and in the middle of nowhere so there wasn't anywhere to hold the reception there but a few villages up is where the Wool Barn is located and again a village where many happy times were spent in my younger years. I actually helped cater for a wedding in my teenage years at the wool barn and so when our time came, I knew how wonderful and beautiful the Wool barn could be. We had 70 day guests and 130 evening guests. We got engaged in July 2018. Ed wanted to get married within the year but I said it would take a little longer to get everything in place. Looking back I wish I'd followed his lead as Covid then meant we had to rearrange the date from June 2020 to June 2021 and finally September 2021!'
How they met 
We met at work in 2015. Ed says I ignored him for 6 months! Oops. We were then put onto the same shift patterns which meant we spent a lot more time together. I asked Ed to let me know how much of a delay some road works were adding to the journey to work, as I was off the week they started. We didn't stop talking after that and never looked back! WE officially became a couple in June 2016.
The proposal
We were on holiday in Fuerteventura in July 2018 and went for a lovely meal on the beach front followed by a walk along a nearly empty beach. Ed started saying how much he loved me and I thought aw how lovely but my goodness he's going on a bit! He then reached into his pocket, got on one knee and asked me to marry him! I burst into tears and didn't stop crying and hugging and kissing him for quite some time. Finally managed to calm myself down as we sat on a sun lounger looking at the sea and this beautiful shiny ring on my finger! Ed then said, you haven't actually said yes, I assume it's a yes. To which I replied of course it was and the crying began again! Only later did I find out that he has put the most beautiful ring I've ever seen in my life in the suitcase to get to it abroad! Thank goodness we didn't lose the luggage! He says I would have known no different and it was covered by insurance! Haha.
How did you allocate your budget?
Not too long after we got married and announced the proposal to everyone, my parents said they'd like to put a certain amount towards the wedding and gave us a figure. I was totally overwhelmed by their generosity and the amount was more than Ed and I could ever have come up with. Ed and I also had a small amount of savings to go towards the wedding and so that's where the budget began. Eds parents also helped us out with a few things.
Where did you splurge and where did you save?
Our biggest outlay was the catering. Ed and I have always been huge foodies! Infact Ed even said in his vows that we had probably eaten at every possible place in Gloucestershire! We knew that we didn't want our wedding day to sacrifice on the food so we went all out! We saved on the décor, the barn is a beautiful building by itself so very little was needed to make it super special. We had fairly lights, candles, a few flowers and that's pretty much it! All of it my mum and I sourced and planned ourselves and set up at the venue.
How did you choose your photographer
We met Zara at a wedding Fayre and I loved her style instantly. It was so romantic but without too many posed pictures. We messaged back and forth a little about what we as a couple liked and how Zara liked to work and then we met for coffee to discuss further. Zara was someone we felt we could relate to very easily and she listened to everything we said. She was experienced but down to earth and we instantly felt drawn to her.
The dress
My dress was the Dalila by Bianco Evento. My shoes were Called Henrietta! And they were from Boden, I found them in the sale not long after we got the dress. Their name, heal height and beautiful red colour meant I just had to have them! My Jewellery was a ring gifted to me which used to be my grandmas and a bracelet gifted to me by Ed many months before the wedding. I got my earrings from an Etsy shop online and my hair piece was from amazon!
The suit and bridesmaids
The suits were a mixture of Grey tweed and light grey lounge suits from Tuxedo junction and the bridesmaids' dresses were an absolute bargain from Ever Pretty online. The flower girls' attire was from John Lewis. My mum, as a seamstress also did the bridesmaids dress alterations which also saved a lot of money.
Theme or colour scheme
I had always wanted burgundy, I just thought it was so rich and looked beautiful on pictures. I had a little wobble however as didn't feel it was very "summer wedding" so I started looking at pastel colours. Nothing hit the spot however so I went with the burgundy and after all the date changes because of covid, it worked out wonderfully as we ended up getting married in September anyway!
Flowers
We had very simple flowers. I said to the florist that I didn't really mind what type as long as they were whites, greens, blush pinks and burgundy and she delivered! I did say I would like some eucalyptus in my bouquet. They were stunning, particularly my bouquet! I think letting the florist lead the way in terms of type of flowers meant her skills as a florist could really be utilised. The bridesmaids' bouquets and groomsmen's button holes were gypsophila with a little added extra for the groom, mother of the bride and mother of the groom. The flowers at the entrance of the church were all green grasses and white, we didn't want to detract from the beauty of the church and barn. Those flowers were then transferred to the barn with the help of our guests. We used our own vases and jugs to put them in and a friend lent me their milk churn.
Decoration
Candles! Lots of them, everywhere! It took Sharon (the lady who helped us at the barn from the first viewing to tidying up the next day) 40 minutes to light them all! It was worth it as they looked amazing. We also had fairy lights, cork hearts and letters which I put together from saved corks over the years from friends and family. My Auntie (mums sister) made the table place names from hessian and ribbon. We made large flower hoops to hang from the ceiling from plastic exercise hoops and artificial flowers. I also purchased a few doors from Facebook market place and used them to create the table layout and photo booth area. WE hung a lot of pictures of ed and I over the years using mini pegs and twine. My mum's friend cut Lorrel from her garden to put down the centre of our wedding breakfast tables. It really was only possible because of friends and family and their kindness. Mum and I also seem to have an eye for these things.
Food
We had a selection of 6 or so canapes when we got to the garden reception. We then skipped starters and went straight to mains which was a trio of Burger, fish and chicken fricassee with chips and salad! A few favourites of Ed and mine. We asked several guests to make desserts and bring them. They were all absolutely stunning and looked beautiful when set up on the table by the caterer with flowers and all sorts of crates and wooden boxes which again we supplied. For the evening food we had a grazing table which went down very well and looked wonderful set up in a similar way to the deserts.
Wedding cake
My mums' close friend and someone I've called Auntie all my life, a talented cook and baker made it! It was beautiful, gluten free and so so tasty! It was so nice knowing that I could explain to her what we wanted and then I just left her to it knowing it would be fabulous.
Entertainment
We had a violinist play in the church for guests as they arrived and left and as we signed the register. She also played when we had our drinks reception at the barn and was absolutely great! We had a band who also DJ'd. We also set up our own photo booth with all sorts of props for people to take pictures.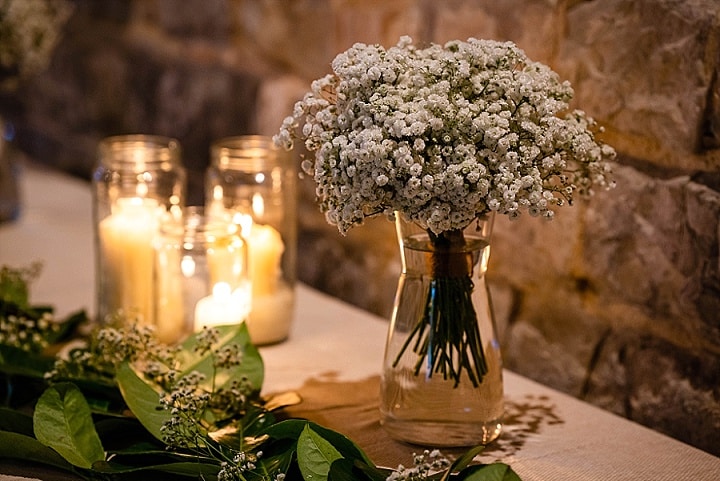 Who supplied the stationery?
Mum and I made it all! It was hard work and took hours but saved us a lot of money. My Auntie (mums' sister) also helped a lot with the stationary and did the place names herself.
Where did you go on your honeymoon?
We went to Madeira (an island close to Africa but part of Portugal). We spent more money on this than any holiday we had been on before and got the full service for it. It was lovely and we were waited on hand and foot from arrival to leaving. We didn't do much else than relax, eat, drink and enjoy the scenery but that's what you're meant to do on Honeymoon right?! It was wonderful and we would love to go back if we can.
Personal touches
Most things! Without our family and friends this day wouldn't have happened. Without my mum I probably would have exploded a few months into the planning. She was the wedding planner and (along with my dad) funder. We will forever be thankful for the day they helped create. The vicar who held our ceremony was the vicar that christened me when I was a baby, he came out of retirement to carry out the service. We are so grateful for this as it made it that little bit more special and personal.
Special moments 
Ed and I loved seeing each other for the first time in the church. We also loved having a little time just after the service to go to the River Severn where we spent a lot of time from the beginning of our relationship. The photographer took photos here and we love them, we often spend a lot of time on the bench where she took some pictures – we just aren't usually as dressed up! We also loved having all of our friends and family together after Covid didn't allow this for such a long time, it made it just that little bit more special. We laughed, a lot, at the speeches and when dancing in the evening.
Advice for other couples
Take every little thing in on the day. It flies by so embrace every second. Take a little time to yourselves as a couple throughout the day just so you can ground yourselves together. Make sure you have a photographer, you will miss so much from your own day as you're so busy, they capture the wonderful moments you don't always get to see and the pictures you can keep forever. Try and talk to everyone. Don't worry about the things that don't go quite to plan, they don't matter and you will laugh at them in a few weeks' time. Smile, dance and remember the reason everyone is there, for you two. Remember the reason you are there, for each other.
Biggest surprise of the day
Ed says the Yoda I asked my Auntie to pop into the back of the wedding cake. Hes a big Star Wars fan, I however am not. I couldn't let the day totally pass by without something Star Wars for him! We were also so thankful for the wonderful speeches by my Dad and Eds best man. Neither of who are big public speakers but they surpassed all expectations. Ed who is also not a public speaker did a wonderful speech – I was so proud of him!
Supplier Shout Outs
For more information on Zara Davis Photography go to 
www.zaradavisphotography.com / [email protected] / 07713338056 / FACEBOOK / INSTAGRAM 
Zara Davis Photography is run by Zara and she is based in a small village outside Stroud in the Cotswolds. She has a warm, natural and relaxed style of photography to help couples feel at ease on their big day especially those not used to being in front of the camera!