Happy Monday everyone, I hope you had a good weekend? Did you get up to anything festive? Anything Santa related? We had a whole weekend of Christmas related fun. Saturday we went on a rather questionable drive through Santa experience, the less said about that the better! Then Sunday we braved the horrible weather and got totally drenched at Gulliver's. We had a great time though, Dexter loved it and the winter walk through experience was great. So two Santa's in one weekend, when at one point I didn't think we were going to be able to see any! Two more next weekend and then two more the following week! (yes I know I may have over done it!) But Hey ho I bloody LOVE Christmas! So this week I have some more Christmas related weddings and wedding articles, starting off with the very festive wedding of Leanne and Grady. They got married on 19th December so it's nearly their wedding anniversary. Their day was filled to the brim with gorgeous Christmas and wintery decor, and is super festive. Big thanks to Courtney Louise Photography  for the lovely photos.
Our wedding was the most magical, wintery day filled with so much love and laughter with the people we love the most. It will stay with us forever.
Leanne and Grady were married on 19th December 2019 at The Kingscote Barn, Tetbury in Gloucestershire. 'I always dreamed of a barn as our wedding venue. As soon as we arrived at Kingscote Barn, we just fell in love with it. The staff were so welcoming and we both knew straight away it was the venue for our special day. We had 74 guests and it took a year to plan.'
How they met 
We met on the dating app Tinder. After talking for a few days Grady asked me to pick a number 1,2 or 3 and the number corresponded to the first date he would take me on and the rest is history. We have been together for 4 years.
The proposal 
The proposal was on Saturday 15th December 2018. Grady had planned to propose at the Christmas trail at Westonbirt Arboretum. I had absolutely no idea it was coming and in fact it was a bit of a windy, rainy December day and I had suggested that maybe we didn't go at all. Little did I know what Grady was planning and he managed to persuade me to go after all. When we arrived it was a lot busier than Grady had thought it may be due to having to stay on the trail path when usually you can find a quiet spot. With so many people around he couldn't find the best place so when we left he had not found the right moment to propose, this made for a great story for my Dad in his speech on the wedding day which i quote "Westonbirt Arboretum is home to some 15,000 specimens, and 2,500 species of tree, so you can imagine our surprise when Grady said he couldn't find a tree to propose under" I of course had no idea that inside Grady was panicking and trying to frantically think what he was now going to do, even pretending to drop a glove to get me back inside, which didn't work. We then drove to the Bear at Rodborough where we were then alone in the courtyard, surrounded by Christmas lights and he got down on one knee. It was perfect after all. We went to Edinburgh 2 days later and celebrated for 3 nights at the Christmas Markets. It was amazing.
How did you allocate your budget?
We used a spreadsheet to keep track of our budget. We sat down and categorised everything in to definitely need and would like if the budget allows and went from there.
Where did you splurge and where did you save?
We saved money by getting married on a Thursday. With it being a weekday a lot of suppliers have a slightly different price. Kingscote Barn also do a wonderful winter wedding package and its amazing value. This allowed us to splurge a little more on entertainment, allowing us to have a live band in the evening and a string quartet throughout the day.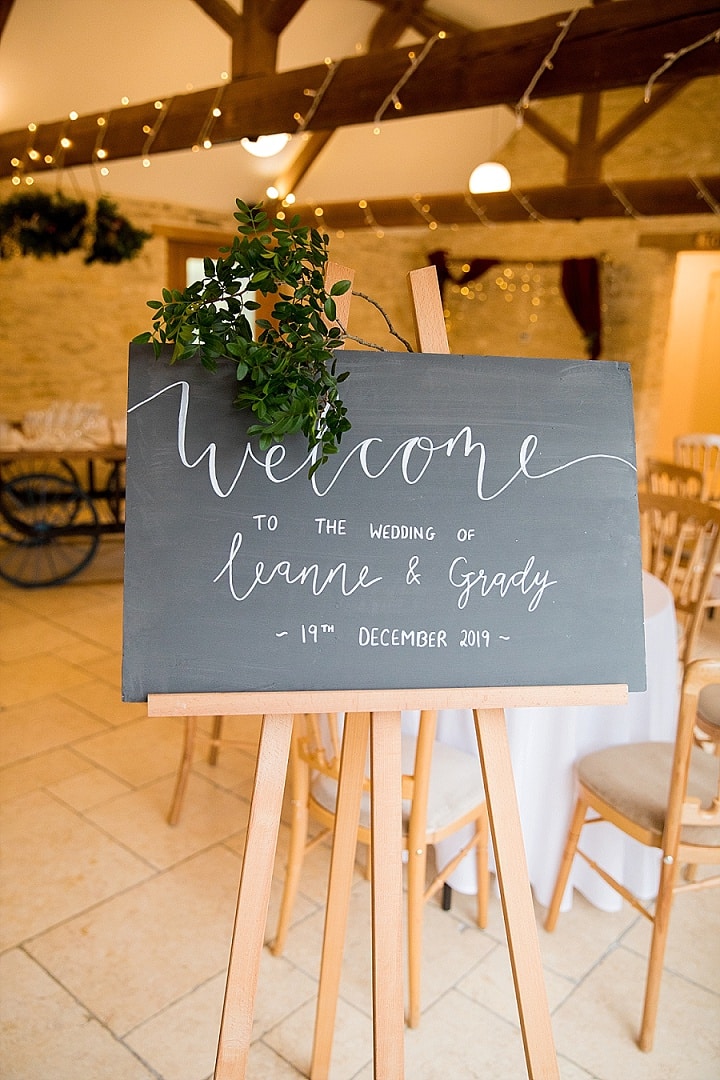 How did you choose your photographer?
Our photographer was Courtney Louise and I knew from the start that was who I would like to use and I was totally over the moon when Courtney was available for our date. I had seen some of Courtney's work before and viewed an album at Kingscote and her photography style is everything that we wanted. Natural and catching the true emotion of the day. Our photos are truly incredible.
The dress 
My dress was Mon Cheri by Martin Thornburg from Grand Jour Bridal Boutique. It actually ended up being the first dress I tried on. I also wore an Ivory fur stole . Accessories and jewellery were Ivory & Co, Jewellery was one of my gifts on the day from Grady. My shoes were Rainbow Club. I also wore a my Nan's locket attached to a garter with photos of my Grandparents inside.
The suit and bridesmaids
Grady's suit was Marc Darcy, Grey tweed with navy velvet trim, crisp white shirt and burgundy tie. Father of the Bride and Best Man were matching. Groomsmen wore navy suits with matching waistcoat to the Groom.
Bridesmaid dresses were Burgundy long chiffon with sequin detailed top. They also wore mink fur stoles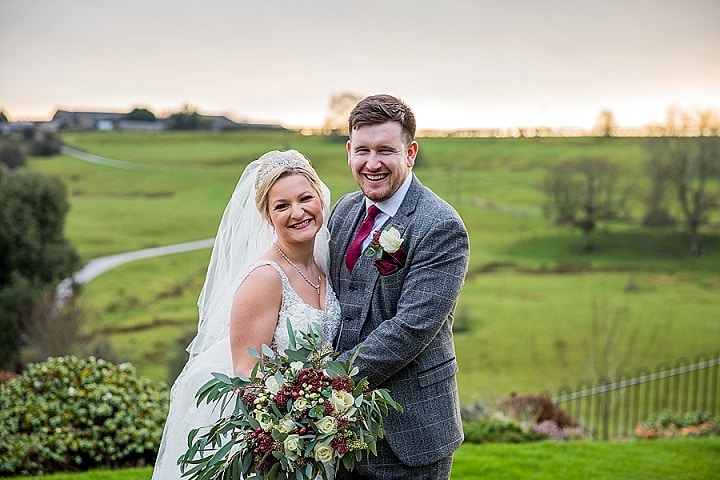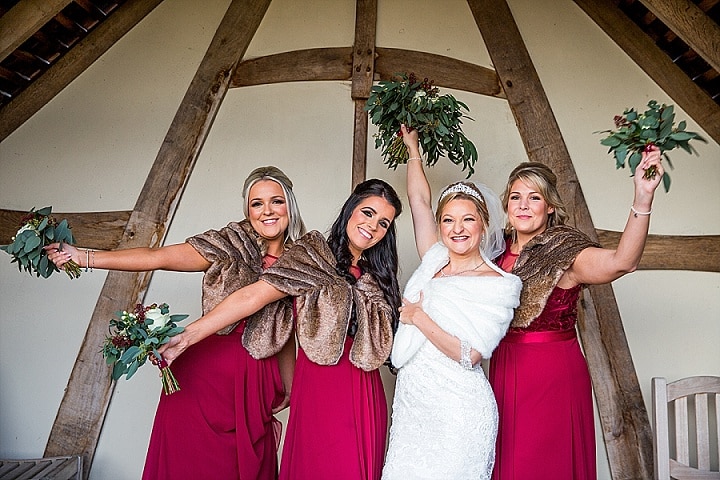 Theme or colour scheme
Our theme was really wintery with lots of foliage, mistletoe, holly, berries, lots of fairy lights and Christmas trees. Colour scheme was burgundy and gold. We had mulled wine and mulled cider and hot apple juice for drinks.
Flowers 
My Bouquets was made up of 10 Avalanche roses, surrounded by Ivory and Burgundy hypericum, Eucalyptus and skimmia.- It was spectacular and just how I had envisaged. Button holes, corsages and bridesmaids bouquets were smaller versions of these. Barn foliage decoration was ivy, holly, berries, roses, pine cones and mistletoe.
Decoration 
We had Lauradana from wedding creations decorate the barn for us and it absolutely took our breathe away. The barn was decorated with Christmas trees, lots of fairy lights, foliage, candles and lanterns on wooden tree stumps, gold foliage, burgundy drapes on the chairs with pine cones and berries, ivory drapes from the balcony. Mulled wine and Mulled cider stations. Crates with blankets and lanterns. Our seating plan was carved in to logs and our table places were all handwritten on log pieces in a beautiful gold colour. We had a fairy light canopy over the main barn.
Food 
Wow the food – Incredible!!  We had Canapés  for the reception -Mini Yorkshire puddings with rare beef & horseradish, Warm goats cheese crostini with red onion marmalade, Bermans banger with BBQ dip, Grady's favourite was the bermans banger which he spoke about for a long time after the wedding.
The Wedding Breakfast we went for a slightly different starter and had Warm Gloucester Black Spot in puff pastry with a spiced apple chutney & salad. It was absolutely delicious and suited our theme and time of year perfectly.
For our main we had the sharing menu. Whole roast ballotine of Paxcroft chicken with stuffing & cranberry served on oak boards & carved at the table by a nominated wedding guest. We provided 1 guest per table with a Christmas themed apron and they carved the meat for the whole table, was great fun.
Dessert was a Warm sticky toffee pudding with butterscotch sauce and Chantilly cream and it was so delicious.
Evening food  we went for Home Smoked Pecan Pulled Pork Served in Ciabatta rolls with Homemade Slaw and Pizza's.
The food throughout the whole day was just incredible.
Wedding cake
For our wedding cake we had a Naked Victoria sponge cake 9 inch round, with a cascade brownie tower coming from it surrounded by berries and foliage. Our Brownie flavours were -Raspberry swirl Blondies, Salted caramel, White/triple chocolate and Peanut butter. absolutely delicious.
Entertainment
We had Nero String quartet playing before and during the Ceremony and during the drinks reception. We had a Live band The Chip Shop Boys playing in the evening.
Who supplied the stationery?
Pure invitation supplied our wedding invitations. But all other stationary was provided by Lauradana , Wedding Creations, customised for our our day on wooden logs.
Where did you go on your honeymoon?
We went to Mauritius on our honeymoon in January 2020 and stayed at The Westin Turtle Bay Resort & Spa. It was incredible. We also had a mini moon straight after the wedding at Champneys Resort and Spa in Tring.
Personal touches
We had photos of the both of us from newborn through to adults both showing at the same stage, First day at school, hobbies, holidays etc. These were on show before the ceremony and then during the ceremony Lauradana added ones of us as a couple for when we exited the ceremony room as a married couple. Myself and my Mum also did the wedding favour boxes which were beautiful ivory boxes with a Christmas Wreath on them, filled with Lindt Chocolates. We also had a sparkler send off which was just magical. All the touches we had were personal to us and made it perfect.
Special moments 
As cheesy as this may sound, the highlight of my day was how happy everyone was and having everyone who means so much to us there to celebrate with us. It really was the most happiest of days filled with so much love and laughter. When I look back on the video and photos it just strikes me how happy everyone was. A moment that completely stands out for me was when just Grady and I were taken in the main barn alone to see the wedding breakfast set up for the first time. It absolutely took my breathe away, I cried tears of pure joy and we will remember the moment forever.
Advice for other couples
Enjoy every minute because the day goes by so fast. You only get this day once so make it the day you truly dream of and have no regrets. That is one thing my husband and I always say to each other, that is was perfect and we would not of changed a thing. A videographer and a photographer would be something I would definitely recommend, that's going to be your memories forever.
Biggest surprise 
How perfect it was and how smooth it ran. The weeks leading up to the day can feel quite stressful but on the day all that goes and we just enjoyed every minute and fully relaxed.
Supplier Shout Outs
For more information on Courtney Louise Photography go to
www.courtneylouisephotography.co.uk / www.courtneylouisephotography.co.uk/blog /    [email protected] / FACEBOOK / INSTAGRAM / PINTEREST
I'm Courtney, a Cotswolds based wedding photographer. I photograph weddings in a very laid back, un-obtrusive manner, capturing the whole day as it unfolds in front of me. I photograph all the elements of the day discreetly; creating a great mixture of natural moments, soft and romantic private newly-wed photos,  relaxed group shots and never missing those sweet little details – all photographed with beautiful, natural light.