It's the start to another week, and lets hope that this week is a good one for us all! I have another busy one planned with a BIG wedding on Friday. I've been working with Jo and Pete for 2 years now, so I will l be sad to see them leave me as they get married! This weekend saw the wonderful Jane and Bob tie the knot which was an amazing day, what a wonderful couple! So for now I have a beautiful english wedding for you sent into me by Matt Parry Photography.
It's the beautiful wedding of Shan and Jamie Gray who were married on 11th May. Both the ceremony and the reception were held at Cripps Stone Barn, Aldsworth, Gloucestershire– 'The people and the venue were both fantastic – highly recommended!' says Shan.
They had 85 guests in the day and 'it was a bit of a free for all in the evening there was approximately 130 guests in total.' It took 8 months in total to plan the wedding
They describe their day as 'It was fun! We loved having all of the people we care about together and having a good time; it totally made the day for us.'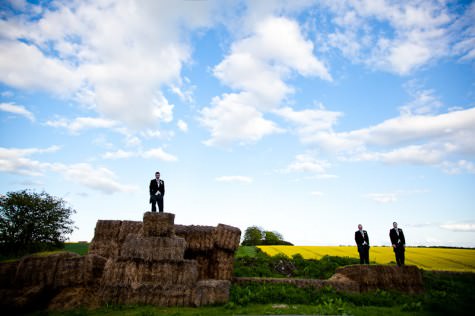 How they met
We met at work at in 2005 so we've been together about 7 years – Jamie was the IT guy for our department and I kept breaking computers. We spoke via email for a while and bumped in to each other in the corridor occasionally for a few months before arranging to meet up for a drink at a local pub and the rest is history!
The proposal
My sister Beth and I cycled from Land's End to John O'Groats in April 2011 and Jamie travelled up with my brother in-law Pete to meet us in Scotland at the finish. The proposal was a total surprise! Jamie and Pete drove us to look at the view from Dunnet Head (the most northerly point of the mainland), I was still dressed in my cycling gear and had my hands full of take-away coffee cups when he dropped to one knee and popped the question. Though not very glamorous it lovely, very us and I wouldn't have changed it.
The venue
We were looking for a venue which wasn't too formal or fancy and found Stone Barn when searching on the internet. It was the first venue we looked at and Jamie fell in love with it straight away. The barn is a bit quirky with lovely views and the option to have firepits lit in the evening. The informal feast style food had great reviews which we agree with totally. It was fantastic definitely the best decision we could have made.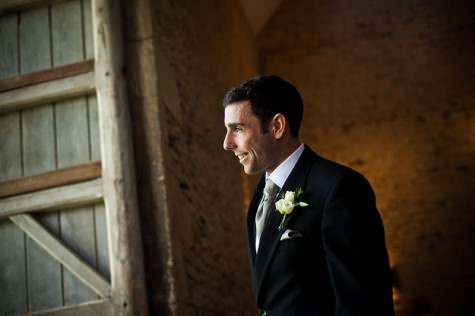 The Dress
My dress was by 'White Rose Bridal' from Proposal Bridal Studio. I wore a pair of taupe court shoes from Jones Bootmaker, pearl stud earrings and a single pearl on a chain which Jamie gave me as a present on the morning of the wedding.
The suit and bridesmaids
Jamie hired morning suits for the boys from Moss Bros Hire. My sister/bridesmaid Beth and I found her dress on the sale rail in French Connection which was a stroke of luck!
Theme
We didn't have any sort of theme to start with but felt something quite rustic would suit both us and the barn. I found some luggage tags in the stationary cupboard at work and the brown paper and parcel string theme seemed to emerge from there! Jamie and I decided that Beth and I would find a bridesmaid's dress that we both liked and let this determined the colour scheme rather than deciding a colour and trying to find the right dress.
Food
Stone Barn has a HUGE BBQ called 'Godgrilla' – the food is cooked on the BBQ and served to the tables in big bowls so everybody can help themselves. We had butterflied leg of lamb as the main, which came to the tables un-carved so we gave a person from each table a chef's hat and apron so they could carve for their table (and idea we stole from our lovely friends Claire and Miles Payne). The lamb was followed by chocolate brownies and mascarpone cream for pudding and bacon rolls in the evening. We had seen on reviews that the food was fantastic and it really was – can't recommend it highly enough.
Entertainment
We had music from an iPod during the ceremony and throughout the day until the DJ arrived in the evening.
Flowers
For flowers we met with Anna from Bella and Fifi Flowers who thought that jam jars and white spring time flowers would work well for a May wedding, we left the flower choices entirely up to the florist and they did a fantastic job! I also popped to the supermarket a couple of days before the wedding and brought some tulips to decorate the rest of the barn, they kept really well in buckets in the house. My mum put them in jam jars at the venue on the morning of the wedding.
Decoration
The barn was lovely as it was so it didn't need much in the way of decoration. Jamie's Mum lent us a great old briefcase that we used for cards etc. and the barn supply candles to decorate the ceremony barn and night lights on all of the tables which looked lovely when it got dark. The jam jars of tulips dotted around added a bit of colour.
Personal touches
We tried to keep things as DIY as possible and employed the help of friends and family help get the barn ready on the morning of the wedding – they were a huge help.
• We used large plain brown luggage tags for lots of things! For Save the Dates (stamped with a custom save the date stamp we got from Etsy), tied to invites with the guests names on, on gifts with 'Thank you' typed on them and for names cards on the tables. The name card luggage tags were attached to a wine glass using a peg and lots of people ended up wearing them which was grand!
• We found the design for the invites on the internet as a free download which you could customise and print as you wanted which worked really well.
• The Table Plans were printed on brown card and pegged to a length of parcel string and we ordered freestanding wooden numbers for table numbers which we painted using tester pots in the same colour as the bridesmaids dress.
• Our iced fruit cake was from Tescos – it did the job marvellously! We used some ribbon left over from the save the date tags to jazz it up a bit. We also asked several people to bring along a cake for a village fete style cake table and everybody did us proud!
• For favours we brought boxes of Green and Blacks chocolate miniatures and put two miniatures in each wine glass on the tables.
Special moments
There were so many! Walking in to the barn and seeing Jamie was lovely, we were both very nervous before the ceremony (although we could never pin-point what we were nervous about) but being in it together made all of that go away. Dad and Jamie's speeches were fabulous; my Dad had props and everything! The biggest highlight of the day was having all of the people that are important to us all together – we loved it that there were photos of Jamie's friend from University dancing with his Auntie, and my cousin's playing Frisbee with Jamie's cousin's little boy Albie despite never having met each other before. The evening was lots of fun and again there was such a random mix of people dancing and chatting which we was ace.
Advice
I think everybody says it but just enjoy it and don't worry about the little things – we were mega nervous about the ceremony and everybody told us it was be a breeze and it was! We got a lot of satisfaction from finding bargains so it's well worth having a look around for good deals. Neither of us are totally comfortable in front of the camera so were keen to keep the number of posed formal shots to a minimum. Our photographer Matt Parry did such a fantastic job of both the photos and keeping the experience completely stress free. We ended up with lots of amazing informal snaps taken throughout the day and nobody was at all offended by the lack of group shots so I'd definitely say don't feel forced to have them if it's not your thing.
Biggest surprise
Jamie managed to sneak a present in to the room where we were getting ready on the morning of the wedding. It was a box containing a single pearl on a chain (and a pair of hair straighteners to replace my old broken pair which I had continued to use at risk of electrocution). The pearl went so well with my dress with no prompting or hints from me on the style and I was made-up that he had chosen for me (with just a little help from the man in the jewellers) – it was lovely.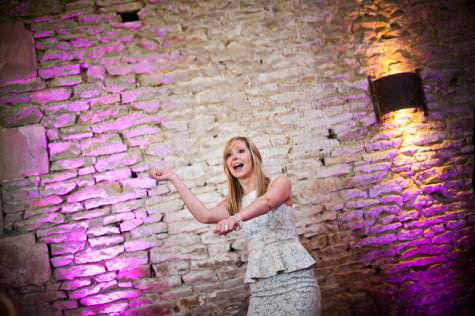 Supplier Shout Outs
Fore more information on Matt's work go to
www.mattparryphotography.co.uk
www.mattparryphotography.co.uk/blog
[email protected]
FACEBOOK
TWITTER