It's the end of the working week (well for some of us anyway!) so I wanted to end the week with a stunner of a wedding! Today beauty has been sent into me by Amanda Borozinski from Boro Creative Visions Photography. It come all the way from New England where Amanda is based. The couple is Jennifer and Jacob Aldridge who were married on 27th August 2011 at Curtis Farm Wilton NH, with 145 guests. It took them 14 months to plan.
I have to admit I am a sucker for an outdoor wedding, so I naturally love this. What I also love is all the amazing details that Jennifer and her friends and family have put together. I love the sweety station, the table centres, the horse shoe escort cards, the bicycle, the flowers…..I could go on forever! But Jennifer's smile wins overall!
Jennifer and Jacob describe their day as 'Best Day. Ever.'
How did you meet?
We met online, through a facebook actually, and went on a blind date. We have been together for 3 years.
The proposal?
Jake had a plan to take me on a scavenger hunt/picnic with the engagement ring as the prize, but I kept having to schedule meetings for work and didn't take a day off for about three weeks straight. With the ring burning hole in his pocket, he finally sent me a facebook message, though I was in the same room as him. While I was reading his charming sentiments, he got down on one knee behind me.
Venue
I chose the Curtis Farm Wilton NH because of the scenic views, the rustic country charm, the way it embodied the feel of New England, and the fact that they only hold one wedding there per week so I could set up all my own decorations and personal touches.
The dress
My dress is by Matthew Christopher. My shoes, Benjamin Adams. All my accessories were purchased from crafters on Etsy.
The suit and bridesmaids
Jake wore his military issue Marine Corps dress Blues. The bridesmaids wore dresses by the Dessy Group.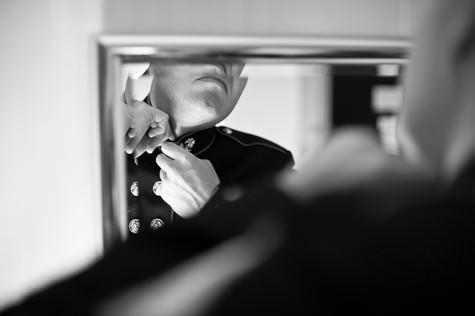 Theme
The theme was New England inspired woodland/whimsical. I used sage green and silvery lavender as a broad colour scheme but tried to incorporate other summer colours as well.
Food
We tried to pick a menu with lots of fresh new England/summer inspired fruits and vegetables. We had plated garden salads. Guests enjoyed a buffet including a savory turkey breast carving station, herb-rubbed sirloin, and pepper encrusted salmon filets.
Entertainment
We made our own playlists for all of the wedding music. The coordinator/owner at Curtis Farm ran all the sound equipment and acted as Master of Ceremonies.
Flowers
Our bouquets and boutonnieres were designed by a close friend and very talented florist to fit our woodland whimsical theme. I asked that the bouquets have a "gathered from the garden feel" and they included herbs and natural branches, while the focal point of the boutonnieres was a fiddle head fern. All of my ceremony flowers and table flowers were grown and arranged by my mother and aunt from their personal gardens. With the exceptions of birch limbs which were hollowed out by my father in law and planted with ferns by our florist.
Decoration
In addition to the vast array of cut and potted flowers that my mother and aunt provided, we also incorporated lots of old antiques such as an old vegetable stand, which housed our candy bar, old apple baskets, we had live birch trees tied around the tent poles to bring the woodland feel indoors, in which we hung lights and placed several birds nests and bees nests.
Personal touches
I tried to make every aspect of our wedding about personal touches. In addition to the ones listed above.
-My father built the birch tree archway which we stood under to be married.
-He is a blacksmith by trade and handmade the small steel horseshoes which we hung on an old door with name tag which listed our guests table numbers.
-On all our tables we placed an antique bell (cow bells, sheep bells and school bells primarily) which our guests rang to ask the bride and groom to kiss.
-My mother hand drew a tree on canvas and our guests placed on it their thumbprints and names to serve as our guest book.
-I picked out a stump on my family's land which we embellished with fern and moss to make my own cake stand.
-Jake and I also gave out Cd's to our guests with a playlist of our most special songs.
Special moments
Walking around the corner and seeing my groom in his dress blues. I had requested he wear them and he had told me they no longer fit. It was a complete surprise. Also, I met Jake's Dad for the first time in the receiving line after the ceremony. Hurricane Irene and traffic had prevented him from attending our rehearsal dinner, which was supposed to be our first meeting since he lives in North Carolina and we hadn't had a chance to make the trip previously. I didn't get a chance to give him a hug until after we were family. Dealing with Hurricane Irene was a focal point of the day, the rain held off just long enough for us to get the ceremony done and most of our family pictures. The winds held off until early the next morning, though many guest had to leave the reception a bit early, and the venue actually took the enormous tent down immediately following the reception, we got our special day in just the same!
Planning advice
I would say plan early so you can implement those personal touches that make your day special. Involving my family in the planning of my wedding was made it all so precious. I really felt like our day was truly about us and our love. Once your day arrives, enjoy every second no matter what happens. Don't forget its about you and your partner, everyone is in one place to help you celebrate your union. Embrace it!
Biggest surprise of the day
Seeing my handsome groom in his uniform!
Supplier shout outs
Boro: Creative Visions Photography
http://www.borophotos.com
http://amandaborozinski.blogspot.com/
FACEBOOK
603-547-7438
Special guest photographer for this wedding: Nate Borozinski (My brother-in-law.)
Additional resources for military families: