Today on Fridays Bridal Style we are talking wedding hair and how to select your stylist.
Not being a hair dresser myself I have handed the blog over to James White who is an expert in all things wedding hair, and he talks you through the main things to consider when first seeking out your bridal hair stylist.
Thank you so much to James for his time, we have more coming up from him in the Blog in the next few weeks.
SELECTING YOUR BRIDAL HAIR STYLIST – By James White Hair
'Choosing a good wedding hairstylist will help you look and feel beautiful on your big day. It will seriously make the morning of the wedding a dam sight calmer! It will also enhance your chances of creating a great-looking album of wedding photos. With a bit of patience and time, you will be able to select just the right hairstylist to help you create your perfect look.
There are three main aspects to think about when searching for your hair stylist.'
1) YOUR BUDGET
Your budget is common referencing point when looking for suppliers when planning your big day and it should be considered even when searching for your hair stylist. Start to think about whom will need their hair styling. If you have an entourage of bridesmaids and a mother that wants titivating and you are offering to pay your budget will need to be at your attention.
When looking for your hair stylist, ensure there is a balance between the hair stylists rates and their portfolio. It goes without saying that generally if they have a strong portfolio of work and a vast amount of experience, you will pay for it.
2) THE STYLE OF THE HAIR STYLIST
I'm personally trying to evolve bridal hair. From wedding photographers to Wedding dressers they have all transformed over the years, for the better in my eyes. Hair stylists on the other hand are being dragged along kicking a screaming! It's important that on your search to find your dream hair stylist that you immediately like their style of hairdressing. If you want a traditional bridal up do with pin curls and barrel rolls finished off with a can or two of hair spray you need to see the style coming through from their portfolio. Likewise if you imagine a chic, romantic red carpet style you need to see that in the stylist portfolio.
When looking through their portfolios you don't have to see an actual hair style you want, you just need to see that their style of hairdressing that will work for you.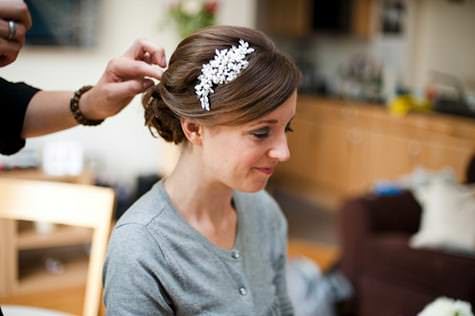 3) A RELATIONSHIP
The last important aspect in my eye is that you are comfortable and relaxed with the stylist. They will play a big part on the morning of your wedding day and you don't want someone who will irritate you. You want someone you can trust and rely on that will turn up on the day and style everyone's hair effortlessly. Job Done.
SOME KEY POINTS TO THINK ABOUT…
Allow plenty of time before your wedding day to select a stylist. The ideal amount of time is about 6 months to a year. If there's someone you must have, book them as soon as you know your date.
Ask around for referrals. Who has done your friend's wedding hair? Ask family members you trust, someone should be able to guide you towards at least one reliable and talented hairstylist.
Collect a list of four or five hairstylists and their details, this will helps you stay organized. Gather quotes and view their portfolios. Check out one or more of the hairstylists on your list.
Schedule a trial with each stylist. This will certainly help you decide on the person you wish to have on you big day.
You can find out more about James's work here:
www.jameswhitehair.co.uk
www.jameswhitehair.co.uk/bridal/category/blog
[email protected]
FACEBOOK
TWITTER
12 High Pavement,
Lace Market,
Nottingham
NG1 1HN
07828768977