Well here we are with the last wedding of the year, by DSB Creative and it's fair to say I have kept the best till last! Todays wedding is pretty damn awesome, I absolutely LOVE it and feel it absolutely epiomises what  a boho wedding is. With Gemma and Russell the most stunning couple, an amazing barn venue with rustic details, borrowed props and fabulous decoration.  To top it all the most amazing bride with a stunning dress and wonderful feature headdress. This wedding is a great way to see off 2014 and to get excited about what 2015 has to offer! The Blog will be taking a break for the next week but we will be back on 1st January with our 2014 round-up and lots of fab plans for 2015
'A real life fairy tale, full of magic, beauty, love and laughter. A dream come true.'
Gemma and Russell were married on 5th June 2014 at Rivington Hall Barn, Rivington – 'We both had a desire to get married in a rustic location either in a barn or outside in woodland. The architecture and location of Rivington Hall Barn ticked all the boxes. We had 65 guests in the day and an extra 30 at night. Planning took just 6 months. We just thought "go for it!"
How they met
We met at work in 2007. It was love at first sight, a very special moment. We have been together seven years.
The Proposal
On the 25th August 2013 whilst in Ibiza, we trekked to our favourite place on the Island, the pirate watch tower overlooking Es Vedra. Es Vedra is an uninhabited rock island, situated 2km off the west coast of Ibiza, 400 metres high and shrouded in myths and legend. We have spent many magical moments here in the past and it has always held a special place in our hearts. This is the place I've always wanted Russell to propose to me and each year I hoped that this would be the year. Russell got on one knee and asked me to marry him. He proposed with his Grandma's ring which made it more special. The proposal was beautiful and so perfect. That night the weather changed. A huge storm swept into Ibiza and stayed for two days. Es vedra is considered to have positive healing and creatively inspiring energy. We like to think that the proposal was responsible for the shift in the weather that night.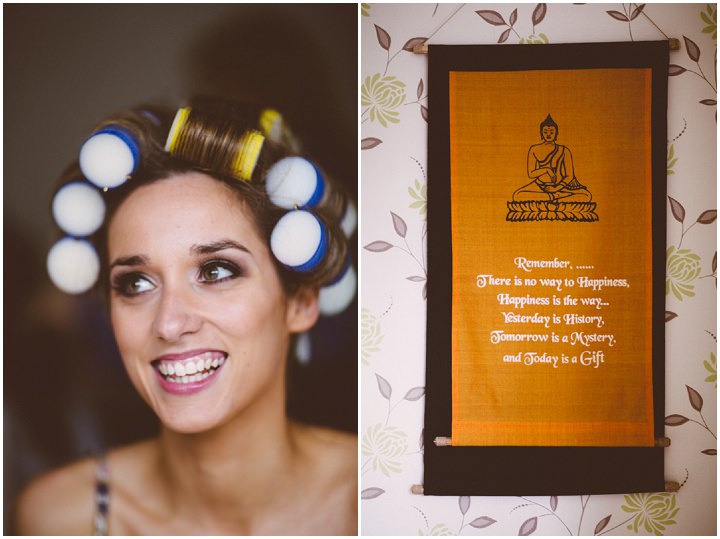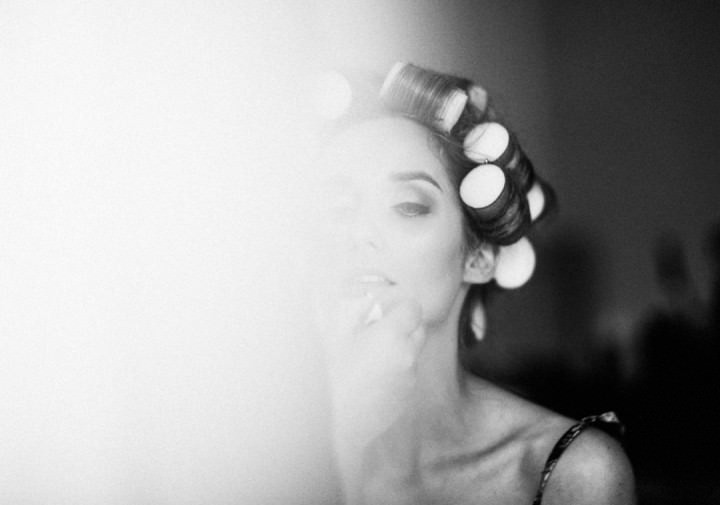 How did you allocate your budget
– We had a small budget and did not want to go overboard. We wanted to make sure our guests were well fed and watered in beautiful surroundings so most of the budget went on the hire of the barn, food and alcohol.
How did you choose your photographer
We knew that we did not want traditional wedding photos. We wanted something that was quirky, arty and intimate. We scoured the internet and came across DSB Creative – Damian Brandon. We were instantly impressed with Damian's style of photography. He has an amazing ability to capture the moment. When we look back at our wedding we are transport back to each moment captured
The Dress
My dress was the Emme dress designed by Grace Loves Lace in Australia. Their dresses are stunning. I ordered my dress without trying it on and it fitted perfectly when it arrived! To feel every bit the boho bride I decided to have an unusual headpiece…a feather headdress! My feather headdress and matching feather barefoot sandals were bespoked by Natalie at Curious Fair. My garter was designed and made by Sharon at Love is a poem. My talented friend Natassja Campbell did my make-up.
The Suit and Bridesmaids
Russell wore a tailored bespoke two piece, tweed suit from James Personal Tailor and Son in Manchester. Russell always knew what he wanted in his head and the tailors were able to bring that to life. I didn't see the suit until she saw Russell in it as she walked down the aisle on the big day.
I had my three nieces as my bridesmaids/flower girls and my sister as my maid of honour. The little ones wore white dresses from the high street and dried gypsophila flower crowns. My sister wore an All in One Clothing blush pink multiway dress (a dress that can be worn in 14 ways!) and a flower crown made from dried roses, broom, larkspur, lavender and grasses. The flower crowns were made by the lovely ladies at Wild and Wondrous
Theme or Colour Scheme
Our theme was boho, natural, relaxed, rustic and whimsical. The barn was a beautiful 12th century building with original wooden beams. We wanted to keep the barn as natural as possible so we decorated with natural resources such as flowers, driftwood, hessian and candles all in neutral colours; creams, pinks and browns.
Flowers
For the bride and maid of honour bouquets we had dried flowers. The bride bouquet was a mixture of pink and purples flowers with grass, wheat and pheasant feathers. The men wore boutonnieres of dried flowers, wheat and grasses. The bridesmaids/flower girls wore dried flower crowns and had dried rose petals to scatter out homemade vintage cones. The venue was decorated with logs, dried wheat sheaves, wild flower jam jars and fresh gypsophila.
Decoration
It was important for our wedding to meaningfully represent us, our individuality and creativity. We wanted an intimate and personal wedding so we got as many friends and family members involved as possible. With help from family and friends we made rustic signposts, driftwood table names, a vintage table plan, flower jam jars and guest place names. Recycling is important so instead of buying lots of decorations we borrowed hearts galore and used natural decorations we already had at home. We even went to the local woods for a tree stump for our cake stand! We had an amazing florist, Nicola, who was also super talented at making signs. She made us a "Mr & Mrs" banner to hang from the top table and a "Here comes the bride" sign for the bridesmaid to carry down the aisle. We hired mismatching wooden chairs to go with our barn wedding. Wedding favours were also meaningful. Instead of purchasing a little something that would probably be forgotten or kept in the bottom of a drawer we decided to donate a sum of money to a charity. We did a draw at the wedding of charities that have been represented or used by our guests. With the help of our celebrant Lita, we wrote our wedding ceremony and vows and our friend, Carl Prince, was hilarious as our toast master. Russell and the best men were fantastic at setting up the wedding on the day.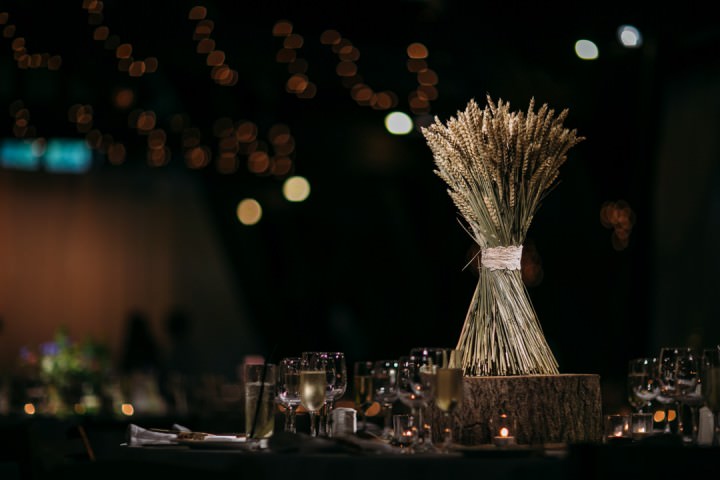 Food
A banquet fit for a king. The main feature was a hog roast along with chicken skewers, ribs, goats cheese tart and lots of potatoes and salad. For dessert we had a generous helping of milk chocolate and amaretto ganache tart
Wedding Cake
Eddie, my friend's Dad made our wedding cake as a wedding gift. It was three tier chocolate cake decorated with sugar hand crafted pink roses and gypsophila and dried lavender. It was amazing. Eddie has framed the sugar flowers so we can keep them forever! My Mum also made gorgeous lavender cupcakes for the guests to go with a glass of fizz at the reception.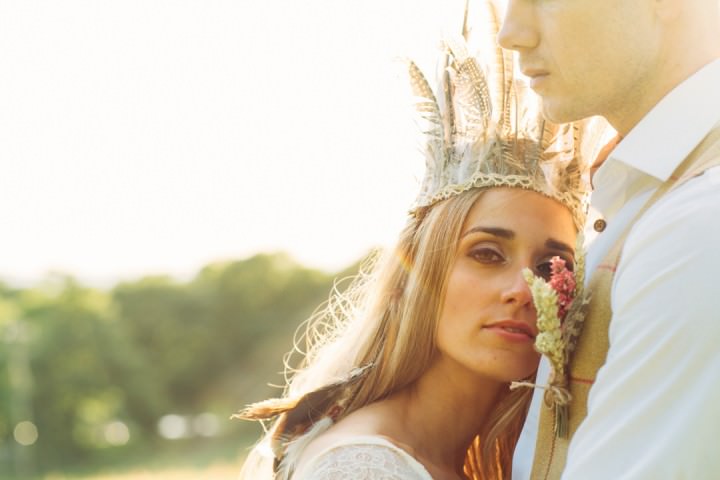 Entertainment
We booked a DJ named Nick Campbell (also known as Billy Boswell from Bread!!!). We didn't know this when we booked Nick but our guests knew who he was and were very excited! We asked Nick if he could play a selection of songs that Russell had put together. He agreed and the evening was a hit. Best party ever! The music stared with some 70's for the oldies then into the 80's, a bit of northern soul, then progressing through to the 90's with some old school house, then to some great hits of the 00's and ending with some decent house and drum and bass. It was a bit of a rave at the end of the night.
Buy or DIY your Stationery
We are into saving trees and money so we decided to have a wedding website instead of traditional invites. For thank you cards we used a company that used recycled paper.
Special Moments
There are so many! Being picked up in Finley the campervan…Finley was so beautiful and Andy (Finley's owner and driver) was super nice. He made the journey extra special with a personal play list, sweets, a sing song and a gift for Russell and I. Walking into the barn was so breath taking with all the lights and candles. Seeing each other on the day and the ceremony which was perfect. It was so meaningful and everybody really enjoyed it. My best friend Kate wrote and read out a poem for us which was very special. There were lots of tears. The speeches were fantastically hilarious. We are so proud of all the speeches including Russell's! The party!!! The music was amazing and we danced all night
Advice to other couples
Make your wedding meaningful to you as a couple. It's not about what others have had or how much money you can spend. We got some great advice from a friend…"your wedding day it is the perfect opportunity to express your true self". Try not to spend the lead up to the wedding worrying about how it will go on the day. However it goes it will be perfect. Spend your wedding day with each other savouring each moment. Look around and take it all in.
Biggest surprise
The fact that the older generation were still there at the end of the night 'avin it large and pulling some amazing dance moves. They were very complimentary of how the music was put together! Our biggest surprise was that it is truly the best day of your life and so so magical.

Supplier Shout Outs
For more information on Damian's work please go to:
Damian Brandon: DSB CREATIVE
www.dsbcreative.com
www.dsbcreativeblog.com
FACEBOOK
TWITTER
Phone: 07866 435321 
My name is Damian, I'm from Manchester UK and I am an alternative creative wedding photographer. I love to tell stories through imagery – to deliver a visual narrative, I feel like the luckiest guy on earth to do it for a living.
I love natural light, traveling to new places, film analog photography and photographing people in love and without sounding total cheeseball – this completes me!!