If you are a Harry Potter fan then you will love today's Harry Potter inspired Elopement styled shoot. The shoot is a stunning example of taking a theme and using it as much or as little as you wish within your wedding decoration. Here the theme has been taken and used in a subtle way, keeping the whole shoot classy and incredibly charming. The attention to detail is superb, with the most delightful cake, gorgeous table decorations, stunning flowers and the most amazing colours and tones. This is Autumnal wedding design done at it's best. The shoot took place in Shepherdstown, West Virginia on 11th October 2020 and was captured by Carly Rose Photography and submitted by P3 Events.  Big thanks to everyone involved.
When you combine your uniqueness and passions on your wedding day, you create a vision that is unique to you. Its the little details that speak to you and your partners interests and style as a couple.
Sometimes combining those small details into your wedding can be a challenge. This styled shoot was to show how small details can be incorporated into your wedding day, and still be classic, tasteful and still completely on them for you as a couple.
We combined a love of Harry Potter into this beautifully themed and curated mini elopement styled shoot high above the Shenandoah river in Shepherdstown, WV.
The shoot inspiration 
Amber is a Slytherin Quidditch player who fell in love with Ben, a Quidditch broom maker from house Hufflepuff. On their first date, they had dinner at the Three Broomsticks and after, Ben brought Amber to Dartmoor- her favorite Quidditch field. There, they sat on a blanket under the stars in the middle of the field. It was love at first sight. On their wedding day, they incorporated their love for Quidditch and… MAGIC!
The Bride wore a golden snitch bracelet, a velvet green dress and emerald snake earrings and necklace to pay tribute to her house and profession.
Ben wore a golden tan suite with green tie to play tribute to his house and Ambers. His boutineer contained a vintage gold key with wings.
Their chairs were adorned with each of their house crests.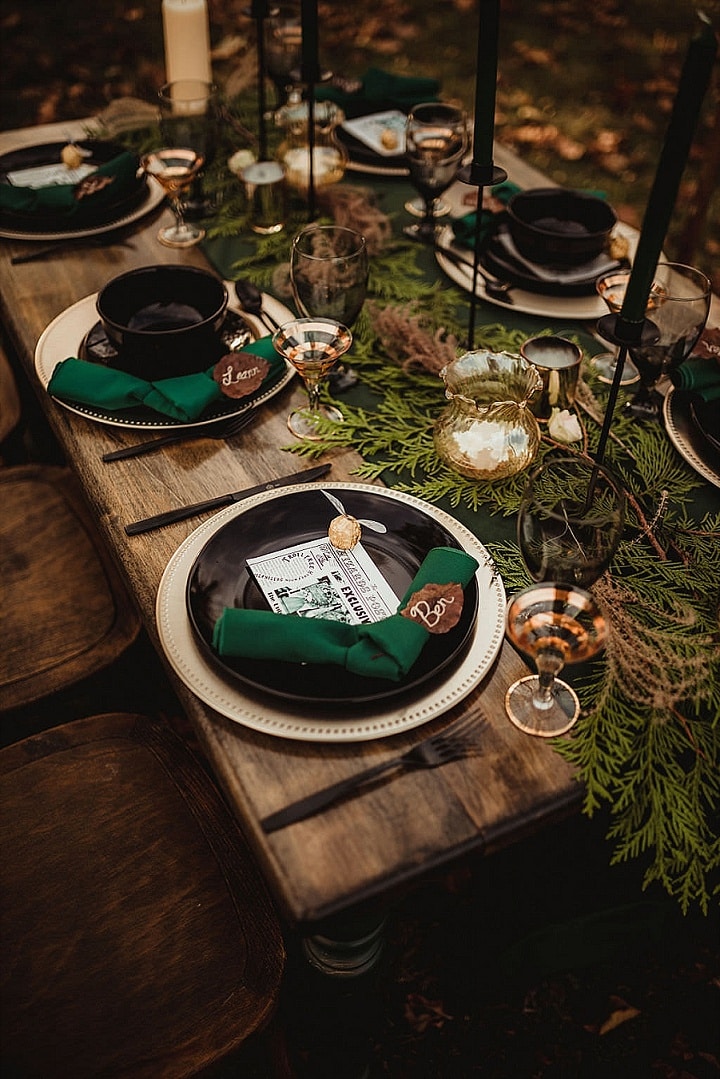 Supplier Shout Outs