Good afternoon everyone, how are we all? Looking forwards to a long weekend off? What do you have planned? I'll be stripping more wallpaper and starting to decorate my new office which I'm very excited about! This afternoon I have a love inspiration shoot to share with you, all the way from USA. This shoot showcases the venue and team at The Market at Grelen, Virginia perfectly. With absolutely gorgeous Autumnal tones in the florals to a fabulous tablescape, the team have captured the essence of rural Fall perfectly… if only we could be that lucky in the UK to escape the constant drizzle! Many thanks to photographer Jen Fariello Photography for the images today. Enjoy!
More about the Shoot
A Romantic Fall Inspired Shoot Nestled between Keswick Hunt Country and James Madison's Montpellier, The Market at Grelen sits on a 600 acre tree nursery in Somerset Virginia. I took inspiration from our expansive property and the adventurous, fun loving couples we attract. From fruit orchards to berry patches, wooded hillsides to natural meadows, rolling hills of manicured tree lines to Blue Ridge Mountain views, you get a little bit of everything at the Grelen. The Grelen bride and groom visit the property continuously throughout the year leading up to their wedding, enjoying lunch in our Market Café, sipping on a glass of Virginia made wine, hiking on the Grelen Trails, and picking apples together in the orchard.
We created a one-of-a-kind experience for couples, which not only gives them the perfect wedding day, but the opportunity to enjoy the colorful changing of seasons at Grelen year-round. As lovely as Spring is with blooming cherry trees, dogwoods, and ripening black raspberries, it's Fall that makes my heart skip a beat, so I wanted to bring in some top vendors not only to collaborate but to inspire each other for a truly romantic Fall-styled photo shoot just oozing with Grelen inspired details, embracing the uniqueness of our venue.
Enter photographer Jen Fariello. Not only is Jen a truly classic artist behind the lens, but also an inspirational and enthusiastic member of the Charlottesville wedding community. Jen reached out to an old client, Kate Pankoke, who, after appearing on a little show call "Project Runway," developed a stunning luxury bridal line named Elaya Vaughn.
The ethereal tulle "Bella Gown" brought the perfect amount of sophistication to our organic rustic backdrop of Bloomfield Barn for an intimate ceremony overlooking rolling hillsides and mountain views. Pat Roberts and her daughter Sherry of Southern Blooms came to visit Grelen before the shoot, and together we scouted out the property for inspiration and, of course, fall foliage. Pat was like a kid in a candy store, shouting out names of trees and shrubs as we weaved in and out of the colorful tree lines.
What developed the next day was a stunning autumn centerpiece and foliage inspired bouquet that truly represented the Grelen bride. Large rustic pieces from our own Market shop mixed with some subtle modern details and vintage gold plated flatware created a stunning table that boasted every Fall color imaginable.
Walter Slawski, owner and Chef of The Catering Outfit, used Grelen grown herbs, figs, apples, and kale as inspiration for a creative and colorful autumn menu. A bright, wilted kalette salad with port poached pear, clementine, pomegranate arils, French beans, purple pearl onions and vanilla vinaigrette with an olli lardo crouton was both tasty and visually stunning. A collection of Virginia cheeses and cured meats served on individual wood boards, and tiny precious candy apples, offered the perfect close to an extravagant dinner. A hand painted canvas inspired by our tablescape was quite literally the icing on the cake from Pearl's Bakery.
As The Market at Grelen grows into one of Central Virginia's most stunning wedding destinations, so does my love and respect for our surrounding community of Wedding Professionals. These quality professionals have made it their life's work to inspire and excite brides and grooms, ensuring beauty and happiness during such lovely life celebration.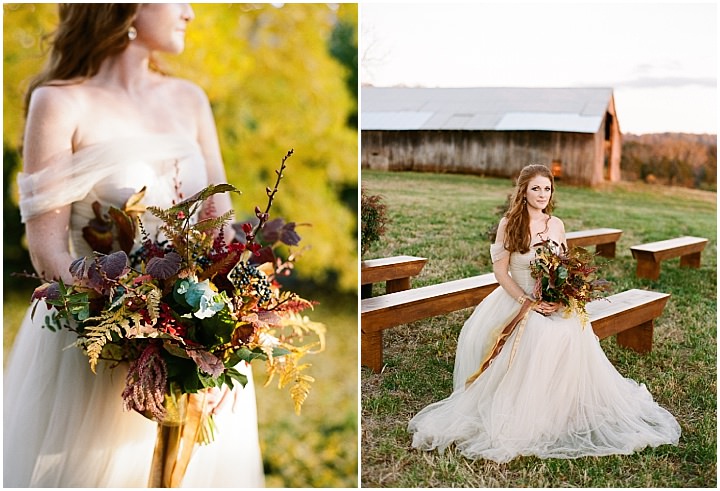 The Team who made the shoot possible
For more information on Jen's work go to:
www.jenfariello.com / [email protected] / FACEBOOK / I: @jenfariello / T: @jenfariello